Brexit should be seen as a chance to improve productivity and raise wages for British-born agricultural workers, a new paper has concluded.
The
briefing paper
, released by Migration Watch UK, says leaving the EU is a chance to improve wages and conditions for agricultural workers.The plentiful supply of cheap foreign labour on British farms 'all but destroys any incentive producers have of becoming more competitive', the thinktank says.However, the agricultural lobby is calling for the reinstatement of the Seasonal Agricultural Workers Scheme (SAWS) in light of new proposals for work permits confined to skilled European Union workers to be instituted post-Brexit.SAWs began in 1945 and evolved until it was closed in 2013, following the removal of restrictions on freedom of movement on workers from Romania and Bulgaria.The final year of the scheme's operation saw under 20,000 SAWS work cards issued to Romanian and Bulgarian workers to work in the UK, for a specific employer, for a maximum of six months.
The paper says when the UK leaves the EU, the current supply of labour from the EU will not disappear overnight, and instead calls for the industry to implement reforms to ensure "longer-term sustainability while also benefiting UK-born workers", the briefing paper stated.
'Helping the unemployed and part-time workers'
A 2013 survey of 1,300 agricultural workers found that the average hourly wage in the agriculture sector was around a third less than the overall UK average wage.As a report for the Agriculture and Horticulture Development Board (AHDB) has pointed out, following restrictions on migration, "wages are likely to increase in an attempt to make jobs more attractive to UK nationals," Migration Watch UK says.The paper says these steps would help encourage some of the 1.6 million people in the UK who are currently unemployed, as well as some of the nearly 1.2 million part-time employees who are looking for more work hours, into such jobs.The industry is also being urged to invest in technological innovation to increase labour productivity.The
Office of National Statistics
found that output per job per hour in agriculture, forestry and fishing in early 2016 was the lowest for all sectors in both manufacturing and services.
The UK's total agricultural factor productivity between 1992 and 2012 was below that of Germany, Austria and Ireland, Migration Watch UK stated, and introducing a new SAWS scheme "should be a last resort."However, if the government were to consider reintroducing it in the context of the Brexit negotiations, any new scheme "should be transitional and tapered."Commenting, Mr Alp Mehmet, Vice Chairman of Migration Watch UK, said: "The plentiful supply of cheap foreign labour on British farms all but destroys any incentive producers have of becoming more competitive."Brexit offers them a golden opportunity to do something about the sector's relatively poor levels of productivity. They could start by offering decent wages and improved working conditions."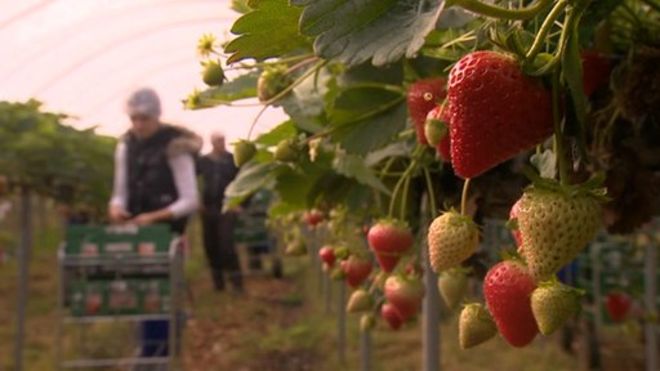 'Simplistic assessment'
CLA Director of Policy Christopher Price said it is "unsurprising" to see lobby groups, such as Migration Watch UK, seeking to impose the "most restrictive rules possible" on migration into the UK, who criticise calls by the rural sector for a seasonal workers scheme."We reject their simplistic assessment that restricting access to labour for farmers will lead to increased wages and productivity," Mr Price said."Hourly rates for seasonal agricultural work are above the national living wage."Our hope and expectation is that the government will agree with us that allowing limited, temporary, access to the UK for seasonal agricultural work is entirely pragmatic and will not impact on their wider ambition to introduce new controls for permanent economic migration to the UK."Horticulture board chairman Ali Capper of the National Farmers Union said farmers are urging the government to introduce a "substantial trial" of a permit scheme to allow workers to pick the UK's fruit and veg in 2017, a scheme to allow workers to come in and go home again."We have seen a substantial decrease in the number of workers wishing to come here as a result of Brexit - the lower value of the pound makes the UK a less attractive place to work now than for other parts of western Europe," Miss Capper said."Without seasonal workers fruit and veg will be left to go rotten in the fields.
'Agricultural workers are well paid'
"Agricultural workers are well paid compared to lots of other practical skilled and semi-skilled jobs."In fact, seasonal workers can earn up to £12 or £15 per hour for harvest work. Workers have good benefits which often include housing and accommodation at well subsidised rates."Seasonal work is less attractive to the local communities living permanently in most first world economies."Whether it is the USA, Canada, Germany, France or Australia, local people do not aspire to move from farm to farm to follow the season's harvest."We are surprised Migration Watch is concerned with seasonal workers in agriculture as for decades seasonal workers have come in to pick fruit and veg and gone home again. Seasonal workers in our sector are not an immigration issue."This country has a labour shortage. With eight million people not born in the UK living and working here of which 3.3 million are from the EEA and an unemployment rate of just 1.64 million, we do not have enough workers for all the jobs in the UK," the NFU concluded.