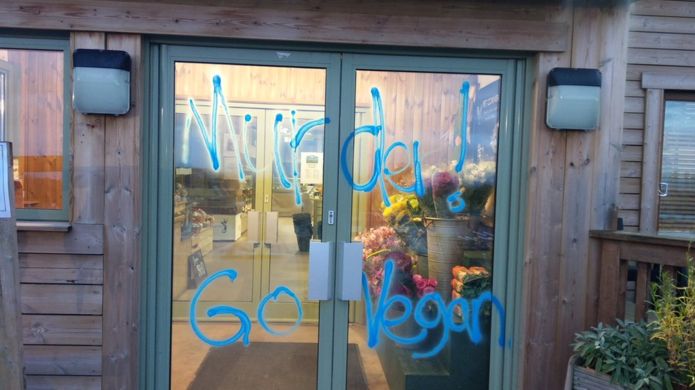 Sales at a Devon farm shop which was vandalised and received death threats by hardline vegan campaigners have since seen sales double.
Greendale Farm Shop in Woodbury Salterton, Devon, experienced vandalism and online abuse last month after posting a "pick your own" Christmas turkey offer on Facebook.
On the post, it offered a service where the public can name their own turkey and "help look after it for the next two months".
The post triggered vegan campaigners to spray paint the words "Murder" and "Go vegan" on the shop's door. Pheasants were also spray painted.
A month on, the farm experiences no more death threats but has reported sales higher than usual.
Farm shop spokesman, Mathew Carter told Exmouth Journal: "It has been difficult for our staff, a number of them ended up changing their names and details on social media after threatening messages were sent to them.
"It's not all bad though, we've doubled our turkey sales on the back of the threats. People have wanted to support us and the story has made some people realise we sell turkeys ready for Christmas.
"We're really proud of our response, it attracted a lot of negative attention but we're proud of sticking to our principles. Changing our habits due to the pressure was never on the table."
Mr Carter said the vegan anger began "almost immediately" after it was shared on Facebook and Instagram.
Last month, Devon and Cornwall Police visited the farm after hearing the complaints and said "enquiries are underway into this matter".
Following extensive media publicity on the issue, the farm shop has posted a "thank you" to its customers, saying they are "proud to sell fresh, local produce".
The Vegan Society said it "does not support any threats of violence of abusive behaviour or language towards anyone".
It follows news of a similar situation affecting a rural Hampshire school which received death threats from activists who were unhappy with its decision to rear pigs on-site for food education, forcing the school to stop the practice.
Extensive media exposure of the situation helped the school re-instate the pigs following a positive public, and parent, backing.
Meanwhile, a rural Highland school defied death threats from vegan and animal rights campaigners by continuing to post footage online of classroom butchery lessons.
Last year, the Countryside Alliance launched a campaign to raise awareness of the extent of online bullying targeting rural-based people and businesses.