For a popular long-established farm business near Reading, JP Concrete has created Phase One of an all-encompassing storage and safety solution to ensure the smooth and efficient operation of a new anaerobic digestion (AD) plant.
Located at Hill Farm, renowned meat and vegetable suppliers Butlers Services, needed to create concrete bunding around its three digestate tanks, as well as a silage clamp and a retaining wall to create a ramp into the bund.
With the location of the bund in very close proximity to the main access road to the farm, the wall on one elevation had to be suitable not only for the containment of the fluid inside the digester tanks in the event of a failure, but also to act as a retaining wall for the earth bank supporting the road.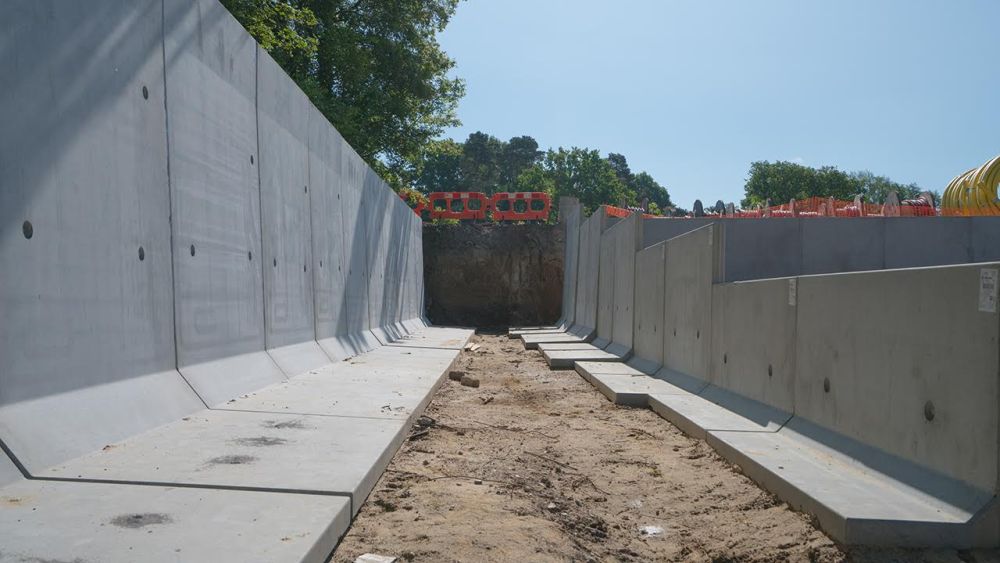 The total length of wall required was over 300m in total, the wide range of criteria which the walls had to meet, meant a variety of JP Concrete's pre-cast modular retaining wall panels had to be used to meet the numerous angle-forming corners needed to cope with the various stepped units for the ramp.
Supplied in two-metre lengths, which saved significantly on installation time, the panels were made in self-compacting C60/75 strength concrete, which also benefits from a superior interlocking system and unformed colour for a better, aesthetically pleasing finish.
JP Concrete also provided all design calculations and drafting services, as well as carrying out the installation and sealing of the units.
'Huge challenge'
Russell Butler from Butler Services, commented: "From the planning process to technical documentation including full design for the walls and foundation, JP Concrete have gone out of their way to help us bring this new renewable energy facility into our business portfolio."
He added: "We knew that having three digesters (to supply clean electricity to 2,000 homes) on our farm's layout would present a huge challenge, but they have worked alongside us every step of the way to ensure that we will have a highly robust, safe and efficient AD plant".
JP Concrete will shortly be returning to Hill Farm to complete the second phase of the project – closing the last part of the bund wall, which has been left open for vehicular access.