The 2016 Countryside Alliance Awards, nicknamed the Rural Oscars, have been handed out by the Environment Secretary Andrea Leadsom MP at a Parliamentary reception (22nd March).
Businesses from across England and Wales, who had already won their regional title, came to Westminster to find out if they had taken the national title.
Shortly after the prizes were handed out Parliament went into lockdown owing to a terrorist incident, however, all guests and staff were safe.
'Beating heart of countryside'
The Environment Secretary had told the assembled rural businessmen and women: "Rural businesses are not just the beating heart of our countryside – they are also a vital part of the UK's economy, generating almost £230 billion every year.
"Today's winners and nominees represent the very best of Rural Britain and I'm delighted to celebrate the crucial role our post offices, farm shops and food start-ups play in connecting communities across the country."
The Awards are the Countryside Alliance's annual celebration of rural produce, skills, enterprise and heritage through small businesses. They are now in their twelfth year and have become the definitive rural business award to win.
The British Champions presented at Parliament
Champion in the Local Food and Drink category: Lawns Farm Shop and Morthen Milk, near Rotherham, South Yorkshire
Countryside Alliance Chief Executive Tim Bonner told the room: "This third-generation farm really impressed the judges, not least by its location, close to two huge motorways, which can be seen from the farm.
"The 2014 crisis in milk prices necessitated many changes for what was then predominantly a dairy farm, but realising that if the cows were to continue to be at the farm, change was needed. Action was taken, first by opening a farm shop to sell locally produced food and setting up a dairy to produce, bottle and deliver their own milk locally.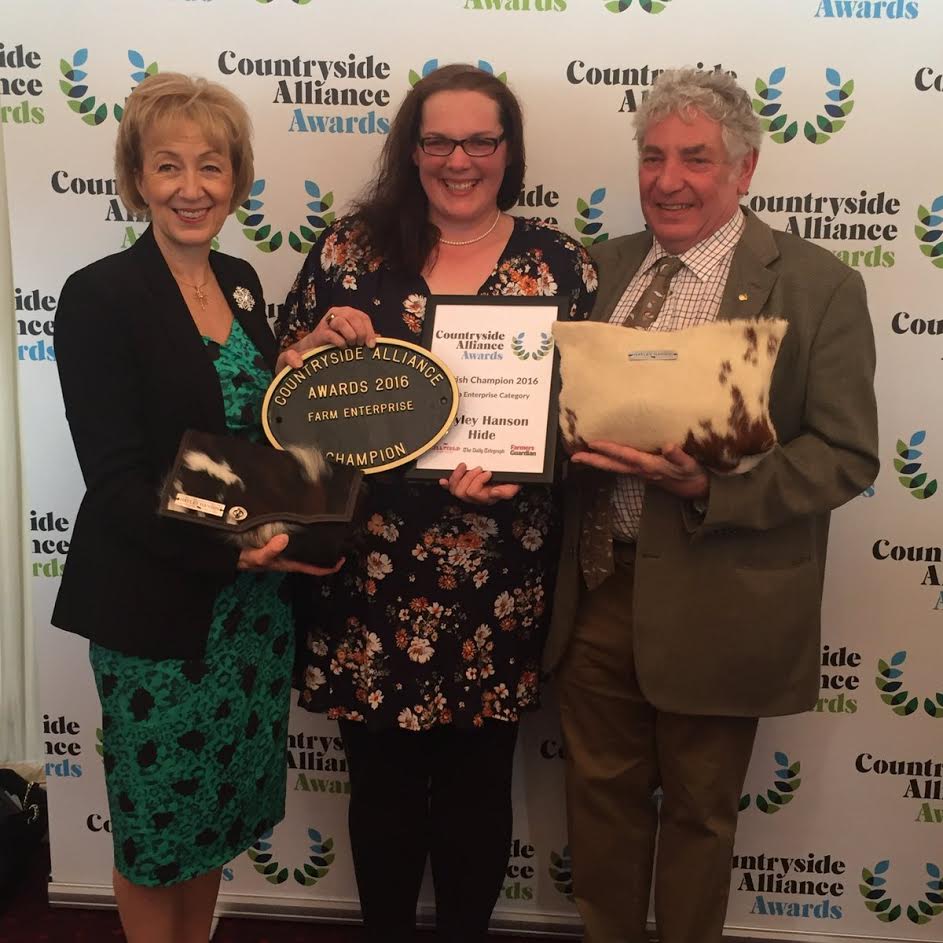 "The ethos will resonate with everyone here today: we aim to provide high quality produce, direct from the producer with authenticity, traceability and sustainability. Education is also central to the Lawns Farm Shop mission, and a number of open days are held each year honouring the fine traditions of piglet racing, welly wanging and afternoon tea."
Champion in the Village Shop and Post Office category: Ponsanooth Village Stores, Cornwall
Countryside Alliance Chief Executive Tim Bonner told the room: "Since the new shop and Post Office opened after a flood, Michelle has diversified the store from the very dull to a shop now described as "an Aladdin's cave of local gorgeousness!"
"All things local are stocked, and hot drinks and pasties are also available to bring people together for a chat. The main draw is that for many village residents in this remote community, this store and Post Office are a lifeline."
Champion in the Tourism Enterprise category: Bluebell Dairy, Derby
Tim Bonner said: "Our Champions have embraced tourism to great effect to keep their dairy farm alive. Having been running the farm for almost 28 years, our champions realised that continuing poor milk prices & children wanting to come back to the farm meant diversification was vital to survival.
"They considered various options before deciding to add value to their milk by making, retailing & wholesaling ice cream. Key to the decision was the location of the farm – between Derby & Nottingham, close to a good national network of roads, with a population of two million.
"Bluebell Dairy started trading in December 2008. It began with a small ice cream production area, a small tea room with just 24 seats & a tiny play area. They now have a 100-seater tearoom, a wholesale ice cream business, they are just about to launch their own milk vending machines and the farm also includes activities for the whole family to enjoy."
Champion in the Farm Enterprise category: Hayley Hanson Hide, Brecon
Tm Bonner said: "This category is dominated by feisty farming women, and our Champion is an energetic one-woman enterprise. She has developed a network of people who can help her do parts of the process with the hide coming back to her micro-tannery on-farm. Products made on site include hide rugs, footstools, handbags, bound notebooks and a recent contract with a pewter company to make bound hipflasks. Smaller pieces and hairs are also marketed and snapped up by fly fishermen for tying.
"Hayley recently won a contract in New York for goods to complement a range of luxury bathroom items. Hayley Hanson Hide markets her services direct to farmers, particularly those who have excelled in the show ring and at fat stock sales, and being able to produce a hair-on-hide of their favourite beast. Hayley uses local people, skills and resources, including a local engraver for hip flasks, Ludlow Bookbinders for diaries and notebooks etc. Hayley is community minded and keen to support organisations and groups, offering a percentage off goods for the local hunt and Young Farmers."
Champion in the Butcher category: Pete the Meat, Evesham Road, Astwood Bank, Redditch, Worcestershire
Mr Bonner said: "Our Champion is a force of nature who has been a butcher for 40 years. His team includes two thirty somethings who came to him as apprentices and never left. There is an apprentice on the team now and our Champion feels very strongly – as we all do - that butchers have a duty to support the upcoming generation of butchers so these skills are not lost."