An alpaca and chicken keeper has recommended only one thing to the novice rural poultry keeper - to install Electric Poultry Netting, because as she discovered to her cost, it's better to be safe than sorry.
It started 21 years ago with a trip to New Zealand. We discovered, as well as sheep, the country had a healthy population of Alpaca.
We'd never come across them before but found them to be fascinating gentle animals and promised ourselves that if we ever lived in the right setting we'd look in to acquiring a "small" herd. We learned that Alpaca are sociable so less than 3 was not really an option.
In 2010 we decided to move house and after a lengthy search finally set our sights on an old farmhouse sitting in 6 acres of land up for auction. Bidding at auction was a nerve wracking experience but thankfully, being the successful bidder, we were able to secure the property.
Thanks to a rather challenging planning process taking 7 months to get planning permission, but when we did, we demolished the old farmhouse and built a 4 bed roomed property. From start to finish the project took approximately 3 years and we finally moved in July 2014.
Alpaca
After a spell of breathing space we decided the time was right to start exploring the world of Alpaca. Becoming novice "small holders", we felt a local breeder, who'd be on hand to help with advice and assistance, would be the most sensible option.
So, in February 2016, we visited local Farmers, Mike and Carolyn Birch of Brooklea Alpacas. As well as their existing herd, they had eight, six month old male Cria for sale. We'd originally decided on three, but as three were already sold, and we couldn't leave two on their own, we had the remaining five, which was quite scary bearing in mind this was a leap in to the unknown!!
The Cria were still being weaned and wouldn't be ready for re-homing until they were at least seven months old, so in anticipation of their arrival, we set to and completed all preparation involved, including the installation of stock fencing and erection of a five star field shelter, it's not quite en-suite with hot and cold running water, but near enough!
After purchasing all associated paraphernalia and attended an introductory Alpaca handling session, we were all set and eagerly awaiting the arrival of our new residents. Mike and Carolyn delivered them safe and sound on the 1 April 2016 and they soon settled in.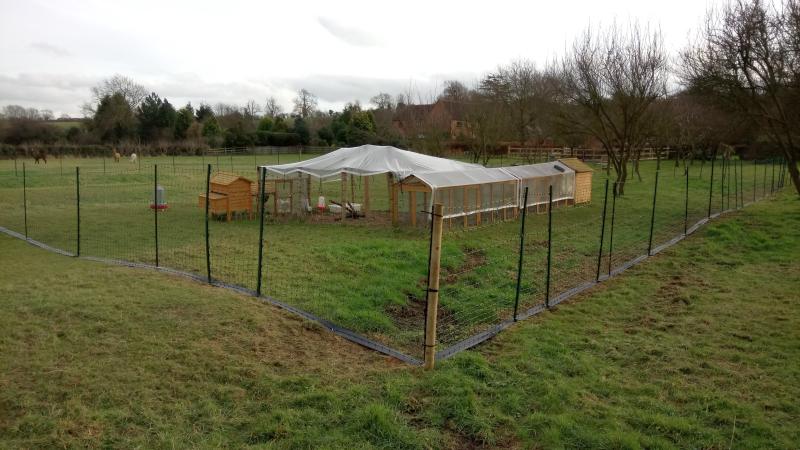 During the time we spent with Mike and Carolyn we quickly recognised their passion for Alpaca and their welfare, which as newcomers to camelid ownership was very reassuring. We appreciated their honest and down to earth approach and as well as supportive advice, they gave us a realistic view of what to expect, the work involved and costs. There's a lot to learn and after two years we're still learning so still rely on and appreciate their help. With Mike's tuition Ian has even made a Bowler Hat from Coco's Fleece!
Hens
A few chickens were also on the "wish list" and as the Boys were nicely settled in we began to explore the poultry world! It was at this point I realised there was more to chicken than meets the eye!!
After extensive research, the coop, run and associated poultry equipment were installed and we collected our five girls on the 14th May 2016, a variety of Hybrids, a Light Sussex, Columbian Black Tail, Amber Star, Bluebell and Black Copper Top Marans. They were lovely girls and settled in well and happily free ranged under five pairs of watchful eyes. We'd learned that Alpaca are known to be a good fox deterrent so hoped they'd be able to free range in safety.
After a while my girls started to venture out of the paddock containing the boys into our 2 acre garden. However, in June 2016 tragedy struck, the fox slaughtered 2 girls in one sitting so unless we were present in the garden we decided to keep the remaining 3 girls restricted to the run. After 6 weeks had passed, I unwisely let them free range again but I soon discovered the Fox had a long memory. The inevitable happened and it wasn't long before he claimed a third victim. As with the other girls this was heart breaking.
Armed with hundreds of cable ties I set to and installed what seemed like miles of chicken wire along the dividing hedge bottoms in an attempt to contain the remaining two girls in the paddock - this would hopefully allow them to free range in safety in the company of our five boys.
This worked well and in August 2016 I installed a second "transitional" coop and successfully introduced and slowly integrated three new girls. My five ladies soon became inseparable and enjoyed their lives free ranging at will amongst fruit trees and Alpaca.
At around 1.30pm on the 12 January 2018, a very cold January day, I discovered there'd been another strike, the fox having slaughtered all but 2 of my beautiful flock, including Brenda, my Columbian Black Tail who back in 2016, much to the Vet's astonishment, had swallowed a large elastic band courtesy of the postman!! She was a model patient and after a successful extraction she'd made a full recovery. On this occasion the fox had retreated empty handed so I presume if the boys hadn't disturbed him when they did, then I'd have lost all five.
I now had to consider how I could safeguard my flock once and for all as I realised at that point it's not always possible for Alpaca to protect chickens, but what I did know was that until I'd decided the way forward, I had no choice but to keep Audrey and Beatrice in the run until I'd come up with a plan and a more secure way to keep my girls safe.
Finally, we decided the only option was electric fencing, we didn't really want to restrict their free ranging but we realised it was foolhardy and cruel not to. So once again I set to and carried out research in to all the options, of which I discovered there were many!
Electric Fencing
Thankfully, this is where Electric Fencing Direct came in to the frame.
While collating my order for 100m of 1.2m high electric poultry netting and all associated equipment, Leslie and Traci gave me excellent Technical advice. We were delighted and extremely impressed with the quality and value of all the products received. Even after all the recent snow, wind, rain and ice, the netting and posts stayed firmly grounded and intact.
Between receiving and installing the electric poultry netting, I wanted my two existing girls to free range so until the netting was installed, I guarded them for an hour in the morning, an hour at lunchtime and an hour before bedtime. At that time the weather was freezing with snow still on the ground so I sat, dressed like an Eskimo, with my cat's heat pad tied around my waist clutching my thermos flask!! I guess this is a thing we do for love but at the time I thought I'd finally flipped!!
We installed the fence over a weekend and on the 10 February I was excited to collect three 17 week old Pullets - who, after several weeks of slow integration are now securely and happily free ranging with my existing ladies within the confines of the electric poultry netting. Fingers crossed it won't be long now before they start giving me eggs.
In retrospect and for the security and peace of mind, I really wished we'd installed electric poultry netting at the outset as I'm certain this would have prevented my sad loss but unfortunately some lessons are just learned the hard way - we all know that hindsight is a wonderful thing.
Alpaca and Chicken keeping is such an enjoyable and rewarding pastime and if I could recommend only one thing to the novice rural poultry keeper (as I was) it would be to install Electric Poultry Netting, because as I discovered to my cost, it's better to be safe than sorry - you eventually come to realise that Chickens are not just Chickens - they're endearing, entertaining and characterful little individuals who leave big footprints on your heart!