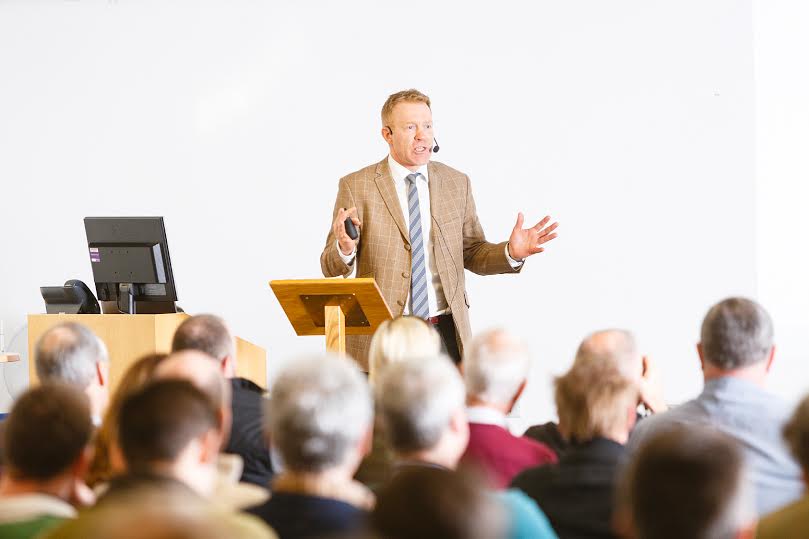 A farmer who has become the face of the industry through his role on TV's Countryfile says young people are needed to inject innovation into the farming industry.
Adam Henson Henson took a break from filming the UK's most-watched TV programme, to talk about his life as a farmer at the sixth annual Agrii Northern Conference, held at Bishop Burton College last week.
He said; "Countryfile tries to show agriculture in a positive light and banish the image of overworked, whinging farmers. We must market ourselves to youngsters with good technical and business qualifications that farming can be sexy and a great industry to work in.
"Being a farming ambassador is a weight on my shoulders but it is great to come along to places like Bishop Burton to spread the good news about agriculture.
"I am also pleased to report that, for the first time, the average age of the farmer is getting younger, suggesting the industry is seeing a surge in popularity with the next generation. That's down to colleges like this."
The Agrii Northern Farming conference saw almost 1,000 farmers from across the north come together to debate a range of issues faced by farmers, including the increasing commoditisation of wheat. Topics discussed included maximising yield, caring for soil and the rise of precision technology – a highly technical and specialist farming technique.
"I think these are very exciting times for farming and there are some great opportunities for youngsters in the industry," Mr Henson said.
"Farming requires young people that are switched on, intelligent and who can solve problems. Farmers have to solve problems every minute of the day so young people looking to agriculture as a career need to make sure they are prepared for constant change and innovation."
College Chief Executive and Principal Jeanette Dawson OBE, gave Mr Henson a tour of the College's 360-hectare farm, which includes cattle, sheep, pigs and crops, and showcased the world-class precision technology that students have access to as part of their course.
She said: "There is a lot going on at the College and he was particularly impressed with what we are doing on the farm and how we continue to innovate by teaching the very latest in precision farming techniques.
"It is the sixth year that our partner, Agrii, has held this unique exhibition at the College, which attracts hundreds of farmers from across the north of England each year, and we're pleased to be able to continue to support their efforts."