The EU pig industry may benefit from the looming trade war between the United States and China, according to AHDB Pork.
In March, the US announced the introduction of higher tariffs for imported steel and aluminium, and this week China responded, announcing retaliatory tariffs on products from the US, including pork.
China will impose an additional import tariff of 25% on all pork products from the US, although no implementation date has been set.
The additional tariffs initially applied to 128 products but the list has since been expanded to include an additional 106 products.
The additional products include soybeans, cotton, corn, wheat and beef and other agricultural produce. China imports nearly all of its soybean requirements, with a significant proportion coming from the US.
China pork demand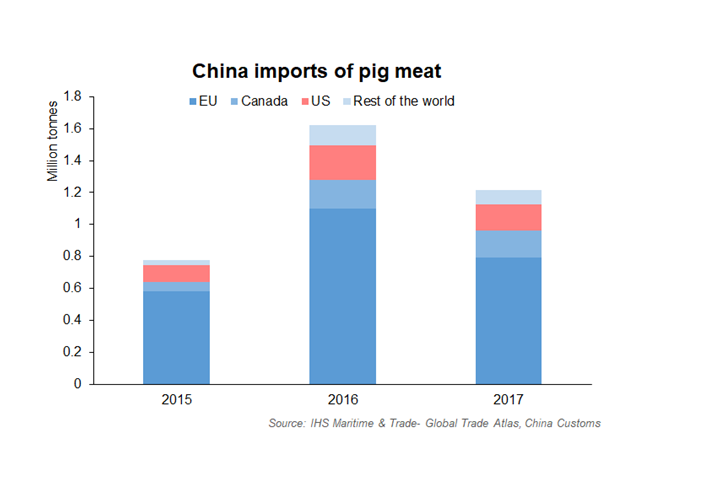 In 2017, China imported 1.2 million tonnes of pig meat, with around 65% of this coming from the EU, and 14% from the US, according to data from China Customs.
The US is the third largest exporter of pig meat to China. From a US point of view, China is the fifth largest destination of pig meat exports receiving 7.5% of all US pork exports in 2017, equivalent to about 1.5% of the 11.7 million tonnes (carcase weight) of US production.
In 2017, China produced 53.5 million tonnes of pig meat and consumed 55 million tonnes, according to the USDA.
But the European Union pig industry may benefit from the tit-for-tat between the US and China, as China looks to other markets for its increasing domestic pork consumption.
Rebecca Oborne, Analyst at AHDB POrk, said: "With that underlying demand, China may therefore need to source at least some replacement product from the global market, including the EU."
Farmer anger
In the US, President Donald Trump now faces a potential rebellion from his core constituency - farmers and other agricultural producers who could suffer devastating losses in a trade war with China.
"Growing trade disputes have placed farmers and ranchers in a precarious position," Zippy Duvall, a Georgia farmer and president of the American Farm Bureau Federation said in a statement Friday.
"We have bills to pay and debts we must settle, and cannot afford to lose any market, much less one as important as China's."
Trump is now wanting to protect US farmers from China's threatened tariffs. The US government could choose to subsidise farmers further, but it is feared this could trigger retaliatory tariffs and subsidies in major agricultural powerhouses such as the EU and Brazil.