Visiting a North Wales organic farm estate has been a source of comfort for an inspirational young photographer recovering from brain cancer.
Luke Houslay, a 19-year-old from Widnes, makes regular trips with mum Nina and dad Duncan to Rhug Estate, located near Corwen.
He was given his own private tour of the 12,500-acre site with head gamekeeper David Pooler – on behalf of owner Lord Newborough and the National Gamekeepers' Organisation - to photograph livestock and the farm's wildlife and scenery.
Luke contracted medulloblastoma at just 15 years old, a cancerous brain tumour that starts in the cerebellum.
Nina said being out in the open at Rhug is when he is at his happiest: "We have always visited North Wales and have been to Rhug Estate so many times.
"As it's one of Luke's favourite places we have so many wonderful memories. He has been very ill so we bring him to relive his happiest times when he would run around and explore as a child."
Nina added: "Luke sadly missed their recent open day when there was the opportunity to go on a tour and look at the animals.
"We contacted them via social media to see if there was another event coming up soon, and to our surprise they kindly offered him his very own private tour.
"As he is in a wheelchair it's difficult for Luke to get around, but they drove he and Duncan in a vehicle so he could stop to get up close with the deer and other wildlife, something he would not be able to do anywhere else – it was wonderful."
Luke has fought the cancer and its effects for almost five years, undergoing several surgeries, chemotherapy and radiotherapy and having to "learn how to do everything again" with the care and support of his parents.
"He had been ill for a while when we managed to get a scan, and was admitted to hospital the same day," said Nina.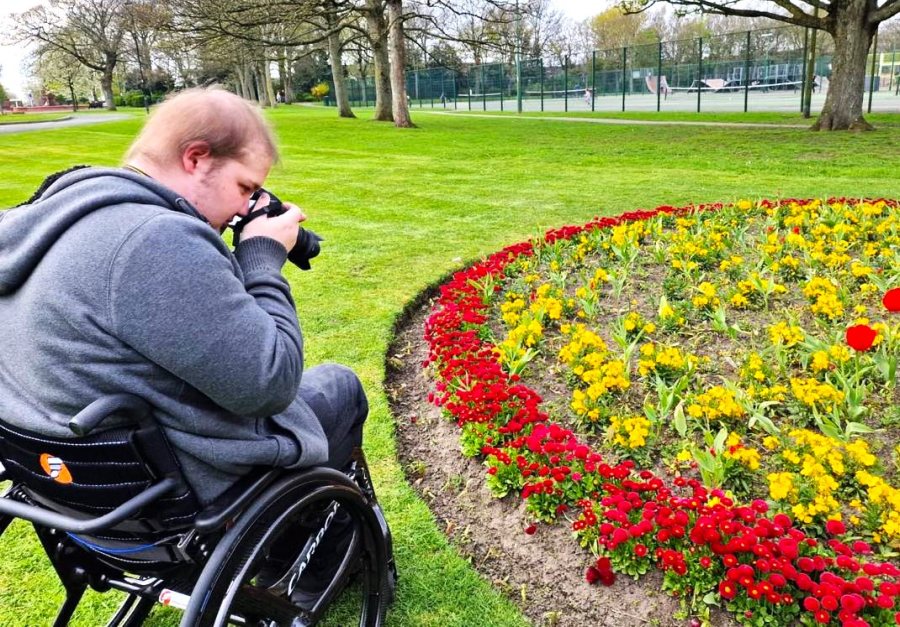 "He didn't return for four months; it completely turned our lives upside down."
She added: "Because of that and residual injuries he has had so many knockbacks and sadly can't do some of the things he would love to do, due to the life-changing impact of what he has been through.
"He is unable to go to college and he wanted to join a photography class but was unable to, so the time he spent at Rhug taking photos was huge for him, it really helped his confidence.
"Luke loves being behind the camera, nothing makes him happier. He had to prop himself up to take the shots he wanted but has a real passion for it and took some lovely photos."
Rhug Estate owner Lord Newborough said Luke is welcome to visit anytime. "We are so pleased and proud to have been able to show Luke what goes on behind the scenes at Rhug.
"His photos are wonderful and really capture the essence of what we do, the nature and beautiful surroundings; we hope he will come and see us again soon… and bring his camera."