A Cornish free range egg producer has explained how the adversity of the pandemic led to the creation of a scheme to provide hungry families with eggs.
A surplus of eggs had led St Ewe Free Range Egg to create a temporary scheme to provide food to struggling food banks in the South West of England.
CEO Rebecca Tonks has explained how this had developed into ongoing support for families who are finding it difficult to feeds themselves.
It started in January this year, she told those taking part in the recent Pig & Poultry Forums, when the third lockdown of the Covid-19 pandemic was underway.
"Eggs sales had taken quite a hit and the highest number of eggs was coming in from producers, as farm gate sales had dropped," she said at the virtual event on 12 May.
"We had to think of something drastic, as the volume of egg was building and the potential for waste was increasing.
"Our pasteuriser had no foodservice demand and staff were moved into the packing centre. Larger processors were also in the same boat.
"Things had slowed down and they were having a tough time with foodservice shut, manufacturing was struggling to operate with Covid restrictions and Brexit now in full swing."
Ms Tonks said that 52 percent of St Ewe's customers were foodservice businesses, who now had no income as a result of lockdown.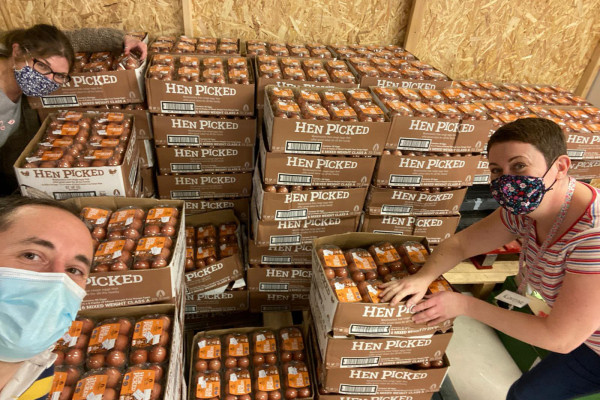 "Finding a home for surplus egg was quite a challenge," she said. "This is when a member of our team came up with the Shell Out to Help Out concept.
"The concept was to sell trays of eggs to the general public and use the funds from this help to cover the cost of packing the eggs and six pack cartons for the food banks.
"Everyone, including our producers, contributed to Shell Out to Help Out and our team for three months gave up their weekends to volunteer selling eggs out of the backs of lorries and vans at different locations around Cornwall."
She said that St Ewe was selling up to eight pallets a weekend from January through to March.
The company and its producers had now donated more than 200,000 eggs to food banks across the South West of England.
She said that running the Shell Out to Help Out scheme had shown them that consumers wanted not only beautiful, healthy eggs, but also an emphasis on transparency, trust and community.
"Visiting food banks and seeing first hand the desperate situation that many families are in, we really wanted to continue our community contributions and so Shell Out to Help Out has evolved into the Baker's Dozen.
"Every dozen eggs we sell to the retail sector, we donate the thirteenth egg to a food bank. With the furlough scheme coming to an end in September, it is highly likely than many more families will need support. St Ewe would like to do our bit."
For St Ewe, itself, in March 2020 retail egg sales soared, she said, but not enough to absorb the loss of the foodservice sector.
However, looking ahead she said: "We are all really confident that the British public like eggs, lockdown has proved it. From a producer's point of view, I feel like I am in the right business."
The company had found a site for a new packing centre, it had planning approval for it and she said that St Ewe had launched a new brand called Super Egg.