Twelve months on from the worst floods and storms to hit Cumbria and North Lancashire in living memory, a selection of farmers share their stories on how they have recovered and protected themselves from an uncertain future.
Storm Desmond started to cause misery and devastation in the county of Cumbria on the 4th, 5th and 6th December 2015.
It was the fourth named storm of the season and brought severe gales with gusts up to 81mph, this was accompanied by record breaking rainfall which brought flooding to the north of England. Storm Desmond was followed by Storm Eva on Christmas Eve which brought gusts of up to 75mph and heavy rain exacerbating flooding in Cumbria and Lancashire. In the 24 hours of 6th December, 264.4mm of rain fell at Thirlmere.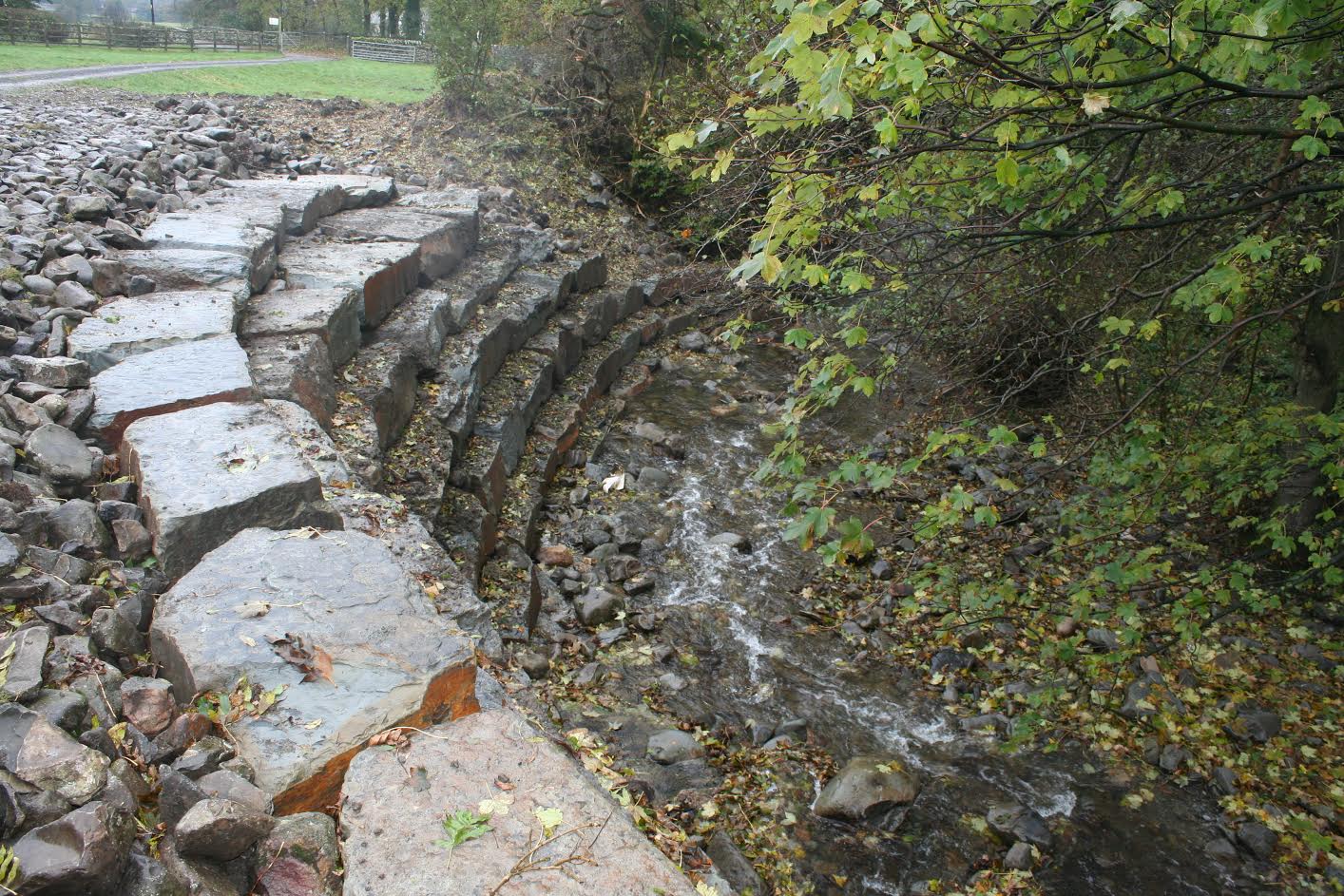 A survey of flood-hit farmers in the worst affected parts of Cumbria has laid bare the scale of the costs. A National Farmers Union led investigation put the losses experienced by 144 farmers at a collective total of £1.7 million, and Defra estimated that 650 Cumbria farms were affected by storm damage.
However, the full costs are expected to be far higher and will not be fully understood until all recovery work is completed.
Dairy farmer David Martin from the Lyth Valley, Orton based former NFU Cumbrian County Chairman Steve Dunning and Kirby Lonsdale based livestock farmer Derek Alderson have all had to recover and adapt their farming enterprises for the challenges of the future.
Derek Alderson of High Green, Middleton in Kirkby Lonsdale
Mr Alderson's farm was flooded on 6 December 2015 when Stockdale Beck, which feeds the River Lune, overflowed and sent a flow of water 2ft deep through his yard at High Green.
In order to future proof himself against potential future incidents, Mr Alderson has commissioned some hard engineering work (approved by the Environment Agency) which will hopefully keep the water at bay.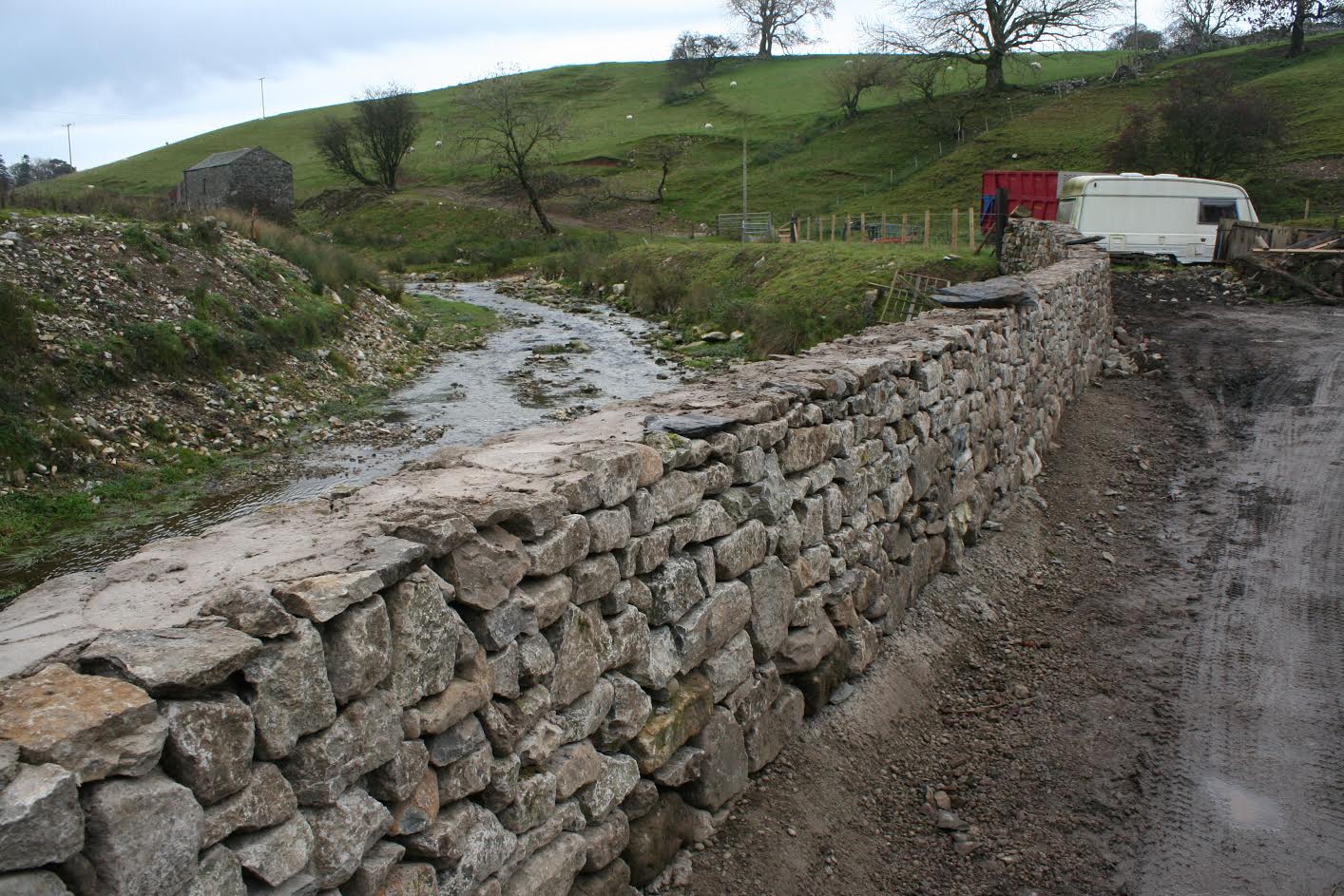 Groundwork engineer Derek Boustead has created a layered wall, where the beck meanders around the farm, using locally quarried limestone.
The wall (pictured) resembles an amphitheatre. Mr Boustead estimates he used 300 tonnes worth of stone in a pyramid system with 150 tonnes of clean walling stone, recycled from the flood damage, to sit behind it. The wall is now three metres in height which Mr Alderson feels is sufficient. A bridge is also being replaced at the farm.
Tenant farmer Mr Alderson keeps 220 store cattle (which he buys in as calves at Lancaster Auction) and lambs 1,200 sheep (Swaledale, mules and rough fell) at High Green with an additional 300 acres of land also rented elsewhere. He has been a tenant at High Green for 35 years, is a loyal NFU Kendal member and says the 2015 flood was the first time the farm had ever been flooded.
David Martin of Lords Plain, Levens in Kendal
Mr Martin, who has 220 dairy cows, lived for the majority of 2016 in a caravan because of the water damage to his farmhouse and buildings caused by the 2015 floods.
He can still vividly recount the shock as water quickly began pumping into the dairy parlour via the drain. He ended up milking in water up to his waist until he could block the drains and stop the flow. Other problems included water troughs in Mr Martin's fields floating on the flood water. David even required a wet suit to go into one of his fields to turn off the tap to those troughs.
The threat of wetter farming constantly hangs over Mr Martin whose land would be constantly flooded if it not for the nearby Levens Catchment pumping station.
As well as recovering from the extensive flood damage to his farm and home this last twelve months, Mr Martin has also been actively pressing for a new Internal Drainage Board (IDB) for his area.
The intention of setting up the IDB would be to gain responsibility of the pumps from which the Environment Agency is withdrawing. David is willing to pay a substantial amount towards the IDB so they can keep the pumps running – this illustrates that farmers are willing to pay for the service. It is estimated that at least 46 acres of mowing land will be significantly affected by an increase in soil wetness in the Lyth Valley – this represents 20% of the farm area. The remainder of the farm will no doubt be adversely affected.
Steve Dunning of Raisgill Hall in Tebay, Penrith
Steve Dunning who farms at Raisgill Hall in Tebay, Penrith, had buildings, machinery and vehicles decimated when mud came down off the hill behind his farm like a torrent.
Approximately 13,000 tonnes of soil slid through their farm, flattening everything in its path. Steve says he suffered £100,000 worth of damage including loss of fencing, his cattle trailer and a 4x4 vehicle.
Mr Dunning said: "The soil flattened the sheep handling system and our tool shed. For months and months afterwards I kept hunting around the farm for tools only to realise they'd gone down the river as well. Our new water boiler tank also got damaged. We lost 2,500 litres of central heating fluid which spilled into the house and garden, it created a smell we could not get rid of for ages."
In order to protect himself in future, Mr Dunning has had some oak flood gates made to protect the farmhouse from the river. The stone wall beside the river has been built up again to nearly three times the height it was before the flood. Steve has reinforced it with concrete and metal at the foot with the stone wall built on top of that base. The stone has also been filled full of mortar and is pinned to withstand any impact.
The in-bye land behind the farm which slipped has been completely reshaped. Mr Dunning added: "We used a Caterpillar and pushed the spoil back. It was sheer before the flood but today you can drive up it in a 4x4."
Finally, Steve has moved his entire sheep enterprise further up the hill and away from the watercourse.
Steve said: "We decided early on that we would not build at Raisgill Hall anymore but we would move things up to where our dairy enterprise is – 500 metres further up the hill."