The Government has announced that it plans to abandon the ban on beak trimming that was due to come into force at the start of 2011 – and the move has been welcomed by the British Free Range Egg Producers Association, the British Egg Industry Council and the National Farmers Union.
Details of the Government's proposal have been published by the Department for Food, Environment and Rural Affairs following advice from the Farm Animal Welfare Council (FAWC) that the ban should be set aside at the moment. FAWC recommended that the ban "should be deferred until it can be demonstrated reliably under commercial conditions that non beak trimmed laying hens can be managed without a greater risk to their welfare than that caused by beak trimming itself." FAWC chairman Prof Christopher Wathes did stipulate that infrared beak trimming should be the only method routinely used and he made it clear that FAWC still wanted to see an eventual ban on all forms of beak trimming.
The Government has accepted his recommendation and has published its proposals in the form of a consultation document so that all interested bodies can make their views known. The move would allow the routine beak trimming of day old chicks using infrared.
BFREPA chairman John Retson said he welcomed the Government's proposal. He said it was very important that producers were able to continue beak trimming in the interests of bird welfare, although he accepted that infrared should be the only method used under normal circumstances. The Government is suggesting that the hot blade method should only be used in emergencies, and John said that was right.
One reason for FAWC's recommendation was the evidence that emerged from research done at Glasgow University. The research showed that infrared beak trimming did not cause long term suffering. That research was partly funded by BFREPA. "We provided substantial funding for that research and we can now see how important it was that we did so. The findings were in our favour and that was vital because I think we will need beak trimming for many years to come."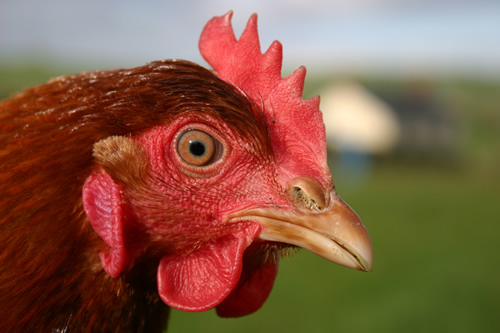 In the consultation document, the Government says its long term goal is to ban routine beak trimming. But it says, "it is important that such a ban is reinstated and enforced at a time when the industry has the information and ability to comply without compromising laying hen welfare. We need to allow time for the change to alternative systems following the conventional cage ban in 2012 to become well established. We know some breeders are incorporating information on pecking behaviour in their selection programmes, but it may take several years to find a strain that is not prone to feather pecking under commercial conditions."
Rob Newbery, the NFU's chief poultry adviser, believes it may be a very long time before the industry reaches such a point. "Everyone says that with the breeds we use now and the way the world is today in terms of keeping laying hens that we need beak trimming. It has to be impressed on Defra and FAWC that unless there are major changes – and I can't see what those major changes would be with commercial poultry keeping – they need to stick with allowing producers to use infrared beak trimming." Rob said the Government announcement was good news for the industry and was the result of much hard work by industry representatives. He gave credit to BFREPA and others who had played their part in the Glasgow study. "It's very good news. It's absolutely essential."
In its recommendations, FAWC suggested that the Government should look at the issue again in 2015. That is one part of the advice that DEFRA ministers have not accepted. The consultation document reads, "The Government will review the deferment of the beak trimming ban, but does not wish to be tied to a specific date. It may be that we decide it is appropriate to carry out a review earlier than 2015. Rather than reconvene the Beak Trimming Action Group immediately, we intend to have a 'one-off' meeting with the group and other key stakeholders during the consultation period to seek their comments and to let them know how the Government intend to take forward this issue. The Government considers it more appropriate to reconvene the group when the results of on-going research projects that are investigating practical and realistic ways to rear laying hens without the need for beak trimming are known." The Government points to research work at Bristol University, funded by the Tubney Trust, which is looking into alternatives to beak trimming.
The Government is also asking the industry to undertake study trips to those countries where hens are rarely beak trimmed – countries such as Sweden, Switzerland and Austria. "Although we recognise that these countries have very different industries to ours, with birds being in small flocks with high labour inputs, and that producers experienced several years of pecking problems before successfully overcoming them, we consider it would be invaluable to identify lessons that could be learned from these countries and applied in the UK," it says in the consultation document.
The British Egg Industry Council has lobbied actively on the beak trimming issue and chief executive Mark Williams welcomed the Government's proposal to defer the 2011 ban. He said that FAWC had stated its opinion. It knew very well that there would be potential welfare problems if the ban went ahead. "Obviously from the industry's point of view we welcome this."
He also welcomed the Government's intention to allow beak trimming other than infrared in emergencies. "If a flock is not beak trimmed at a day old and the birds then start cannibalising each other later on then under a vet's supervision emergency beak trimming can be done. Of course that would still be hot blade. We welcome that. We have partaken closely in the work with scientists and Government on this. What we want to ensure, of course, is the welfare of the laying hen. We saw huge potential problems arising if this ban had gone ahead."
The consultation period started on January 20 and will run until April 14.