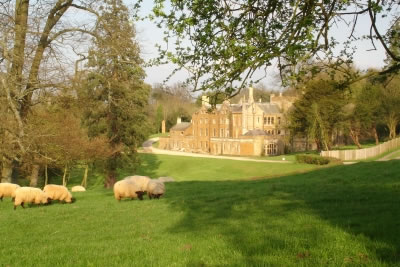 One of the industry's longest standing awards, the Bledisloe Gold Medal for Landowners, has been awarded to the Great Tew Estate which is owned and managed by the Johnston family.
The Medal, which is celebrating its 50th year at the 2008 Royal Show, has been awarded to James Johnston in recognition of the way in which the estate has diversified in order to meet the challenges of the 21st Century. A firm believer in sustainable farming, Mr Johnston has followed an integrated sustainable farming system and rotation brings natural fertility to a light brash Cotswold land. Substantial plans have been made for the long term future of the Estate and the Society is pleased to make this award to Mr Johnston for the huge and ongoing improvement that has been achieved at Great Tew.
The RASE 2008 award for Excellence in Practical Farming and Business is to be presented to entrepreneurial brothers Tim and Simon Livesey from Lowerfields Mushroom Fair. The Livesey Bros have, over the past twenty-two years, pioneered the introduction of exotic mushrooms to the UK by replicating the conditions that can be found in other parts of the world. The business now employs eighty full time staff, produces twelve thousand punnets and boxes per day and supplies eleven types of mushroom to Sainsbury's, Asda, Waitrose, Marks & Spencer, wholesalers and food companies throughout the UK.
The Society's Research Medal this year saw a number of exceptional entries and, following extensive debate, the Medal was presented to Professor John Woolliams. As Research Group Leader at The Roslin Institute, University of Edinburgh, Professor Woolliams works on the application of sustainable breeding programmes in livestock and has made significant contributions to several areas of animal science at both theoretical and applied levels. The Committee considered Professor Woolliams to be an outstanding candidate for the award having demonstrated how excellent science can be translated into practical outcomes which are of real value to the agricultural industry. This epitomises the 'Practice with Science' philosophy of the Society.
The awards will be presented by the President of the Society, the Marquess of Salisbury, at the Royal Show Awards Dinner and Auction on Thursday 3rd July 2008.