A group of farmers, animal health experts and environmental entrepreneurs claim to have produced the world's first carbon neutral eggs.
The eggs, which are being produced on a farm in the Limburg region of the Netherlands, recently went on sale for the first time.
And although the birds are not free range, Ruud Zanders, a poultry farmer and lecturer who is one of the four people involved in the development, says that the system has been awarded the top welfare rating of a Dutch animal welfare organisation.
"We are barn, but have three stars in the Better Live Mark from the Dutch Animal Protection (Dierenbescherming)," he told FarmingUK. "This is as much as organic. So the Dutch Animal Protection is saying that our system is as good for the animals than organic," said Ruud, who is a lecturer in healthy poultry farming.
His partners in the venture are Styn Claessens, a farmer who says he cares about animal welfare and the environment; Maurits Groen, a sustainable entrepreneur and founder of solar energy social enterprise WakaWaka; and Olivier Wegloop, a sustainable entrepreneur and communication strategist.
The eggs are being sold as 'Kipster eggs'. They are produced on a 24,000-bird unit near the city of Venray, although Ruud and his partners say that the modular design of the system would enable producers to manage flocks of up to 96,000 birds.
They say the system is "an alternative to conventional agriculture" and claim that units would be suitable for placing in urban locations.
"Lots of innovations, and plain old common sense, make Kipster the most state-of-the-art layer farm in the world," said Ruud Zanders. "We have the ambition to conquer the world with this innovative concept."
Huge growth
In the United Kingdom, free range egg production has enjoyed huge growth as consumers have become more welfare conscious over the last decade.
Free range eggs now account for half of the market. In the Netherlands, barn systems are more dominant, but Ruud Zanders insists that high standards of animal welfare can be achieved without going free range.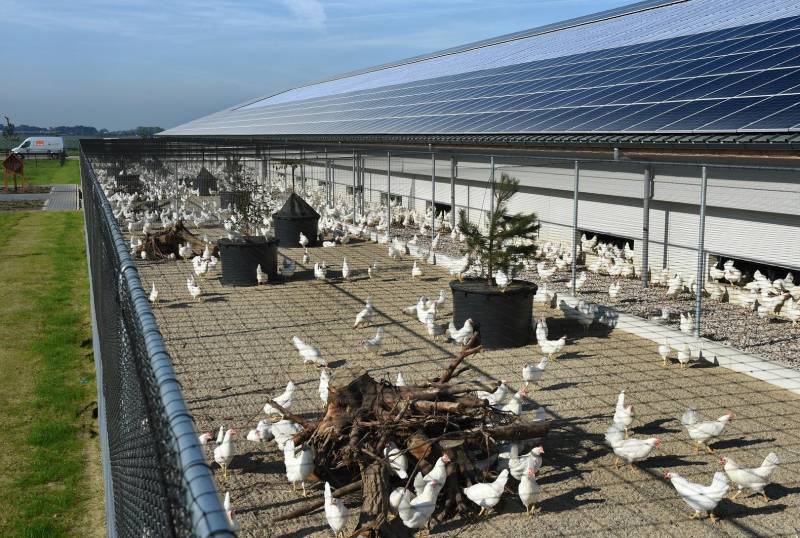 "We are classed as barn. This is because we don't have 10 hectares free range," he told FarmingUK. "And we don't want to because nine hectares normally the birds don't use."
He says that chickens naturally live in woods, often fearful of open exposed land. He says a smaller outdoor area, along with a covered courtyard, provides the best environment for the layers. "Every free range farmer knows that if you have 10 hectares, the chickens will only use nine. We have 6.7 hens per square metre."
He said: "We are barn, but we have three stars in the Better Live Mark from the Dutch Animal Protection (Dierenbescherming). This is as much as organic. So the Dutch Animal Protection is saying that our system is as good for the animals than organic."
Lowest environmental impact
The point of difference for Kipster eggs, he claims, is that they combine high standards of welfare with the lowest possible environmental impact.
"We have the mark 'Milieukeur'," he said. "This is an environmental mark. That means low energy, low ammonia etc."
He and his partners say they work to an extremely low ammonia standard of approximately 0.025 kgs per chicken, they use only use electrical facilities - no use of fossil fuels - and have 1,078 solar panels on the roof supplying more energy than the farm uses. They use just 40 per cent of the energy generated to power the farm and sell the rest.
They say that fuel emissions are kept to a minimum and more than 90 per cent of fine dust particles are captured to minimise emissions.
The producers use white birds supplied by Hendrix Genetics. They weigh less than the brown alternative and require less feed. The farm boosts it environmental credentials still further by feeding the birds a diet made from surplus foodstuffs from industry.
"They eat what are called 'residual flows' such as left over bread and agricultural by-products. We don't feed them corn, for instance,' said Ruud Zanders. No food is used that could go for human consumption.
Spent hens are slaughtered for their meat. "We are also using our roosters and old laying hens and are making meat of it. We call it roosterburgers and chicken burgers," said Ruud.
Four years development
The new Kipster system, which Ruud says is based on research carried out at Wageningen University, is the result of more than four years of development.
Olivier Wegloop said: "We aim to bring poultry farms worldwide to an animal and environmentally friendly level. There is already interest from the US, Canada and some European countries."
Maurits Groen, said: "Our aim is an affordable egg, which has been produced sustainably and climate positive, with a clear eye on animal welfare as a starting point, and a decent income for the farmer. We have succeeded in that aim."
Styn Claessens said: "With common sense and the latest technology, we have built the farm of the future."
The farm's production has been bought up by supermarket chain Lidl for the next five years and the eggs are attracting a price premium. Conventional free range eggs apparently sell for up to 17 cents each in the Netherlands. The Kipster eggs are selling for 24 cents each.