Potato equipment specialist George Moate Ltd has become best known for the Tillerstar one-pass cultivator-stone separator but the business is returning to its roots with the introduction of a new powered bed cultivator capable of working with more powerful tractors.
Unveiled at BP2013, the national potato event, the new Heavy Duty Tiller is built to the same proven formula as before – a row of soil loosening legs positioned ahead of a bladed rotor of patented layout, then a choice of packer roller, bed forming hoods or ridging bodies. But the new version, available in triple- and four-bed sizes, is designed for tractors up to 390hp.
"The original triple Ridger Tiller established George Moate Ltd as a manufacturer of innovative and productive equipment for potato seedbed cultivation," says Lesley Pratt, commercial director. "While continuing to supply our existing Tiller models, we can now cater for growers wanting increased productivity."
Unlike the unique Tillerstar, which radically changes bed preparation by cultivating and separating stone and clod in a single pass, the George Moate Tiller is designed for a conventional approach, usually involving a separate pass with specialist de-stoning equipment after powered bed cultivation.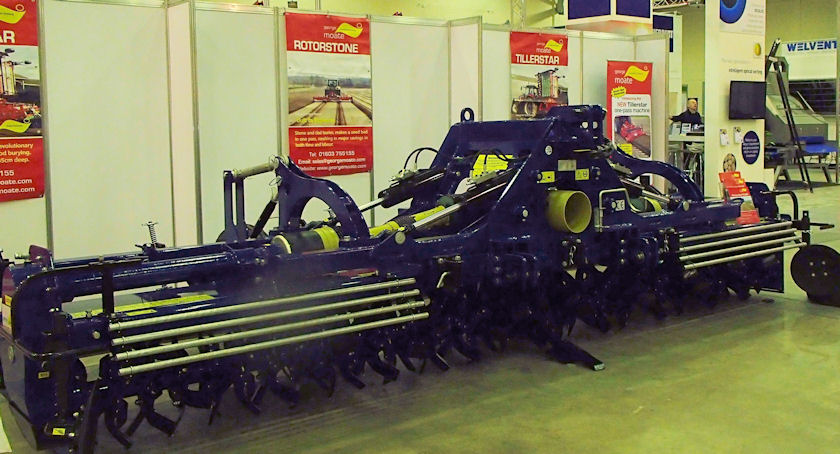 "Feedback from regular users of our powered tillers and analysis of our newly computerised parts system showed that growers are already putting more power through their machines," says Lesley Pratt. "We set our engineers the task of producing a tiller capable of reliably handling more power and torque with lower running costs so that growers can exploit bigger tractors for increased productivity."
As the working principle of the George Moate bed Tiller is well proven, the development programme focused on power transmission components.
The principle change is to the main gearbox, which now runs at a 1:1 ratio to considerably reduce torque loads on the output shafts and on the telescopic shafts that connect the gearbox to the outboard rotor drive gears. For added strength, the centre and drive bearing hubs are now machined from stronger one-piece forgings.
"The one thing that hasn't changed is the proven working principle of the George Moate bed Tiller," emphasises Lesley Pratt. "The curved rotor blades incorporate dry soil from the top and moist soil from below so that a nice even mix is achieved when de-stoning. The patented rotor design means no two blades work the same bit of soil, which eliminates the compaction that can be caused by some implements of this type."
Like other versions in the George Moate range, the new Heavy Duty Tiller can work on ploughed or pre-ridged land using standard heavy-duty curved tines, or a choice of other curved, hook and L-shaped blades. The triple-bed version forms two complete and two half beds, while the four-bed model creates three complete beds and two halves.
"The new Heavy Duty Tiller meets the demands of growers routinely using tractors up to 390hp for increased productivity and reduced costs," says Lesley Pratt. "And at £31,950 for the triple-bed model, I believe we have the most competitively-priced as well as the most robust bed tiller on the market."