The fast food giant McDonald's has announced plans to switch to using only cage-free eggs in its United States and Canadian restaurants.
In the United Kingdom, McDonald's has been using free range eggs in its outlets for more than 15 years. It has won a series of awards from the British Free Range Egg Producers' Association (BFREPA) for its commitment to free range. However, in the United States, the vast majority of eggs are still produced in cages, although demand for free range eggs has been growing in recent years.
Britain's largest egg company, Noble Foods, introduced its happy egg brand of free range eggs to the US in 2012 and it has repeatedly increased the size of its US flock since doing so.
Earlier this year, happy egg's American chief executive, David Wagstaff, said, "The free range category is booming and we are excited to see how consumer purchasing habits have changed in such a short amount of time." He said, "By adding more hens to our flock and expanding into new regions with Safeway, Meijer and United Supermarkets, we will continue to provide our consumers with the highest quality eggs from hens cared for to the highest humane standards."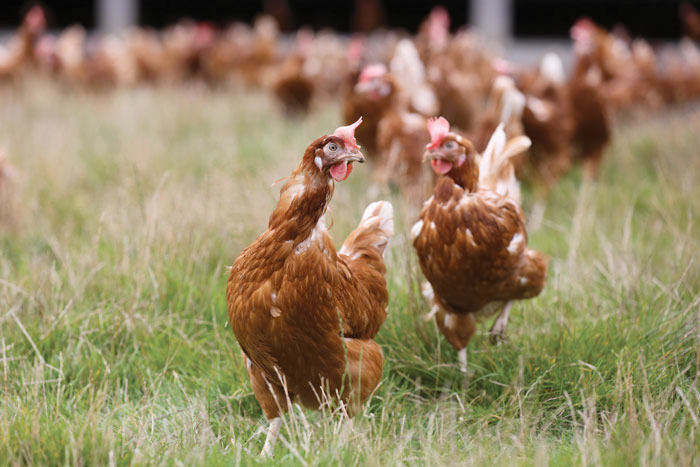 Now, one of the biggest fast food chains in the world has announced that it will end the use of eggs produced in cages. McDonald's has not committed to free range eggs, but it has said it will go cage free. It said it would move to wholly cage-free eggs in its nearly 16,000 restaurants in the US and Canada over the next 10 years.
"Our customers are increasingly interested in knowing more about their food and where it comes from," said McDonald's USA president Mike Andres. "Our decision to source only cage-free eggs reinforces the focus we place on food quality and our menu to meet and exceed our customers' expectations."
Marion Gross, senior vice president and chief supply chain officer of McDonald's North America, said, "We're proud of the work we're doing with farmers and suppliers to advance environmentally and socially conscious practices for the animals in our supply chain. This is a bold move and we're confident in our ability to provide a quality, safe, and consistent supply.
"Animal welfare has always been important to us and our customers," she said. "Today's announcement is another big milestone building on our work with industry experts and suppliers to improve the treatment of animals."
McDonald's USA uses some two billion eggs each year and McDonald's Canada 120 million eggs to serve on the company's breakfast menus. They are used in breakfast sandwiches, such as the Egg McMuffin and Egg White Delight. The company says that, since 2011, it has been buying more than 13 million cage-free eggs annually. In future all of its eggs will come from cage-free production.
The announcement by McDonald's was welcomed by the animal welfare group, the Humane Society of the United States (HSUS), which has been orchestrating a campaign against cage production. "This is a watershed moment in a decades-long effort to eliminate the cruellest confinement from our food supply," said its president and CEO Wayne Pacelle. "McDonald's admirable move makes clear that egg production's future is cage-free."
He said, "Given the magnitude of this reform, we're heartened that McDonald's policy comes with a timeline. We're optimistic that the switch can occur even quicker, and we look forward to working with other food companies to follow suit."
McDonald's USA said it was the first food service company in the country to adopt a standard for hen housing systems, providing more space per bird than the industry standard, when it did so in 2000.
In 2010, it said, the company initiated research with the Coalition for a Sustainable Egg Supply to better understand the impact of various hen housing systems on animal health and welfare, the environment, worker health, food safety and food affordability.
This research provided important insights into the trade-offs of various housing systems for the company to make informed sourcing decisions, it said.
HSUS said the decision by McDonald's followed a decades-long global movement against the extreme confinement of farm animals. It said that other major companies to have committed to cage-free eggs included Burger King, Nestle, Sodexo, Aramark, Heinz, Starbucks and Compass Group.
Starbucks committed to ending the use of cage eggs in its coffee shops earlier this year. The American-based chain, which has a huge presence in the United Kingdom, serves not only coffee in its high street outlets but also offers a breakfast and lunch menu and also provides pastries and treats to go with its coffees and teas. The company was targeted in an online petition calling on it to "stop supporting animal cruelty" through its procurement practices. More than 130,000 people signed the petition. Starbucks subsequently said it would phase out the use of battery eggs.
In September last year Noble Foods was presented with the International Egg Commission's Golden Egg award for its success in introducing the happy egg brand to America. Earlier this year happy egg co launched the Hendependence campaign to promote true free range egg production in the United States.
The company said at the launch, "Increasingly, consumers are demanding more humanely produced food but are still misled by misuse of category terminology such as cage free, organic and free range. In fact, over 170 million Americans don't know what the term cage free really means. With its 'Hendependence' campaign, the happy egg co is determined to empower consumers to make informed purchase decisions when confronted with misleading egg carton labels."
The company welcomed a ban on the use of battery cages in California, which came into force on January 1 this year. Despite its welcome for the ban, it said it felt that more could still be done for hen welfare.