New additions to the World's number one range of telescopic handlers will be showcased at the LAMMA 2015 exhibition, emphasising the span of performance levels and applications catered for by the JCB Agriculture range.
"These new telescopic handlers illustrate the breadth of the Loadall range, with different machine size and performance combinations to suit every application on farms large and small," says Edward Roach, Sales and Marketing Manager, JCB Agriculture. "There's a Loadall to suit all applications, whether handling feed, fertiliser, hay, straw, silage and grain – anything, in fact, that needs to be picked up, moved, placed or loaded on the farm."
JCB 516-50
The new 516-40 Agri is the smallest JCB telescopic handler with 1.6 tonne lift capacity and 4m lift height. Its unique offset single-spine chassis and hydraulic wheel motor propulsion gives it the size and agility of a skid-steer loader – it measures only 1.56 metres wide and 1.8 metres high.
Significant upgrades in performance and usability come from improved hydrostatic drive and hydraulic services, and a new engine – a 2.2-litre JCB Diesel by Kohler developing 51hp.
JCB 525-60
The new Loadall 525-60 Agri will replace the 524-50 and 527-55 rear-engine machines with a thoroughly modern side-engine layout and a low boom pivot for exceptional rear three-quarters visibility.
It measures just 1.95m to the top of the spacious cab and is only 1.8m wide – so the 525-60 will slot into the smallest of buildings and work with ease around 'traditional' and modern farm yards. But it still has maximum lift capacity of 2.5 tonnes and maximum lift height of 6m.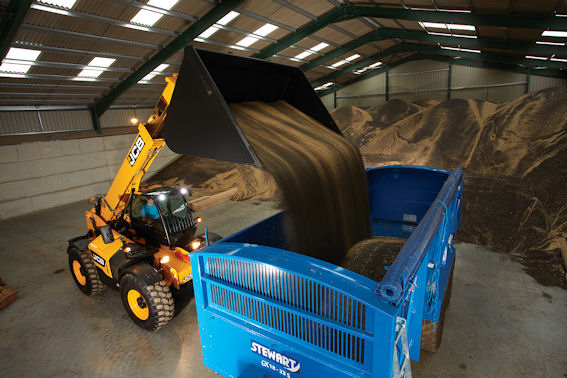 Two-stage hydrostatic transmission provides working and travel speed ranges up to 30kph, while the Varispeed option allows a fixed forward speed be set regardless of engine revs – ideal for operating hydraulically-driven attachments like a rotary yard brush or auger feeding bucket.
The 525-60's 2.5-litre JCB Diesel by Kohler four-cylinder engine develops 74hp.
560-80 Agri Plus
The 6 tonne payload of the Loadall 560-80 Agri caters for large farms and commercial bulk storage enterprises. Z-bar linkage converts hydraulic power into high break-out force for fast bucket filling while providing excellent dump angle for rapid load discharge.
Plenty of motive power is provided by a 145hp JCB Ecomax T4i engine and the newcomer will come with the option of a new 5m³ bucket from JCB's comprehensive AGRI attachments range.