An Agriculture Bill has been mentioned in today's Queen's Speech, as the embattled Prime Minister tries to push forward her Government's legislative programme for Brexit.
A key mention for the UK agricultural industry is the announcement of an agriculture bill, which is part of eight separate bills which will oversee different branches or departments.
The other bills include a repeals bill, a customs bill and an immigration bill.
Th agriculture bill will set up a system to support farmers after Brexit takes them out of the Common Agriculture Policy (CAP). It is unclear how the bill will operate.
The Queen said in her speech: "A bill will be introduced to repeal the European Communities Act and provide certainty for individuals and businesses.
"This will be complemented by legislation to ensure that the United Kingdom makes a success of Brexit, establishing new national policies on immigration, international sanctions, nuclear safeguards, agriculture, and fisheries.
"My government will seek to maintain a deep and special partnership with European allies and to forge new trading relationships across the globe.
"New bills on trade and customs will help to implement an independent trade policy, and support will be given to help British businesses export to markets around the world."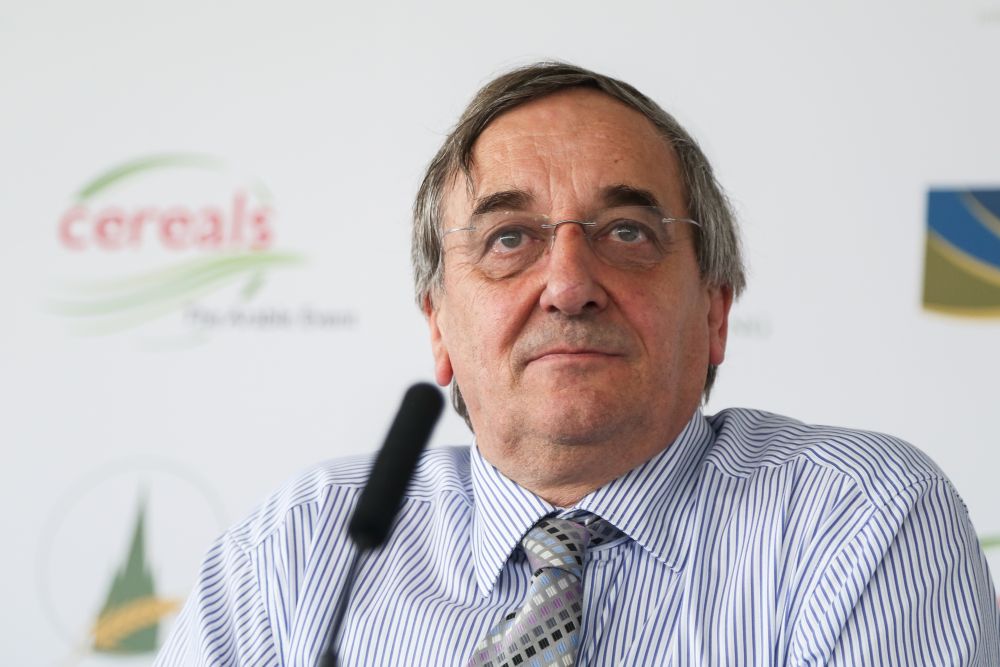 'Once in a generation'
The National Farmers' Union (NFU) has said the new bill is proposed to "provide stability" for farmers and ensure an "effective system" of support to replace the Common Agricultural Policy.
The NFU says it presents a once in a generation opportunity to enhance and promote British farming.
NFU President Meurig Raymond said: "Carving out a new future for the farming sector is a huge opportunity for the wealth and wellbeing of the nation.
"We can further our substantial economic, social and environmental contribution and, with that, strengthen the nation's ability to feed itself and the world.
"Working closely with the new Secretary of State for Defra and his ministerial team will be essential, and this is already off to a good start.
"But we'll also need the support of the whole Parliament if British farming is to have a profitable future in a post-Brexit world.
"The Repeal Bill will be a long and complex process to lift EU law in UK law. As this work goes on we will be maintaining our core asks of Government to ensure British farming has the right legislative framework in place to support a productive, profitable and progressive food and farming sector."
'Vital reassurance'
The CLA, which represents landowners, farmers and rural businesses has commented on its announcement.
CLA President Ross Murray said the extensive list of Brexit Bills 'brings home' the scale of the job involved in preparing for Brexit.
He said: "Getting Brexit right for farming is of fundamental importance to the rural economy and we welcome the fact it will be subject to detailed scrutiny during the passage of a dedicated Agriculture Bill.
"We will press for this Bill to deliver absolute certainty for farmers that the current system of support will continue funding at current levels for at least five years.
"This is the vital reassurance that we have campaigned for since the referendum, and will help farmers and rural businesses to make plans for the medium term."
'Extensive and complex'
Mr Murray said the Bill provides an opportunity to 'improve significantly' the 'extensive and complex' administrative systems.
These systems are required to deliver payments for schemes from farm support to environmental stewardship.
He continued: "By providing a forum for detailed debate on the future of farming and our natural environment it is also an opportunity for Parliament to discuss the future direction of policy and we look forward to providing leadership to those discussions.
"The Immigration Bill is a chance for Government to provide clarity on how it will ensure businesses across the rural economy have access to the workers they need."