The world record price for a working sheep dog paid at an official sale was broken again at Craven Cattle Marts' winter fixture at Skipton Auction Mart. (Fri, Feb 11)
A 13-month-old tri-coloured bitch, Dewi Fan, from John Bell, of Parks Farm Howden, Selby, was sold for 6,000 guineas (£6,300) to an overseas buyer who requested anonymity.
It beat the previous world record price of 4,900 guineas (£5,145) jointly recorded at Skipton by two classy canines – another tri-coloured dog from John Bell and a black and white Border Collie from reigning World Sheep Dog Trials champion, Welshman Aled Owen, of Penyfed, Ty-Nant, Corwen, Denbighshire. Mr Owen is set to defend his title at this year's World Trials at Lowther Park, Penrith, Cumbria, in September.
With a lot number of 83, a large crowd of potential buyers remained for the much-awaited appearance of Dewi Fan - and the smooth-coated, prick-eared bitch did not disappoint when sparkling in all disciplines in her field trial

Dewi Fan became Mr Bell's first-ever acquisition as an eight-month-old from Welsh breeder David Streeter, of Ty Dewi Farm, Rhigos, Aberdare. She is by the renowned Dewi Tweed, who landed the 2009 International Trials at Lowther Park for breeder Richard Millichap, from Port Talbot in South Wales.
A grandson of Mr Millchap's 2003 reserve International supreme champion Ben, Dewi Tweed is by the same breeder's Lad, out of David Streeter's own Cammen Glen. In turn, Dewi Fan's mother is Mr Streeter's Sian, whose grand dam is Gwenno, from Welshman John Griffith, a multiple winner of the International Brace championship.
Once again, the turnout at Skipton was exceptional, with 98 dogs forward and large crowds in attendance from early morning until dusk. Vendors and buyers came from all parts of the country and while trade in general was steady throughout the day in the run up to the lambing season, there was again keen demand for quality dogs at the top of their work.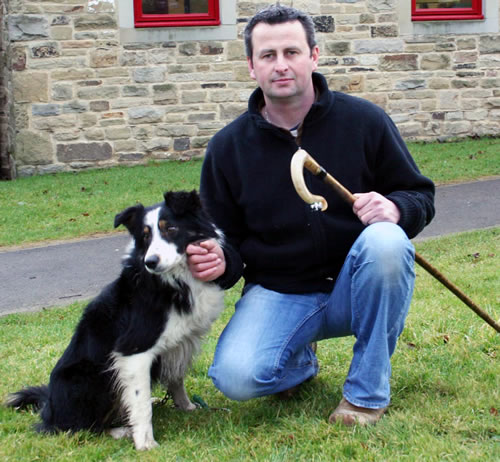 Second highest price of the day at 2,600gns (£2,730) was achieved by a July, 2008-born black and white dog, Hillmoor Oscar, from Red Rose breeder Frank Cleary, of Tockholes, Darwen. Placed in nurseries and by retired sheep farmer Mr Cleary's highly regarded Dan, who ran in the English Nationals two years ago, the dual-purpose work and trials dog joined a Scottish buyer.
Another familiar Red Rose vendor, Shaun Richards, of Watson Laithe, Hapton, Burnley, again figured among the leading prices when his 13-month-old black and white bitch Jill, was knocked down for 2,400gns (£2,520) to English team trialist Jed Watson, of Dartmoor.
Jill, herself a promising trials prospect, is by Bill, owned by well-known Scottish Borders trialist Bobby Henderson, of Heriot, out of Derbyshire-based Peter Wood's Fern.
Skipton is fast becoming a happy hunting ground for Mr Watson, who works in South Wales as senior huntsman with Breckon and Talybont Hunt. He has bought a number of dogs at the venue, including a stylish tri-coloured bitch from the same breeder of his latest acquisition.
In addition, Mr Richards sold a second entry, Spot, a May, 2009, black and white dog, also by Frank Cleary's Dan, out of Rossendale-based Alf Kyme's Meg, at 2,050gns (£2,152) to Gordon Featherstone, who farms sheep and suckler cows high on the hills of Bransdale, near Kirkbymoorside in Ryedale.
Mr Featherstone said it was his first-ever visit to Skipton, which was prompted after he had seen another of Mr Richards' dogs by the same parents sell well at last year's autumn sale.
A second successful 2,400gns (£2,520) bid was registered for another Spot, an October, 2008-born black and white dog from James Burrow, of Carnforth. Having already achieved two wins and a number of placings in this year's nurseries, she joined sheep farmer John Roberts, of Betwys-y-Coed in Conwy, North Wales.
With Welsh vendors and purchasers to the fore, so too were their counterparts from Ireland. One of the earlier exhibitors, Seoirse (Irish for George) O'Neill, of Dungiven, County Derry, led the selling prices at 2,040gns (£2,142) until well into the afternoon with his November, 2008-born tri-coloured dog Mac.
By Aled Owen's own Mac, out of 2010 Irish trials team member Dominic McCullan's Gyp, the Derry dog joined a buyer from Cumbria as a nursery trials prospect. Mr O'Neill, a sheep farmer and well-known trialist in Northern Ireland, who was selling his first dog at Skipton, said: "It's a real highlight coming over here."
Two further entries sold for 2,000gns (£2,100) – a 13-month-old tri-coloured dog Dan, from local breeder Roy Canning, of Keighley, and Gwydr Gwyn, a 20-month-old black and white home-bred dog from Welshsman Dylan Jones, of Tyn-y-mynydd, Conwy.
Prices and averages: Broken registered dogs to 6,000gns (av £1,831), part-broken registered dogs to 1,650gns (£764), broken unregistered bearded collies to 1,750gns (£1,706), broken unregistered dogs to 700gns, part-broken unregistered dogs to 350gns, pups to 150gns.