Robotics is playing an increasingly important role in the farming industry, having entered the agricultural-machinery sector.
SIMA 2017, the trade show of reference for agriculture, which will take place between 26 February and 2 March 2017 in Paris, will showcase innovative robotic solutions in farming, while providing an invaluable insight into what it means to be a farmer in the 21st century.
Offering a solution regarding the issue of strenuous tasks in the farming sector, optimising working time and improving yields, robotics has already entered the sector of agricultural machinery, as illustrated by private- and public-sector initiatives, which regularly come to light.
Among them, one should mention the work done by research institute Irstea and its involvement in the development of new robotic working tools; the French National Research Agency and the Institut Polytechnique LaSalle Beauvais.
Meanwhile, at SIMA, which will take place from 26 February to 2 March 2017 at the Paris-Nord Villepinte Exhibition Centre, north of the French capital, the organisers' ambition is to offer a forward-looking vision of Being a farmer in 10 years' time with, in particular, the portraits of innovative farmers who have adopted robotics.
Educating engineering students while spotlighting new technology
Agricultural-machinery technology and its corollary, new technology, will help to deliver the transition to new production models, which are both ecologically and economically efficient.
However, while in France the sector employs more than 40,000 people, it is struggling to hire sufficient numbers. This means that approximately 5,000 positions remain vacant in agriculture .
It is against this backdrop that the Academic Chair for Agricultural-Machinery Technology & New Technology was created at the Institut Polytechnique LaSalle Beauvais, north of Paris.
This new academic chair is an addition, in France, to existing engineering courses dedicated to agricultural equipment and new technology – ISAE, which is supported by AgroSup Dijon, and AgroTIC, which is a specialisation course jointly run by Bordeaux Sciences Agro and Montpellier SupAgro.
AgroTechnoPôle cluster for innovation in agriculture is launched
The establishment of the AgroTechnoPôle high-technology cluster aims to accelerate and promote innovation in the area of agricultural machinery and connected agriculture.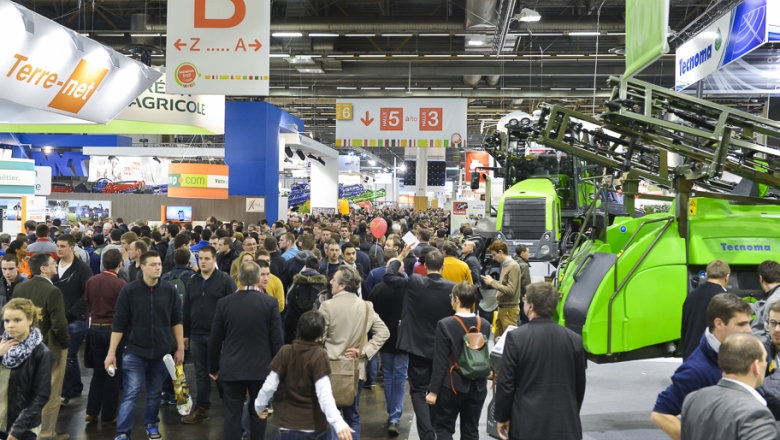 AgroTechnoPôle, which has a clear European ambition, promises to be a unique centre for innovation in farming technology, with a focus on robotics.
This tech cluster, based in the Auvergne-Rhône-Alpes region (in central and south-eastern France), is a first in Europe.
The AgroTechnoPôle hi-tech cluster will host a European centre for research, specifically dedicated to robotics; it will be co-ordinated by Irstea, an innovation hub promoting synergies between research institutions and innovative firms in order to facilitate the development of novel engineering solutions and new products aimed at a demanding European industrial sector.
The hi-tech cluster will include a campus offering internationally oriented courses and training programmes focusing on agricultural technology.
With the inauguration of the hi-tech cluster scheduled for next year (2017), 2016 will be devoted to the launch of a new facility at Irstea's Montoldre R&D centre to test the performance of robotic systems.
The French National Research Agency is on the hunt for new robotic tools
SIMA 2017 will not neglect the role of academic research in the field of robotics, as applied to modern farming methods.
Since farmers are faced with what are often tiring and repetitive tasks, along with the need for tools to deliver high production rates, while simultaneously reducing the impact of production processes on the environment, robotics appears to be a viable and exciting alternative.
Launched in 2014, Adap2E is about developing new robotic versions of working tools in farming, to better serve the environment and agriculture.
This is what brought about the recent finalisation of a robotic system, both interactive and reconfigurable.
Capable of adopting the most suitable behaviour under all circumstances, the robotic system developed by Adap2E can work on different crop types and at different production rates, carrying out a range of operations and all of this according to the individual needs of the farmer.
A response to the current and future needs of operators, the Adap2E project illustrates the contribution that this type of robot can make in terms of speed, accuracy and stability, in relation to a large number of operations carried out in a natural environment and in agriculture.
SIMA Innovation Awards single out three smart robots
Agricultural robots are already with us and, in the past few years, the SIMA trade show has given recognition to several robotic systems that are particularly innovative and promising for the farming industry.
Indeed, the boom in new technology is transforming the farming profession, as it provides enhanced accuracy; the greater availability of more intelligent data; faster action; improved effectiveness; and, finally, added value for the farmer, with a lesser impact on the environment.
The following three robots won prizes at the SIMA Innovation Awards:
• Anatis (Carre – Commendation 2015) – This farm robot mechanically weeds the soil to enable better water absorption and input efficiency. At the same time, it analyses the soil and the planted crop to better assist the farmer with decision-making.
• Robotic fodder supply chain (Jeantil – Silver medal 2013) – This comprehensive food supply-chain system comprises the preparation of fodder, a mixing station, portioning, and the automatic distribution of these portions to the livestock, using a self-propelled robot.
• Aviso (Belair – Commendation 2013) – On the basis of a forklift-truck platform, this livestock-feeding robot can adapt to all types of buildings without the need for redevelopment work. Fitted with a front-mounted silage harvester, the truck can pick up its loads from different horizontal silos and electrically operated feed hoppers. The system can deliver fodder into troughs or on the ground.
SIMA 2017: Being a farmer in 10 years' time
Being a farmer in 10 years' time will be a central theme at SIMA 2017.
The topic, which will be part of the Innovation First trade-show feature, will focus on projects and lessons learnt, as illustrated by innovative farmers who rise to the challenge of competitiveness on a daily basis.
SIMA, through its partners – the Innov'Action programme and the French Chambers of Agriculture – will shine a spotlight on innovation, as pursued successfully by these farming professionals. Here is a sample of what SIMA 2017 will showcase.
• The mobile milking robot: The Brittany Chamber of Agriculture has designed an organic dairy system with the help of a mobile, robotic milking platform. The aim is to solve labour shortfalls in the industry and the problem of access to pastureland.
• The OZ weeding robot: This robot, manufactured by Naïo, is now available for retail, and follows on an experiment run by the Morbihan Chamber of Agriculture. The key benefits are a reduction in the tiring weeding work that farmers have to do, and curbs on the exposure to inputs (such as chemicals used in weeding).
• The first Agro-Ecology Farm 3.0 : Born out of the meeting of a farmer, Agro-Transfert Ressources et Territoires, and the Somme Chamber of Agriculture, this new-generation farm aims to be a unique showcase for agronomic, technological and robotic innovation.