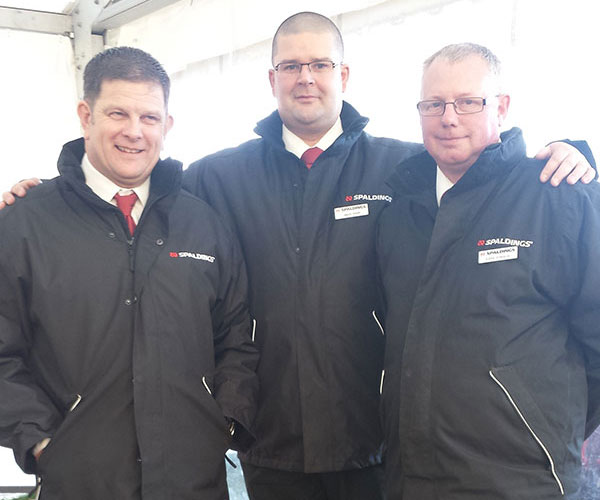 Spaldings have reported another successful LAMMA Show, despite the wet weather conditions and change of location.
The company displayed a wide selection of their 10,000 products, including a number of new products introduced in the second half of 2013 through to the start of 2014. Some of the new products on show included their new Livestock range, 55 ltr and 95 ltr ATV Spot Sprayers, Trailer Brake Conversion Kits and the Leica Lightbar Guidance System.
Also on display, was the Dynamic Automatic Weighing System which was well received by farmers. This is a product that Spaldings will now look to bring to the UK in 2014 as a result of positive feedback at the Show. In essence, it is an all axle waterproof weigh bridge, which weighs agricultural vehicles on the move. It includes a touch screen computer and printing system housed in waterproof case, which can be customised specially to the vehicle being weighed. The 900mm by 800mm platforms are light weight, fully mobile and do not require expensive installation.
As part of the Weigh Bridge display, Spaldings ran a fund raising exercise for R.A.B.I. whereby they agreed to donate £10 per tonne of visitors that were weighed in. Some farmers were shy about being weighed but Spaldings managed to weigh in nearly 50 tonne of farmers, which means that £500 will be sent to R.A.B.I.
R.A.B.I. regional manager Milly Wastie commented, "The weigh in was a novel and fun way of encouraging farmers to collectively help raise funds for R.A.B.I. We are incredibly grateful to Spaldings for all their support in promoting our cause and raising funds. The money raised will go towards supporting farmers, farm workers and their families with practical and financial assistance."
For details on products supplied by Spaldings, contact 01522 507 600 or from Republic of Ireland 1800 255 455, email: agsales@spaldings.co.uk or view the catalogue at www.spaldings.co.uk