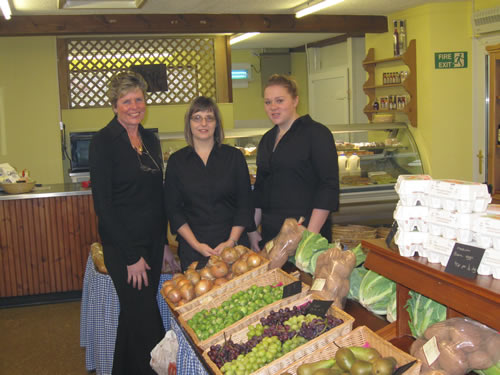 Stowey Court Farm Shop, based at the home of award-winning cheesemakers, Cricketer Farm in Nether Stowey, opened its doors for the very first time on Thursday 11th February. Run by Matthew and Nicola Lowe from Bath Bridge Bakery in Bridgwater, the new farm shop is packed full of delicious, carefully sourced local produce including fresh breads from Bath Bridge, cheese from Cricketer Farm, locally butchered meat from EW Hills & Son in Cannington and local jams from Rose Farm in Wedmore.
"We are delighted to welcome Matthew and Nicola and the Stowey Court Farm Shop to Cricketer Farm and we wish them all the best in their new venture. The farm shop at Cricketer has always been incredibly popular with local people and visitors and we are sure that Matthew, Nicola and their team will enjoy great success. Over the last two weeks the shop has been a hive of activity in preparation for the opening and the shelves are now brimming with delicious local food – the home-made cakes look especially tempting!" said Jo Carter from Cricketer Farm.
Stowey Court Farm Shop will be open 7 days a week from 9am-5pm Monday to Saturday and 10am-4pm on Sundays. Matthew and Nicola have also welcomed chefs Julie and Mark to Stowey Court who will be cooking up a storm using local ingredients to create freshly made sandwiches and delicious breakfasts to warming bowls of home-made chilli.