Supermarkets have been forced to commit to clearer labelling rules after coming under fire from customers and farmers over imported lamb products incorrectly described as 'British'.
Aldi and Waitrose have been subjected to criticism after they claimed their lamb products had been 'Produced in Britain' but in fact contained traces of imported New Zealand meat.
On Monday, Waitrose announced all the 'British' lamb meals will be rebranded as 'Classic'. But shoppers still shared their anger on social media over the issue.
Dairy farmer Robert Martin said: "Waitrose why are you using New Zealand lamb in your British lamb dishes? Shame on you for not supporting British suppliers."
"To ensure the provenance of the lamb in the meals is clearer (it has always been on back of pack) we have [already] stickered all packs on the front," said a Waitrose spokeswoman.
"We are about to re-launch the range with the branding "Classic", removing the large "British" reference from the front of pack.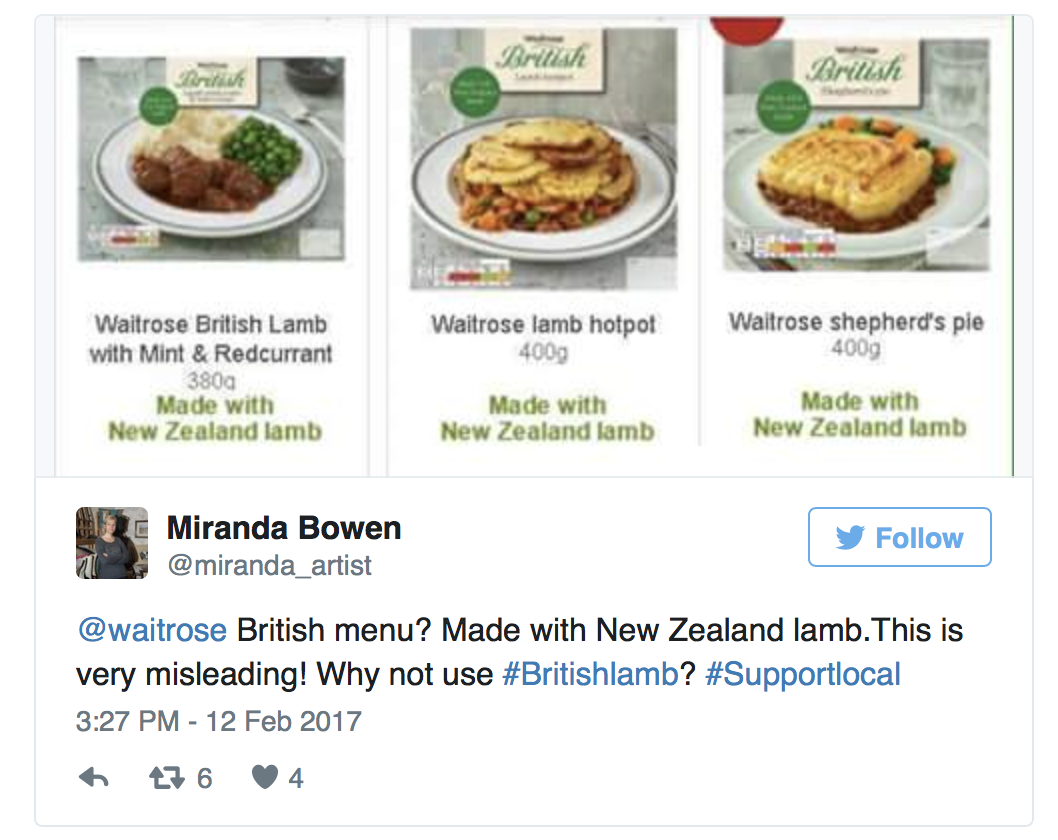 The National Farmers Union (NFU) said the situation was 'frustrating' for British farmers.
"We made our concerns very clear to Waitrose right from the beginning on this product," said NFU President Meurig Raymond.
"The inclusion of the word "British" in the brand name despite the meat being sourced from New Zealand is misleading for shoppers - and it's frustrating for British farmers, especially those who produce lamb Waitrose could have sourced."
An Aldi spokesperson said the "the ingredients are clearly labelled.
"However, in line with other major supermarkets, we are relaunching the range to make the distinction even clearer."
Acting 'contrary'
A farmer from the Lake District had started a poll on Twitter at the weekend asking whether the previous lamb labelling was acceptable or not.
It attracted over 4,000 votes in 12 hours, with 97 per cent of respondents voting "Unacceptable (and a lie)".
Morrisons has also been accused of acting contrary to its commitment to British lamb by running a promotion of imported lamb legs.
The Bradford-based food retailer signed a pledge to source its own-branded lamb from British farms.
But the NFU claims that they are acting 'contrary' to their pledge with some of their products containing Australian and New Zealand lamb meat which is confusing for shoppers.
"We appreciate that Morrisons purchases around 750,000 lambs every year, but in our view it's a real shame that the retailer is now acting contrary to its commitments to consumers," said Charles Sercombe, livestock board chairman for the NFU.
"We also have concerns that these imported products are being placed near British messaging at the point of sale, potentially leaving shoppers confused about the origin of the product they are purchasing. We want shoppers to be able to buy British food confidently.
A spokesperson for Morrisons said: "As has always been the case, all year round and in all stores, 100 per cent of Morrisons branded fresh lamb is British."