A possible 'cliff edge' shortage of labour for dairy farms has been predicted in a new survey, as nearly a third of the UK's milk is produced on farms that employ EU staff.
The new survey, commissioned for the Royal Association of British Dairy Farmers' (RABDF) Dairy-Tech event, suggests foreign staff could move or return to EU countries post-Brexit.
The survey, conducted in the last quarter of 2017 with responses from over 1,000 UK dairy farms, indicated that more than half of dairy farmers are experiencing difficulty at some level with recruiting staff – from a quarter to a significant or intense degree.
The dairy farms surveyed produce over 2.23 billion litres of milk – 15% of the UK's overall annual volume – and have between them nearly 270,000 cows.
While a total of 11% of employees were non-UK nationals, almost 17% of dairy businesses have foreign workers within their workforce.
More than half of these non-UK workers are in skilled positions of herdsmen or herd managers.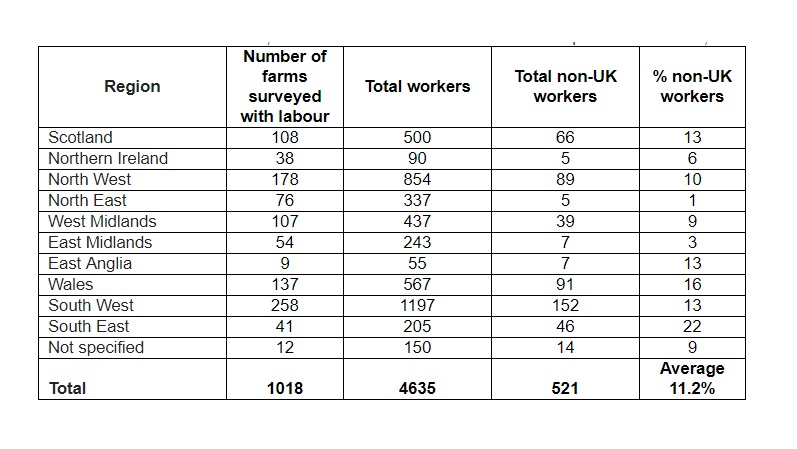 Affecting all sizes
Any shortage of labour from overseas following Brexit would also affect all sizes of farm, the survey found.
While larger farms would be more impacted, it indicates 40% of farms with a total of five employees or fewer (171) currently rely on at least one non-UK worker in their team; all but eight of these in the sample experienced difficulties with recruitment.
However, the reliance on non-UK labour varies across the UK. The highest was in the South East of England, where overseas workers formed 22% of the labour employed on the farms surveyed.
The lowest was in the North East and East Midlands, at 1% and 3% respectively. The big milk fields of the South West, North West and Scotland were relatively similar at between 10% and 13%, with Welsh respondents relying slightly more on non-UK labour at 16%.
However, the survey cautioned that some of the sample sizes are small, reflecting the regions with lower numbers of milk producers.
'Shot to the top'
Commenting on the survey, John Allen, managing partner of Kite Consulting, said that labour issues have "shot to the top" of the list of challenges for many dairy farms after the Brexit referendum.
"Clearly a very significant proportion of our milk is dependent on foreign workers, and over a quarter of farmers say they have significant or intense problems recruiting. It is already one of the key limiting factors to growth, and to the effective operation of dairy farms," Mr Allen explained.
"The ready and steady supply of skilled, dedicated foreign workers is critical to the success of the sector, and to its long-term prosperity."
Matt Knight, managing director of RABDF, said the survey highlighted the urgent need for government and industry to work together to avoid a possible 'cliff-edge' shortage of labour in the near future.
"Government needs to first of all recognise the very specific needs of the UK dairy farming sector for permanent year-round semi-skilled and skilled labour," Mr Knight said.
Domestic workforce
The industry is also concerned with the domestic workforce unwilling to fill in roles from EU workers.
According to a survey from last year, only 4% of UK adults would consider all key aspects of working on dairy farms personally acceptable.
Mr Knight continued: "Those roles are not going to be filled from the domestic workforce in the near future – a survey of the general public we conducted last year only 4% were willing to consider the type of job roles found on a dairy farm.
"But we as a dairy industry also need to take collective and cohesive action to improve the image of dairy farming and the attractiveness of the sector as a career option to the domestic workforce.
"Adopting a positive attitude and changing the message from problems to opportunities would help, potentially using advocates who have forged a successful career in the sector."