An exciting week for VG energy securing 40 E3 Biomass CHP units from Entrade. This is just the start of a very exciting partnership working together to reduce electricity and heating costs for businesses as it will generate a total of 8 million kWh of electricity and over 19 million kWh of heat for businesses throughout the UK.
The E3 is a self-contained, fully maintained combined heat and power unit generating 25kW electricity and 60kW heat from Biomass wood pellets, providing businesses with a cost-effective, reliable and environmentally friendly power solution. Businesses will benefit from a guaranteed 20-year income via the government-backed renewable heat incentive (RHI) from the heat generated and Renewable Obligation Certificates (ROC's) from all electricity produced.
Designed with efficiency in mind this innovative, environmentally friendly heating and electricity system is extremely efficient with the 'syngas' produced being up to 100 times cleaner than leading competitor models, making it the most sought after on the market.
With £50 million research and development invested and patented technology, the unit has been successfully heating and powering VG Energy's head office in Ayrshire, Scotland for a number of months, allowing many clients to see how simple it is to change to renewable energy.
Why consider a VG Energy Heat and Power Unit for your business?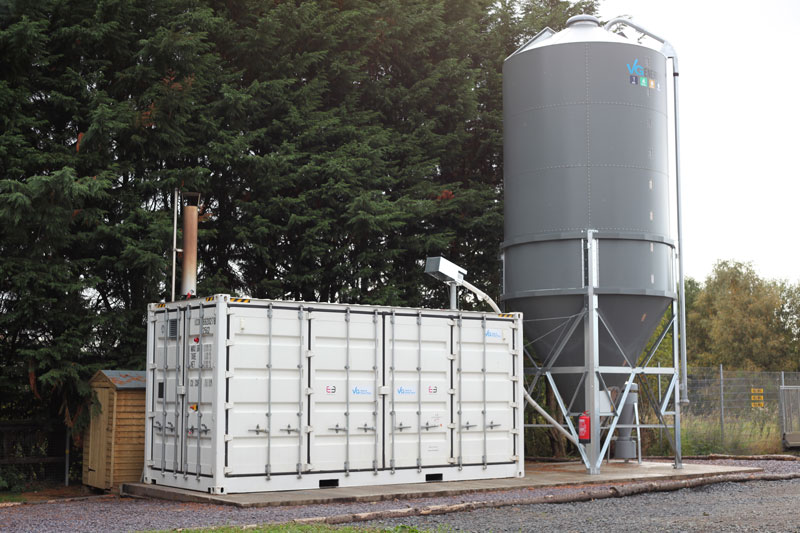 • Base level electricity and heat supplied
• Minimal disruption to business during installation thanks to a unique containerised system
• Utility prices reduced and fixed allowing predictable costs, budgeted for twenty years
• Twenty year guaranteed income from government incentives RHI and ROC's
• True green credentials to offset your carbon footprint
• Unused electricity can be sold back to the grid, generating further income
VG Energy has continued to lead the way in the renewable technology industry. Established in 2008 and with over 1200 installations we are recognised as market leader for Wind Turbines, Biomass, Solar PV and now CHP. We are well known for providing quality products, efficient installation and a high level of aftercare service.
If you would like to see one in action or for further information please contact us on 01563 829 990