The weak Pound helped to boost agricultural sector income in 2016, offsetting falls in the volume and value of milk and cereal production.
First estimate of Total Income from Farming (TIFF) for last year shows that the fall in the price of Sterling following the referendum vote to leave the European Union resulted in an 18 per cent increase in the value of payments under the Basic Payment Scheme (BPS).
BPS rates are set each year in Euros and paid at the prevailing exchange rate.
The increased value of BPS receipts, together with falls in the costs of inputs like animal feed and fertiliser, resulted in a real terms increase in Total Income of 1.5 per cent.
The figure was up by £59 million on 2015 to £3,963 million in 2016. The aggregate increase was 3.3 per cent - a rise of £127 million.
Total Income from Farming is a calculation that assesses income generated by production within the agriculture industry, including subsidies, and represents business profits and remuneration for work done by owners and other unpaid workers.
It excludes changes in the values of assets, including stocks, due to price changes but includes non-agricultural activities such as further processing or tourist activities where these cannot be separated from the agricultural business.
The Department for Environment, Food and Rural Affairs (Defra), which publishes the figures, says it is the preferred measure of aggregate income for the agricultural industry.
Cereal harvests down
The authors of the report said that last year's cereal harvests were down on the previous year, as yields returned to normal following record highs in 2015.
This, together with lower prices over the year, reduced the value of wheat by £437 million to £1,616 million. Barley production fell in value by £112 million to £716 million. Like wheat, this was impacted by falls in both price and volume.
The value of oilseed rape was down by £170 million to £541million - a fall of 24 per cent. This was largely due to a fall in volume. Lower yield and a reduction in crop area led to a 29 per cent fall in production. Sugar beet value was down by £23 million to £150 million.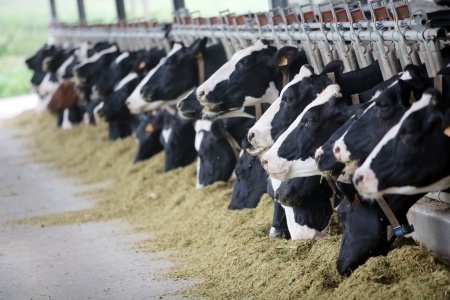 Whilst cereal values were down, potatoes rose in value by eight per cent in 2016 compared with 2015 - up by £171 million to £747 million - and the value of vegetables increased by £393 million to £1,656 million as a result of higher prices. The value of fruit production increased by £99 million to £789 million.
Dairy sector plight
The plight of the dairy sector has made headline news, with many farmers mounting high profile protests against the falling price they received for their milk.
The report on Total Income from Farming shows that the value of milk production was down 11 per cent in 2016 compared with the previous year. The figure fell by £401 million to £3,263 million. The authors of the report said this was driven by lower production and lower price. The average price of milk in 2016 was 22.6 pence per litre - seven per cent lower than the average price of 24.5 pence the previous year.
On production, the authors said: "A combination of poorer grass quality due to variable weather conditions and dairy farmers attempting to reduce key costs such as the use of supplementary feeds left production four per cent lower than 2015."
A report by AHDB last year revealed that more than a thousand dairy farmers had quit the sector in the last three years.
The value of livestock production overall was down by 3.3 per cent year-on-year, according to the TIFF report.
The value of egg production fell by £74 million to £607 million in 2016. The authors said this was entirely price-driven. The volume of throughput at egg packing stations rose by five per cent whilst prices were down by 15 per cent.
Whilst income from egg production took a hit, the value of broiler production increased by £23 million to £2,243 million, although this was driven by production. Prices paid for poultry meat were down by 2.5 per cent over the year.
Values for red meat production were up in 2016, although, like other sectors, prices fell for many farmers. Value increased in the beef cattle sector by 2.5 per cent, although prices were 1.3 per cent lower. Pig meat production rose in value by £19 million to £1,099 million.
However, the authors said that higher levels production in the first half of the year compared to 2015 drove the price down for the year as a whole.
Lower oil prices
Conversely, prices for sheep meat were up by 6.5 per cent year-on-year, as production fell by 3.4 per cent. The TIFF value of production was up by £33 million on the previous year to £1,153 million.
Whilst many farmers saw prices contract in 2016, they benefited from falls in the cost of some major inputs, according to the report's authors. The cost of fertiliser fell by £250 million to £1,144 million under the TIFF calculation. The authors said lower oil prices in the first half of the year put downward pressure on price overall.
The cost of animal feed fell by £157 million to £4,574 million, a combination of reduced volumes and feed price, they said. "Depressed cereal prices in the first half of the year helped keep the annual average price lower, combined with reduced use as farmers strived to make efficiencies.
"Energy costs fell by £49 million to £1,135 million, wholly price driven as lower global oil prices at the beginning of the year kept overall annual average price down. Typical weather conditions and efficiency savings kept volumes virtually unchanged on the year."
Labour costs remained flat, with higher rates of pay offset by a fall in the number of people employed in the industry.