Dairy-Tech is a dairy event tailored for the new generation of dairy farmer, manager and technician.
Its first ever event in February showcased ground-breaking technology; inspired uptake of the latest science and field-based skills, introduced a fresh range of innovative products and services and pioneered new global concepts in management efficiency.
Due to the transformation in the dairy industry over recent years it is becoming increasingly apparent that farmers need to be competitive, and irrespective of their system type and market they supply, they need to match both to their available resources and milk contract.
Regardless of their cost base, future successful dairy businesses must be informed, resilient, proactive and efficient; Dairy-Tech provides this platform, alongside a recognition that dairy farming has become a professional industry.
Dairy-Tech will showcase a fresh show that recognises the pressing needs of the modern dairy professional, allowing them to gain maximum exposure to new and exciting industry innovations relevant to their business, despite a large variation in cost base and system.
CLICK HERE TO BUY TICKETS FOR DAIRY-TECH 2019
Why Visit?
Visit Dairy-Tech for unique opportunities to existing routes of knowledge. The event will provide the necessary environment for any dairy professional to gain the exposure they need to the latest gadgets, tools, science, skills, products, services, methods and advice, to increase the sustainability and profitability of their dairy business.
The event will host top international speakers who will reflect on how other countries overcome potential problems and how UK dairy farmers can apply this knowledge. There will be interactive product testing and practical demonstrations, including innovations that are yet to be widely applied and adopted in this country's dairy farming practice. Visitors will also be able to broaden their knowledge of the industry at technical seminars and industry debates, both of which will be a prominent features at Dairy-Tech.
Revolutionary learning in the form of technical seminars, technology and training hubs and technical demonstrations will broaden visitor horizons and assist them in improving their dairy business profitability whilst discovering new business and career paths.
Get the most out of your visit with our 'Personalised Itinerary Service'
CLICK HERE TO BUY TICKETS FOR DAIRY-TECH 2019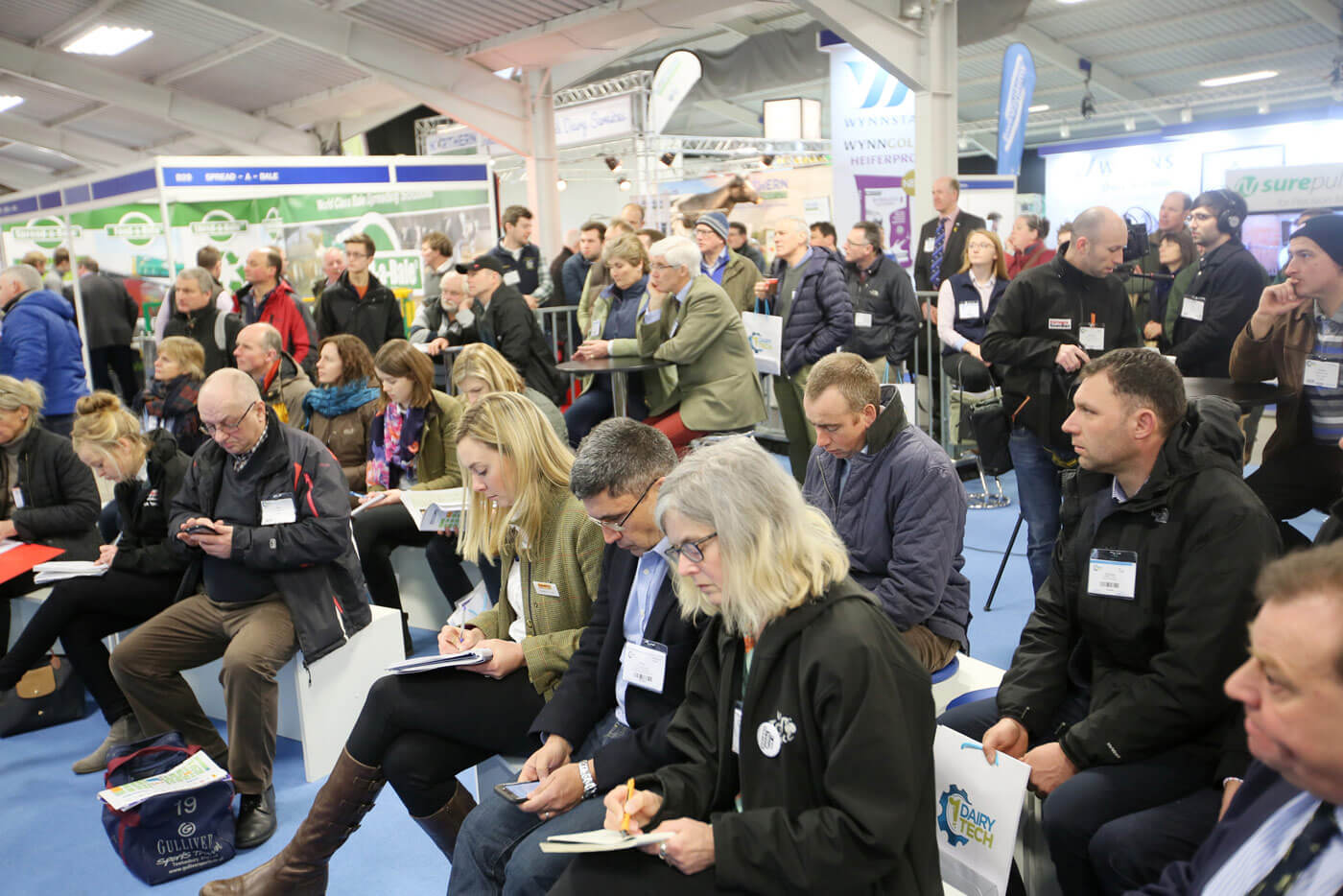 What's On?
The Dairy Hub proved to be a focal point at Dairy-Tech featuring specialist speakers predominantly focusing on the critical on-farm issues currently facing dairy farmers.
The programme of speakers, some global, covered subjects such as developments on automation and how these could answer the potential labour shortage; applied genomics for progressive dairies; how to bust the ever-growing series of milk myths facing the industry; the outlook for the organic milk sector and a vision of the genetic solution to antibiotic reduction.
This hub will follow a similar format for the 2019. All speakers will be handpicked and challenged to present in a novel way to enhance audience engagement with sessions offering the opportunity for knowledge transfer and including a sequence of take-home messages.
The RABDF stand will again adjoin the Dairy Hub and will provide visitors with the chance for 'Ask the Expert' sessions with key industry figures and RABDF council members. We will also be championing all RABDF activity including our latest policy work, the APPG, membership, farm walks, Gold Cup, Women in Dairy and conference news.
There will also be the opportunity to explore our work into the importance of overseas labour to the UK dairy farming sector and to find out exactly how we aim to have our voice heard within Government.
Please also drop by the stand if you would like to offer feedback on any RABDF activites or Dairy-Tech, have any future suggestions or are looking for advice.
CLICK HERE TO BUY TICKETS FOR DAIRY-TECH 2019