Recent rises in sheep worrying cases caused by dogs has led one farmer in Herefordshire to say that he won't 'hesitate in shooting in future'.
Posted on a Facebook page after another incident involving a black Labrador, farmer William Laurie said the issue has been a 'constant problem'.He said: "We keep having incidents of dog worrying in the field adjacent to Kington Park."This morning a black Labrador was loose in the field amongst ewes and young lambs. It ran back through the southern corner in to Estate. Please keep your dogs secure as I won't hesitate in shooting in future. This problem is getting worse! Thank you."People have suggested not putting sheep out there, but that is really not an option," he said."Four sheep had to be put down and others were maimed. The flock was absolutely terrorised. When we went in amongst the sheep, they grouped around us for safety, they were terrified."
Anxiety
Sheep worrying by dogs is causing around 85% of affected farmers to experience elevated levels of anxiety and stress, a survey conducted by the National Sheep Association (NSA) revealed. The questionnaire of 233 sheep farmers across the UK shows just how serious the repercussions of dog attacks on flocks can be, with 85% of respondents listing stress as one of the main impacts on them and their flock.While the cost and extra time needed to deal with attacks was also highlighted, a worrying trend about the personal impact was revealed – 46% of farmers surveyed listed anxiety about spending time away from their farm.Phil Stocker, NSA Chief Executive, says: "Highlighting and raising awareness of this issue is a major remit for NSA, which is why we have gathered this evidence."In no way do we want to discourage people from getting out and enjoying the Great British countryside, but it is vital that everyone appreciates any dog is capable of carrying out an attack on livestock if it is off the lead or left to roam unsupervised."The impact attacks have on the welfare of sheep is huge, but what this survey has revealed for the first time is the wider implications on farmers and their families."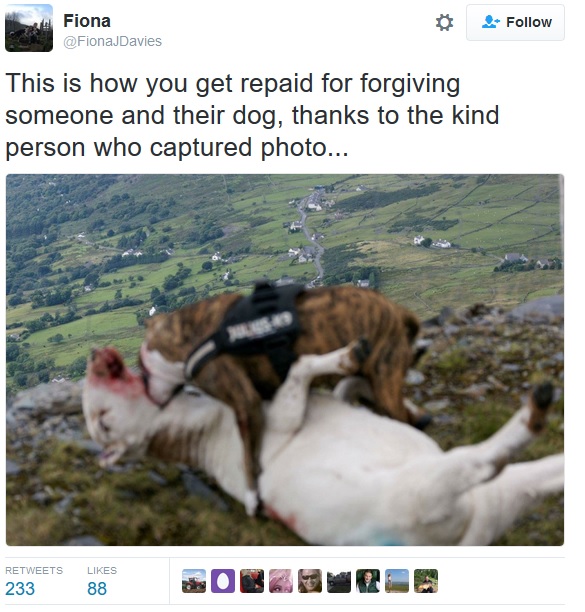 Twitter
A Welsh farmer used Twitter to share a graphic photograph depicting a dog in the process of attacking livestock.The farmer wanted to raise awarness over the severe problem many farmers face in the countryside with dogs off their leads.Fiona Davies, who farms at Llanberis on the foothills of Snowdon in Wales, said sheep worrying has become an increasing problem for farmers in the area.She said she has seen at least one attack every weekend.The photograph was taken by a member of the public, and was passed onto Mrs Davies with permission for it to be published on Twitter.