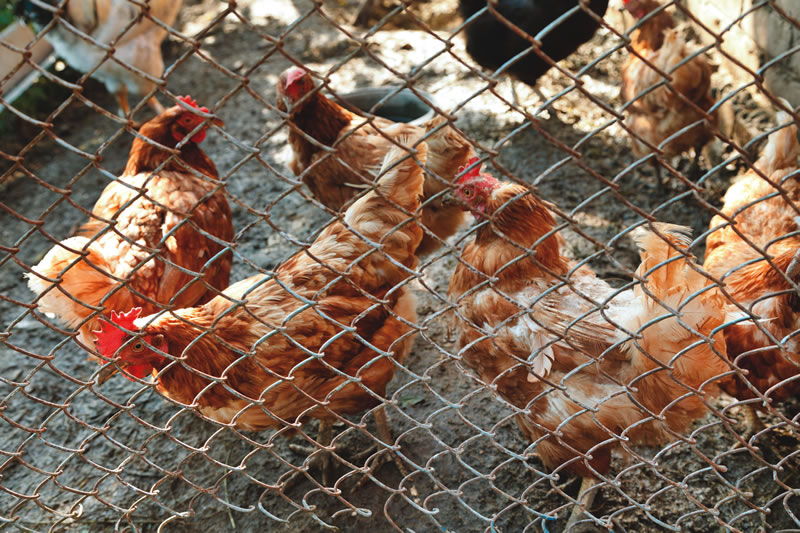 As FarmingUK reported last month there have been have been a series of AI outbreaks in France recently. A total of 69 outbreaks have occurred in the southwest of the country, the last of which was confirmed on the 13th of January.
The risk of this outbreak spreading to the UK via migratory birds is low as they have already moved south, with most already in Spain and on their way to Africa. However, there have been isolated cases in the UK. Following the outbreak at Staveley's Eggs in Preston, the UK will not regain its disease free status until the 17th of February.
Concern from free range egg producers
There has been concern from free range egg producers and the wider poultry industry about the possibility of AI outbreaks in backyard flocks. Tom Willings, Agricultural Director at Noble Foods stated, "Whilst they are an obvious threat to the UK's AI-free status, backyard flocks are probably less of a threat to the 'professional' producer."
He used France as an example; although there have been a lot of outbreaks they have stayed confined, with one or two exceptions, to small mixed poultry keepers. "I suspect that there is not too much crossover in movements between the backyarders and the typical egg producer", he surmised.
He re-iterated that biosecurity and hygiene is of paramount importance and all producers must assume that there are backyard flocks near to their farms, even if they aren't aware of them.
"We have to do all we can to educate the people working on or with our farms that they are a potential vector for disease." Because of the risk to a business he suggested that, "It is possible to contractually restrict employees from keeping avian species at home and the right to spot check for this should be reserved".
Registration of poultry flocks
It is compulsory for those who have 50 poultry or more to register their flock with DEFRA. Non-compliance could result in a fine or prosecution. For those who have less than 50 birds registration is voluntary. Currently there are approximately 36,500 flocks registered, where the usual stock numbers are between 1 and 49.
A representative from the Animal and Plant Health Agency (APHA) stated that, "we encourage all keepers to register so they can be contacted quickly". Regardless of the size of their flock, all poultry keepers must be aware of the rules and regulations around keeping poultry, and should follow best practice. There is guidance and advice on AI and disease control for small poultry producers on the APHA website. "Keepers are also encouraged to sign up to our disease alerts service to receive the latest news about notifiable disease outbreaks in Great Britain."
In terms of promoting the benefits of registration – "DEFRA and APHA work closely with stakeholders, including representatives of the British Veterinary Poultry Association, to ensure that poultry keepers are aware of disease controls and the importance of biosecurity."
APHA also exhibits at various farming shows and events, where they have been actively encouraging poultry keepers to register their flocks. The organisation also recently participated in a series of regional roadshows for poultry keepers, organised by the UK Poultry Health and Welfare Group.
The British Hen Welfare Trust
The Ranger spoke to Jane Howarth MBE again this month, to get her thoughts on the potential threat of AI in backyard flocks. Her charitable work as founder of this national organisation promotes both hen welfare and the British free range egg industry.
Whist there has always been a strong UK tradition of keeping poultry in backyards – there has been a recent resurgence. The British Hen Welfare Trust (BHWT) has reported that the number of people registered with them as re-homers, has grown rapidly since 2008, currently totalling over 60K. The main focus of this organisation is to re-home commercial laying hens that would otherwise be slaughtered.
"Between 2003 (pre charity registration) and 2007 our figures doubled annually," Jane stated. Since then the number of hens re-homed increased from 27K in 2008 to nearly 52K last year. "We peaked in the year of the cage ban, and then it dipped for the next few years as we lost old style battery farmers and built relations with those investing in the enriched cages," she explained. Last month the charity reached the significant milestone of housing its half a millionth hen!
Jane puts this increase in popularity down to a number of reasons. "Celebrity chefs have highlighted food provenance and promoted the idea of producing your own food." Getting back to nature and wanting a slice of rural idyll is also something that has had increasing allure. She also mentioned the recession and the fact that instead of going on foreign holidays, people are looking for a hobby at home to occupy their time.
"Most of our re-homers have very small flocks, with over 45% of those only taking between four and eight birds," Jane stated. "It is unusual for our supporters to have more than 20 birds, although we do work with a few small holders." Jane stressed that in most cases the hens are kept as family pets. "The birds that we re-home are at the end of their productive life, people have the 'feel-good' factor of saving a life and any eggs are a bonus." A visit to the BHWT website confirms this fact; their online shop sells treats and even a chicken swing, along with feed and equipment.
"There is a difference in attitude between our re-homers and other small poultry keepers," she went on. "And from a disease control point of view without the commercial aspect, contact between them and other poultry or keepers is minimal." A question that is often asked by commercial producers is whether the general public understand their responsibility they are taking on, when they start keeping hens.
Jane responded, "We speak to every single adopter to explain the commitment they are making." "From their point of view they want to keep their birds healthy. However, in a lot of cases they don't fully understand the responsibility in terms of the commercial poultry industry. And that is something I would like to see change."
Jane is keen to work with the industry to raise awareness of disease control issues within small poultry keepers. She already writes articles for hobby keeper's magazines, with one to be published next month, specifically on AI.
"We do advice that all our re-homers register with DEFRA and provide a direct link to the APAH guidance page from our website," Jane stressed. "We realise that not all do, as there is an element of fear that their pets could be destroyed. However, we try to highlight the benefits of receiving information and alerts, as there is only gain in having more knowledge." The website also contains guidance on hen health and welfare, highlighting the responsibility that all poultry keepers have to minimise the risks of AI.
"It is important to me that people have all the advice they need to keep their hens and the egg industry as a whole safe," Jane reiterated. In light of this challenge she is working with BFREPA and the NFU to produce a guidance leaflet on disease control for small poultry keepers. The leaflet would then be distributed via her charity, other poultry organisations, veterinary surgeries and hopefully country stores.
"I would like to see the message backed up by more articles in poultry magazine and the industry working in a cohesive manner to get the message across," Jane emphasised. "It's important people realise we aren't on different sides of the fence – poultry health is important to us all." She would like to see as many stakeholders involved as possible including: the Great British poultry club, poultry breed associations, small holders and allotment keepers.
Backyard flocks
The Ranger spoke to three small poultry keepers, who have re-homed hens from the BHWT. They were asked how much they knew about AI and what their view was on the threat of outbreaks.
Barbara Hammer lives on the Wirral and has been re-homing hens since 2011. She currently has four birds but keeps up to six. The hens are kept in her back garden, in a walk in aviary to protect them from foxes. Although when she is at home they have the run of her enclosed garden. In this semi-rural environment, her hens would not have contact with large numbers of migratory birds or wild fowl. Garden birds can get into the aviary and may take some food but it is roofed to prevent droppings from overflying species. "I hope that the way I keep my birds means that I'm minimising the risk of infection," she stated.
Barbara had some knowledge about AI, different strains, recent outbreaks and the procedures that are put in place following one. "I have read the information provided by the BHWT and also on the APAH website," she explained. "I haven't yet registered my flock with DEFRA but I plan to; I see the benefits in terms of disease outbreak alerts."
Her main concern regarding AI was for her own birds but she was aware of the potential for it to spread to commercial producers, although she doesn't know of any locally. "I would be happy to see more articles in poultry keeping magazines, providing more information on diseases and how to control them," she concluded. "I love my hens and I want to keep them as healthy as possible." She uses a local avian vet and wouldn't hesitate to contact them or the BHWT if she had any concerns.
Clive Bryant lives in Carmarthenshire and has a small-holding as well as working part time. Currently he has 60 hens, 50 ducks, 30 sheep and also grows some fruit and vegetables. His flock is registered with DEFRA and also with the egg marketing board as he sells his duck eggs into a local supermarket and his chicken eggs at the farm gate. "I am part of the local famer's market where I sell my produce as well as my home baking," he explained.
Clive knew the basics about AI and realised it can be carried by wild birds, which would be the main threat in his situation. There haven't been any cases locally and the only migratory birds he comes across are starlings and occasionally fieldfares. However, in order to minimise the risk of his poultry becoming infected with AI or other diseases, he takes the following steps.
"I supply clean water for the hens every day and only put out the amount of feed they need, in specific poultry feeders," he explained. This reduces the amount of garden birds looking for food. "I do ground feed the ducks but at two specific times to make sure it is all eaten," he continued. "The ducks are also put away fairly early – before the time that flocks of wild birds pass over to go to their roosts."
He has a pond for the ducks but hasn't ever seen wildfowl on it. "I think there are too many ducks and people around, which puts them off," Clive said. "I've also found that by ensuring a flow of water through the pond, wild birds are put off drinking from it."
He has never had to consult a vet about his poultry but does use a local practice for the sheep. "However, I realise that if I did have a lot of birds die I should consult the vet," Clive stated. Electric fences prevent the birds roaming too widely as well as stopping fox predation. The large hen houses have lighting and ventilation and are equipped to feed and water inside. "If there was an outbreak, the hens could be kept inside just as they are during very bad weather," he stressed. Similarly the ducks can be kept inside a wooden stock shed or other housing on the farm.
Jon Bright is a recent convert to poultry keeping, re-homing his first four hens just before Christmas. "They have very quickly adapted to being outside and have the run of our enclosed back garden, when we are home," he explained. The rest of the time they are in a coop with a large run. "We are getting loads of eggs already," he enthused.
Being based near Attleborough in Norfolk, Jon is well aware of the commercial poultry industry. "My other hobby is flying and I keep a small plane on a friend's goose farm," he explained. "When there was an AI outbreak in the area, there were movement restrictions on the farm and we have to abide by their biosecurity measures at all times – including wheel washing."
"I haven't thought a lot about the possibility of my hens getting AI," he admitted. "But one of the reasons we got our hens from the BHWT is because of the information and support we receive, as well as the helpline if we have any problems." He understood the importance of disease control measures and would welcome more information on the subject. "I am aware that the potential risks to commercial producers are high," he continued. "I think most hen keepers, particularly those in a rural situation are aware of farming issues and would take a disease outbreak very seriously."
The official line
Robert Gooch head of policy at BFREPA gave the association's view on the treat of AI from backyard flocks. "We are concerned about biosecurity in backyard flocks although there has been very little evidence that backyard flocks have been involved in outbreaks in the UK, US or elsewhere." The main ways that AI arrives on commercial free range farms is via wild birds, hands or boots. The presence of open water is a particular risk, as it encourages wild birds. Wildfowl were present on flood water adjacent to the unit where a recent outbreak occurred.
BFREPA would support an initiative to share best practice with backyard poultry producers. The first step is to produce a leaflet in conjunction with the NFU and the BHWT. "Small poultry keepers should be aware of risks to own their own flocks and the implications of it spreading onto commercial units. The Scottish NFU has already published a document on pet chicken health and disease control." This leaflet lists the symptoms of AI, along advice on hygiene and biosecurity measures. It also advises checking for the presence of red mites, regular worming and quarantining new birds.
Another area BFREPA, along with the BEIC (British Egg Industry Council), are working on is to increase the extent to which housing orders are used during an outbreak. "At present DEFRA requires that any poultry within a three kilometre radius of an outbreak should be housed – we would like that extended to 50 kilometres." BFREPA would also like all poultry keepers to be on the poultry register independent of flock size. DEFRA would then be aware of all poultry in the vicinity of any outbreak.
Veterinary perspective
Ben Crisp is a veterinary surgeon with the St David's Poultry Team Ltd, a veterinary practice dealing with every aspect of avian health including that of small flocks. The pet chicken side of the business is conducted as Chicken Vet, as the needs of small flock keepers is very different to commercial enterprises. Ben stated, "It is useful to know disease situations in both commercial and small flocks when looking at the UK as a whole and discussing poultry disease".
When asked how much knowledge he believes small flock keepers have on AI. He believes that they have very little other than what they tend to read in the press. "Certainly they are unaware of the significance of reporting significant mortalities." He explained that the main route of AI infection is the faecal oral route.
"If there is mixing of flocks there is a high risk but in general this does not occur. The main problem is that they act as a reservoir, which may harbour the virus to be further spread by migratory fowl or possible rodent transfer." He thinks that there is a high risk of backyards flocks getting AI as biosecurity is minimal and wild birds are not kept separate from poultry. Whether or not they will pass it on to a commercial flock, depends on proximity of the flock to other poultry.
"AI needs very close contact or fomite transfer of faeces." In terms of what advice he would give poultry keeper on disease control he stressed the importance of reducing access to wildfowl by keeping poultry away from open water. "Good rodent control is essential, along with secure enclosures to reduce contact with other birds. Poultry keepers should also remember to clean equipment between farms or houses."
Working together
Jane Howarth would like to see everyone working together to provide information and support, small poultry keepers. "Keeping poultry in backyard flocks is part of the rural was of life in the UK and that isn't going to change." So what we need to do is find a way of working together. The threat of disease spread has always been there but now seems an appropriate time to address that and help to reduce it. Which is in the interest of both poultry keepers and commercial producers.
Part of the problem is that whilst AI is at the forefront of commercial free range eggs producers – many backyard keeper are unaware of the risks to themselves or others. But with registration of backyard flocks still only voluntary, unless they are looking for information that may not get it. Encouraging small poultry producers to engage with vets can only help. The Chicken Vet runs CPD courses for vets, in conjunction with the BHWT, on treating pet chickens.
Educating backyard producers on the concept of bio-security and disease risks is key. The industry should take an interest in collaborations, as an outbreak in a backyard flock local to them would have a serious impact on their business. As well as effecting the UK poultry industry as a whole.