Supermarkets across the UK are rationing customers to three iceberg lettuces per visit due to poor growing conditions in Europe with are affecting most vegetable sales.
One notice read: "Due to continued weather problems in Spain there is a shortage of iceberg lettuce."To protect the availability to all our customers, we are limiting bulk purchases to three per person. We apologise for any inconvenience caused."Tesco has rationed customers to three iceberg lettuces per visit and Morrisons have also limited shoppers to three heads of broccoli and three iceberg lettuces.Meanwhile, Sainsbury's told the Daily Mail it was working with suppliers 'to maintain supply for our customers.'
Bad weather in Spain
The vast majority of the UK's vegetables come from the city of Murcia in southeastern Spain during the winter months.But
severe flooding and freezing conditions
have damaged farms across the region, causing millions of euros worth of damage.British shoppers have already been warned that shortages of courgettes, aubergines, salad and celery will continue until the spring – and they can expect to pay substantially higher prices for the stock that is available.A Morrisons spokesman said the retailer had introduced a cap to stop local businesses and restaurateurs buying up all of its stock."As a result of the fact that the Spanish harvest has been very difficult this year, we have just about enough coming in to supply our customers," he said.Consumers can now expect shortages of iceberg lettuce, baby spinach, mixed leaves, rocket, lollo rossa, cauliflower, broccoli, peppers, cucumbers, tomatoes, lemons, and oranges."Due to bad weather conditions in Spain, we are experiencing some availability issues, but are working with our suppliers to resolve them as quickly as possible," said a Tesco spokesman.
"To make sure customers don't miss out, we are asking them to limit the number of iceberg lettuces they buy to three," he said.Experts have warned that if the weather does not improve in the coming weeks the problem may continue until April, with customers hit by price rises.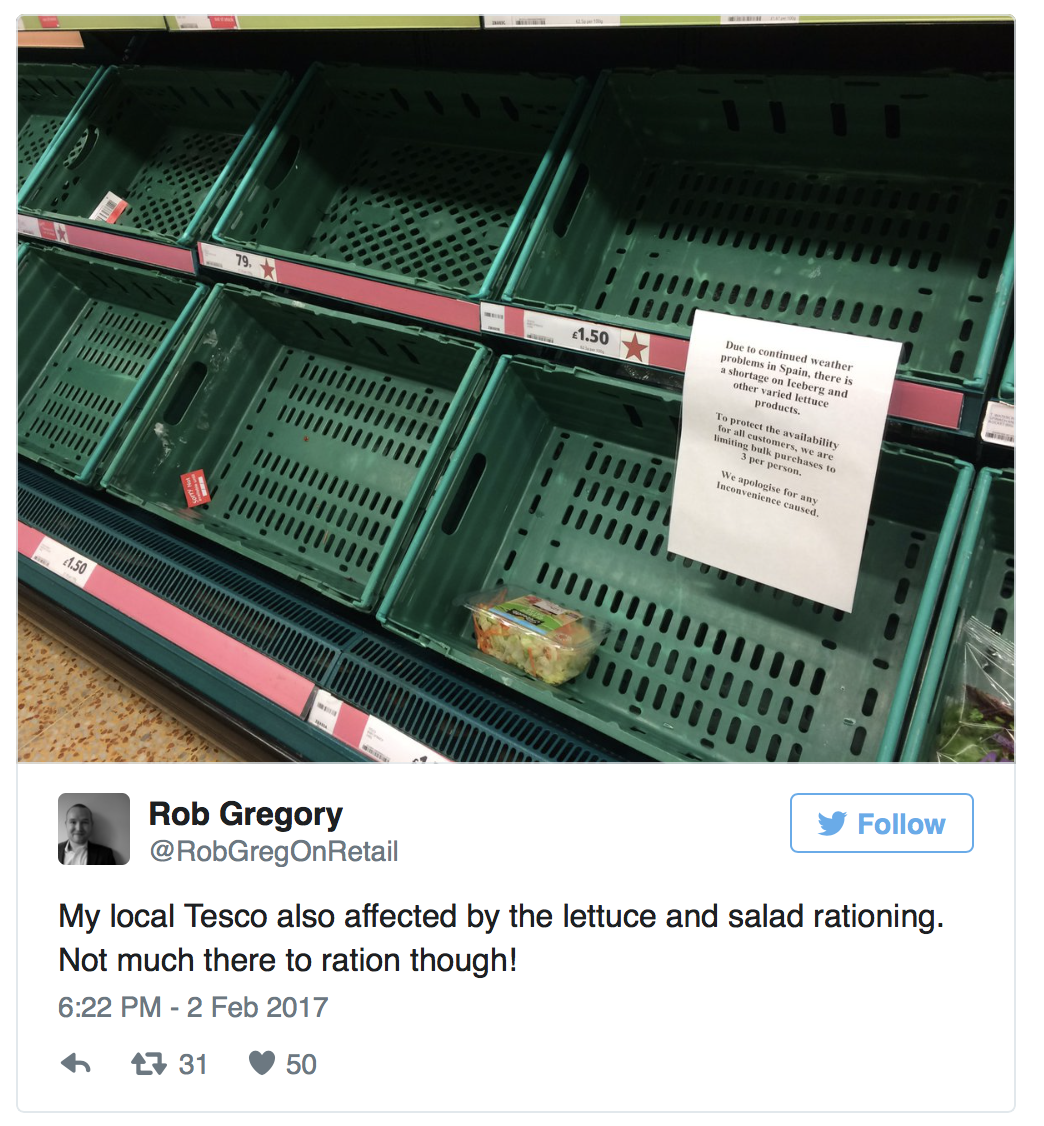 'Lettuce crisis'
The problem has become so serious that British wholesalers have taken the step of importing produce from California, despite the high cost of transporting it.Last month, fruit and vegetable wholesaler Nick Padley told the BBC: "There's a gap of about six weeks on iceberg lettuce, nothing is coming from Spain for six to eight weeks."Our supplier is now going to be bringing in iceberg from America which is obviously costing more. It's a tough time."Concerned healthy eaters in Britain have been sharing pictures of bare supermarket shelves with the hashtags #lettucecrisis and #courgettecrisis, while complaining that prices have nearly tripled in recent weeks.London retail analyst Rob Gregory said: "My local Tesco also affected by the lettuce and salad rationing. Not much there to ration though!"The Spanish association of fruit and vegetable producers, FEPEX, said it expected the shortage of leafy vegetables grown outdoors, including lettuce and spinach, to continue until early April.It said EU-wide production was down by about 40% and warned that increased availability would depend on the climate in southern Europe in February and March.