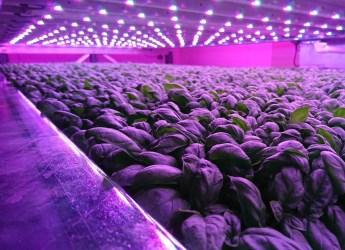 "Game-changing opportunities" for new agri-systems are expected following the launch of the world's most technically advanced vertical farm, in Scotland.
Scottish-based agri-tech business, Intelligent Growth Solutions (IGS) has unveiled its first indoor vertical farm based at the James Hutton Institute, near Dundee.
The facility is arguably the world's most technically advanced indoor farm.
It utilises its advanced power and technology to address the key challenges facing the indoor farming industry.
Fundamental barriers of cost of power and labour have inhibited the sector's expansion to date, as well as the inability to produce consistent and quality produce at scale.
But the new technology has been designed to overcome these barriers and significantly lower the cost of production overall.
And with global market growth predicted at 24 per cent over the next three years, opportunities are substantial, with over 95 per cent of its technology solutions expected to be exported.
The farm will not be producing crops for sale, but IGS will be collaborating with others to deliver the hardware and software platforms to advance indoor growing environments.
Significant demand is already being realised amongst growers, aiming to address food security issues and alternative methods of production in their regions.
'New approaches'
Vertical farming offers substantial reductions in water wastage, the elimination of the use of pesticides and reduction in food miles.
It allows produce to be grown locally and on demand, which could reduce fresh food waste by up to 90 per cent.
David Farquhar, CEO of IGS said the global horticulture market is looking for "new approaches" to enhancing food production in terms of yield, quality and consistency.
"It is also searching for ways to reduce power consumption and labour costs and our technology has been designed to fundamentally address this," Mr Farquhar said.
"Annual industry spend exceeds $10 billion with compound annual growth of 24 per cent. We are well positioned to help our customers profitably expand their businesses on the back of this growth."
The location of the new facility at the James Hutton Institute near Dundee was deliberately chosen to enhance collaboration opportunities.
Scientists and researchers at the Institute will be working with IGS to better understand how growing under lights can impact different varieties of crop growth, as well as drive increased productivity.