The Conservative Party has come under fire from angry farmers on social media after allowing a major US sugar company to sponsor its conference in Manchester.
US sugar company Tate & Lyle Sugars, a major exporter to the UK, is sponsoring the Conservative Party Conference, held in Manchester from 1 October to 4 October.
Social media users were keen to spot that the lanyards holding delegate passes had Tate & Lyle imprinted on them.
Twitter user Eye said: "Interesting it's not British Sugar. They're obviously more into sponsorship from the US."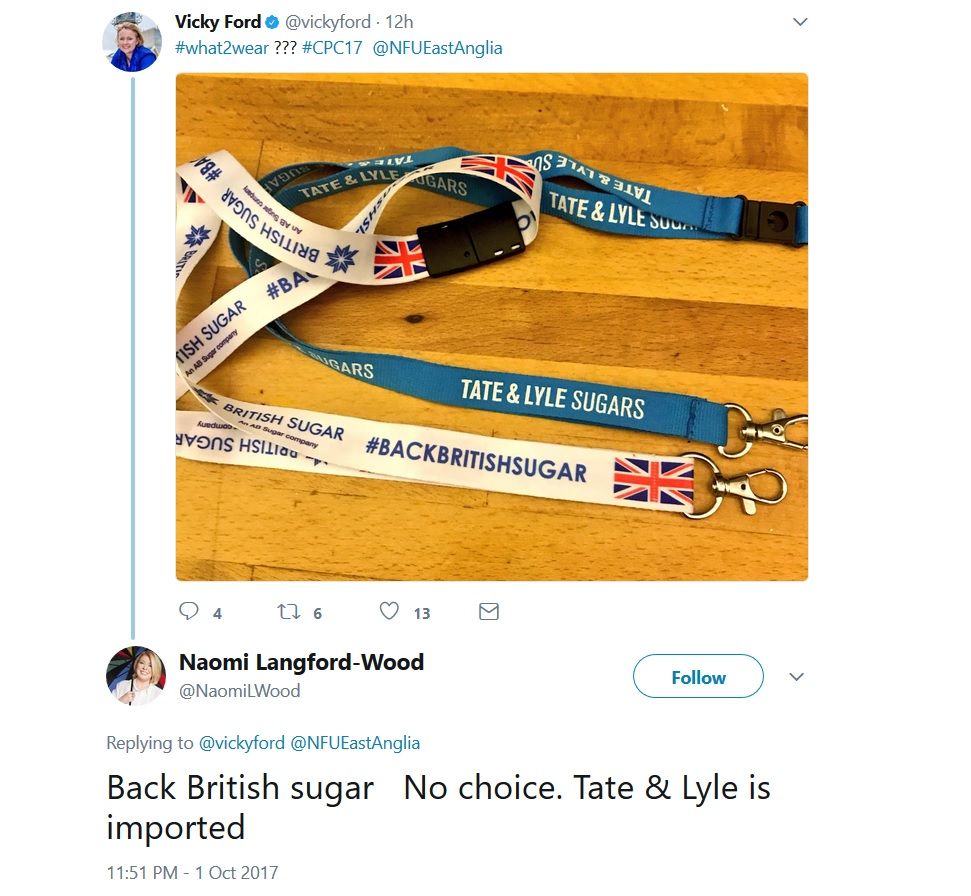 Lincolnshire grower Andrew Ward said: "Disgraceful. Conservatives sponsored at conference by Tate & Lyle, who provide foreign cane Sugar. So much for supporting British agriculture."
Naomi Langford-Wood tweeted: "Back British sugar. No choice. Tate & Lyle is imported."
Major competitor
The gaffe means that the Conservatives are advertising a brand which is a major competitor to British Sugar.
It comes just days after Defra Secretary Michael Gove and Tory MP Robert Jenrick recently visited the British Sugar factory at Newark to mark the end of the EU sugar quotes. Mr Jenwick said the visit was made to "start a bright new future".
The National Farmers' Union has even set up a 'sensory farm' inside the conference, which includes the "pledge apple tree", where delegates can hang a paper apple on the prop to pledge their support for British farming.
On the weekend, NFU President Meurig Raymond said the Conference will give the union the "perfect opportunity" to speak to thousands of delegates about the British farming industry.
But today, NFU Vice President said: "Early off to Manchester to help man NFU stand. First job, change the lanyard on the pass. You won't build a country on imports."