Changes to livestock movement rules will save farmers and taxpayers £70 million over 10 years, Owen Paterson announced today.Speaking at the Oxford Farming Conference, Paterson said cuts to burdensome red tape would make it easier for farming businesses to flourish and improve their ability to prevent and control the spread of diseases like bovine TB."Our farming industry is a cornerstone of our economy but for too long farmers have had to operate within overly complex rules and requirements," he said.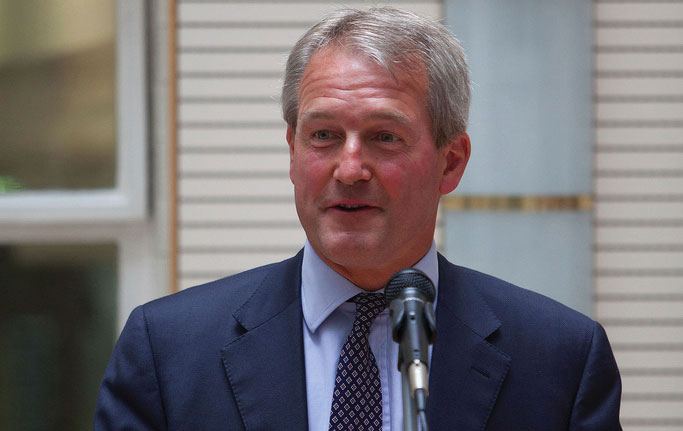 "This change to the system for reporting animal movements will save farmers and taxpayers millions of pounds, while increasing our resilience to animal diseases."From 2016, he said cutting down bureaucracy by allowing sheep farmers to increase the size of their farms from five miles to ten, reducing red tape by removing the need to report grazing on temporary land within ten miles and making animals healthier by ensuring movements are more traceable by scrapping Sole Occupancy Authorities and Cattle Tracing System would be priorities. The changes announced today follow recommendations made by The Task Force on Farming Regulation. The task force was set up by Defra to find ways of cutting red tape and burdens on the farming industry to help it thrive.The CLA backed the Environment Secretary pledges to slash £1billion of the red tape suffered by farmers, eradicate bTB and support biotech crops.CLA President Henry Robinson said at the Oxford Farming Conference that the industry had suffered for too long from an excess of bureaucracy.Mr Robinson said: "I am encouraged by the Environment Secretary's commitment to slash £1billion of farming industry red tape over the next five years."We welcome his commitment to removing £13 of compliance costs for every pound added and removing two regulations for every one added."The CLA also praised Mr Paterson's promises to simplify the definition of livestock holdings in England, phase out cattle tracing links and sole occupancy authorities and streamline the entire process. Mr Robinson said: "This all sounds like very good news for land managers."The CLA President praised the Environment Secretary's strong backing for farmers "having access to the widest possible range of technologies" including Genetically Modified (GM) crops.He said: "While almost no one believes GM is a total solution to food security, it should be available to farmers where evidence shows it is safe and suitable."The CLA President welcomed Mr Paterson's restated commitment not to "shy away from the difficult decisions required to stop" bovine TB.He added: "Mr Paterson was right to pay tribute to the farmers and landowners who have undertaken the trial culls in Gloucestershire and Somerset, often in the face of intimidation by a small minority determined to stop disease control."I am pleased he pointed out that significant numbers of diseased badgers have been removed and that farmers in those areas are confident they will see a reduction in the disease."The CLA applauds his commitment to take the tough decisions required to stop this disease, a policy that will eventually lead to healthy badgers living alongside healthy cattle."Michael Seals, chair of the Animal health and Welfare Board for England, said: "These changes will improve our ability to react to disease outbreaks by creating a more effective system to report and track livestock movements. When an outbreak occurs, having a clear idea of where animals have been is vital in ensuing we can swiftly get to grips with the disease."Richard MacDonald, chair of the Farming Regulation Taskforce, said: "These proposed changes follow closely part of the Task Force recommendations and will make a really significant improvement to local livestock movements."On Bovine TB, Paterson said: "Last year we took a very significant step forward in our efforts to tackle Bovine TB in England. In the 10 years up to last January 305,000 otherwise perfectly healthy cattle were destroyed. The latest figures show that between January and September 2013 a further 24,618 cattle had to be slaughtered, that's an average of over 90 cattle a day. It will cost taxpayers £1 billion over the next 10 years if we don't take action."We are using every tool available including tougher movement controls for cattle, better biosecurity on farms and working to develop effective and usable cattle and badger vaccines. Our ambition, as set out in the draft TB Strategy, is to achieve official TB freedom for all of England within 25 years. "We are investing over £1 million this year in cattle vaccine safety trials and other development work to design field trials and the DIVA test. Even if the trials go according to plan, the EU Commission has said that it will be at least 10 years before we would be allowed to use it."
'Buy British'
The Environment minister also told the Oxford Farming Conference that consumers should buy British fruit and vegetables to benefit the economy and urged people to think about where their produce is from. CLA Midlands Rural Adviser Donna Tavernor commented: "Mr Paterson is right to highlight the major issue of buying British at a key time for the economy."Last month's CLA/Smiths Gore Rural Economy Index showed that the rural economy is firmly in recovery as growth and confidence has spread from non-farming businesses to the farming sector."A small shift in consumers' buying habits - for all types of food - now will make a huge difference to economic recovery across the board and will particularly benefit rural areas."We have long encouraged people to 'just ask' where their food comes from and to choose locally-produced, seasonal food. The advantages, as Mr Paterson underlined, are more than financial, benefitting health, the environment and supporting the high welfare standards employed by our livestock industry."
GM Crops
Paterson said well-regulated GM technology presents some of the biggest opportunities for agriculture. The European Academies Science Advisory Council's recent report highlighted the "compelling evidence that GM crops can contribute to sustainable development goals with benefits to farmers, consumers, the environment and the economy." "Later this month we are expecting an EU vote on the licensing of a GM insect-resistant maize for commercial cultivation. This is not a crop of practical interest for UK farmers. But if approval is granted, as it should be based on the scientific evidence, then it will be the first GM food crop authorised for planting by the EU for 15 years," he said."Whether or not this vote heralds a breakthrough in the EU's regulation of GM crops remains to be seen. Delays and blockages have been politically-motivated rather than based on evidence. "I will continue to make the case for a regime that allows fair market access for products once they have passed Europe's rigorous, independent scientific assessment. "Let me be clear, there are other tools in the toolbox, GM is not a panacea. But the longer that Europe continues to close its doors to GM, the greater the risk that the rest of the world will bypass us altogether."Europe risks becoming the Museum of World Farming as innovative companies make decisions to invest and develop new technologies in other markets."
CAP funding
Tom MacMillan, Soil Association director of innovation, said: "We believe that public support for CAP funding will only be sustained if the public see the money delivering real benefits like more wildlife, less
water
pollution, better protection for soils and lower levels of greenhouse gas emissions."Choosing organic food is an important way for shoppers to support the environment, and it is particularly important that we get the CAP right for organic as the market has moved back into growth. The prospects of UK organic farming increasing are being held back by the fact that UK organic farmers get the lowest level of financial support, than farmers in any other UK country."The average public support for organic farmers in the rest of the EU is around £140 per hectare. Whereas the figure in England is just £30 per hectare, with another £30 per hectare available for delivering further public benefit."While the average organic payment in the rest of the EU is more than twice what it is in England, in our major competitor countries, such as France, German, Italy and Sweden, payments can be as high as £250 per hectare."