Brassica growers are facing high risks of pest and disease pressure this season. The Brassica Alert disease and pest forecasting system for brassica crop growers has already hit red warning high risk for the key diseases Alternaria, Ringspot and White Blister by mid-July, along with high risk for Silver Y and thrips. The latest report (23 July 2010) - above - shows weather conditions have remained highly favourable to White Blister at every one of the monitored sites across Lincolnshire. The risk of Alternaria and Ringspot risk has eased, but Brassica Alert will continue to monitor the sites for disease spores of both diseases in the air which, combined with weather forecasts, will trigger the traffic-light style warning of disease risk.With the current conditions White Blister will require treatment with an appropriate fungicide, such as Folio Gold, as soon as symptoms are seen, advises Andy Richardson of the Allium & Brassica Centre (above), which produces the Brassica Alert forecasts. "When the system triggers a high risk for Ringspot (below) and Alternaria, any crops that have not received a fungicide in the past 14 days must be treated as a priority."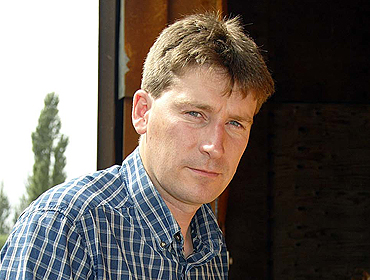 For initial Ringspot or Alternaria control, Amistar Top combines a high level of triazole activity with difenoconazole, to target any infection already in the crop, along with the strobilurin protectant of azoxystrobin to prevent infection of clean green leaf. Where growers are seeking to hold strobilurin use for later in the season, they may opt for straight Plover (difenoconazole) for the early applications.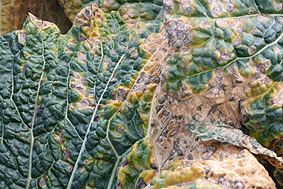 Mr Richardson reports that a high level of disease risk across the whole region early in the season will require growers take action now, to minimise the risk that diseases will continue to develop as the autumn progresses. "We have removed the 'amber' medium risk warning for diseases on Brassica Alert, which high
lights
the issue that, if there is disease risk present, growers need to be taking mitigating action," he advises.Compounding the high White Blister disease risk, key brassica pests, thrips and Silver Y Moth, have also been identified at red high risk numbers on every one of the monitoring sites, with Diamond Back Moth at the amber moderate risk level. That means over 150 thrips and 20 Silver Y Moths have been caught in each of the traps, along with 10-20 Diamond Back Moths.Jon Ogborn of Syngenta urges growers to start insecticide strategies early, to prevent damage and any further check in crops already behind with the dry weather. "The Brassica Alert warnings are a timely indication to look out for the first signs of caterpillar damage," he warns. "Hallmark Zeon applications targeted for Silver Y Moth have proven extremely effective, and will control Diamond Back Moth caterpillars too." Hallmark Zeon treatment for caterpillars may also help suppress thrip numbers, which are of particular concern for storage cabbage producers.Brassica Alert is sponsored by Syngenta and available free to all growers and agronomists, providing valuable guidance on local risks and helping to tailor application timing more accurately. Growers can receive warnings, based on traffic-light system of green, amber or red, from the website and can get high risk warning SMS text messages direct to their mobile phone. Growers and agronomists covering a large area can opt to receive information from any number of sites across the region. Maintaining a record of risk levels can also help with justification of pest and disease treatments. To sign up free go to: http://www.syngenta-crop.co.uk/brassica-alert.aspx Andy Richardson adds that, with better tailoring of fungicide programme timings, the system has proven extremely effective over the past four seasons. It has, on average, enabled growers to deliver higher yields of marketable produce using fewer treatments over the course of the season.