Average business income by type of farm in England rose to £96,100 in 2022-2023 despite higher costs, according to the latest Defra figures.
The results, which cover March 2022 to the end of February 2023, saw increases on cereal farms, dairy farms and specialist pig farms.
However, average income was lower for general cropping, grazing livestock - both lowland and those in less favoured areas (LFA) - poultry and mixed farms.
On cereal farms, average income rose by 25% to £150,400, with a combination of increased yields and firm prices more than offsetting rises across most input costs.
For general cropping farms, a 14% fall in income to £125,200 was driven by the reduced Basic Payment and lower agricultural output, according to Defra.
On dairy farms, income rose by nearly two thirds to £229,300. A substantial rise in output was driven by output from milk rising by 48% as a result of higher prices, which more than offset rises to input costs.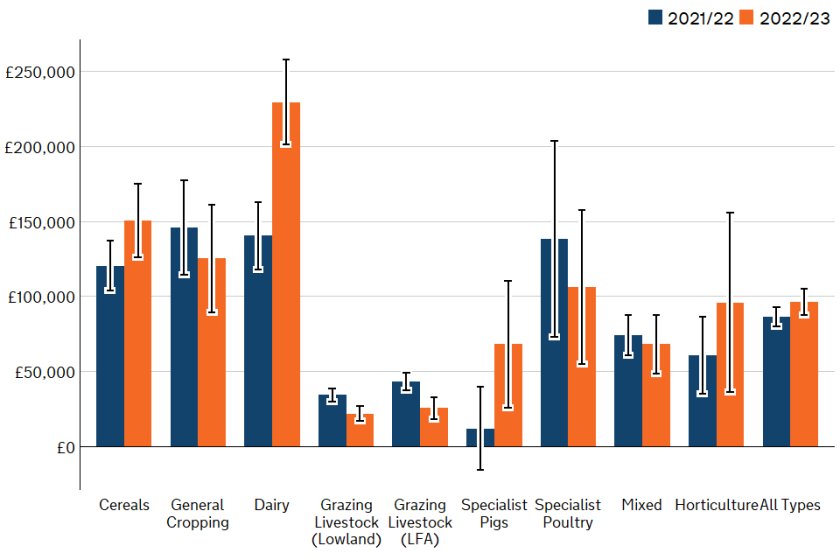 Increased costs, particularly machinery, contract costs and feed, and lower agricultural output, were major influencing factors on income for grazing livestock farms.
Defra's figures show that average incomes fell by 37% for lowland farms to £21,600 and by 41% for those in the LFA to £25,400.
On specialist pig farms, average income increased to £67,900 with higher output from pig enterprises, reflecting improved prices for store and finished animals.
Average incomes on specialist poultry farms fell to £105,900; an increase to egg output was not enough to offset higher costs, notably feed, and a fall in both crop output and revenue from diversified activities.
The progressive reduction to the Basic Payment was introduced in 2021. In 2022-23 across all farms types the average payment received was approximately £22,700.
This was 19% lower than 2021/22 and accounted for around a quarter of farm business income, according to Defra.