The British Egg Industry Council has imposed suspensions on two egg production houses after an animal welfare group released video footage allegedly filmed on an egg production unit in Dorset.
The footage, which was released by an organisation called Animal Equality, is said to have been shot at Walston Poultry Farm in Dorset, which produces eggs for Noble Foods.
The group claims that operations on the site breached animal welfare regulations.
Animal Equality says it has submitted a file to Dorset Trading Standards, which it says shows dead birds in cages and on walkways.
It claims staff failed to inspect the birds daily - in breach of the Welfare of Farmed Animals Regulations.
Investigations were launched immediately by both Noble Foods and the British Egg Industry Council (BEIC), and it has now ordered suspensions.
In a statement to FarmingUK, the BEIC said: "After seeing a report from Animal Equity, the British Egg Industry Council (BEIC) immediately sent independent auditors to the site to investigate what appeared to be breaches of the Lion Code of Practice.
"Following receipt of the auditor's report, the BEIC has suspended two of the houses from the Lion scheme, pending the retraining of stockmen responsible for those birds," the statement said.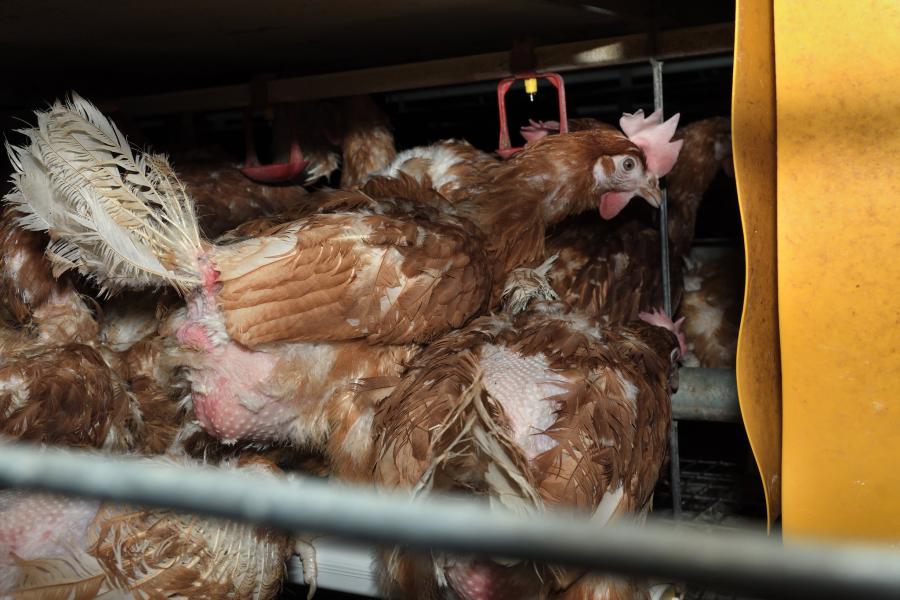 'Special measures'
BEIC chief executive Mark Williams said there had clearly been a breakdown in what was expected of the stockmen managing the houses.
Mr Williams said: "We have, therefore, suspended those houses while retraining takes place and practices are put in place to ensure that there can be no repetition.
"We will only allow the houses to re-enter the Lion scheme when it has demonstrated that practices have improved significantly and, even then, only under special measures, which will include an ongoing programme of regular, unannounced audits."
Despite the suspensions, the BEIC said it could not condone the actions of Animal Equity in breaking into the poultry houses at the farm at a time most likely to cause distress to the birds.
Animal Equality said its hidden camera footage revealed that the hens were only checked once in four days by farm staff, which it said was a clear violation of welfare laws.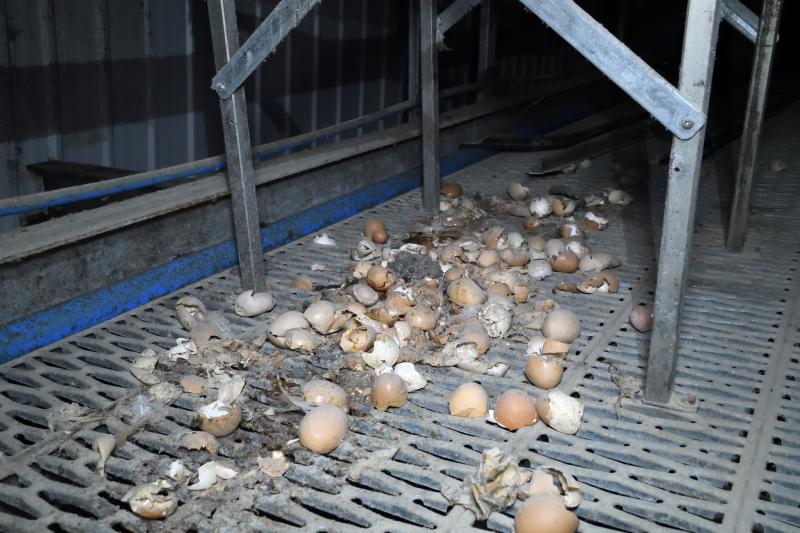 It said it had visited Walston Poultry Farm, near Blandford Forum, four times between January and March 2018 and found many birds suffering from severe feather loss - "some nearly bald - with red, raw skin"; dead birds left in cages with the living, "some being cannibalised"; birds with visible wounds from being pecked by other hens; dead birds left lying on walkways next to cages with living hens; tubs holding dozens of dead birds left in the sheds overnight.
'High mortality'
Dr Toni Shephard, UK director of Animal Equality, said: "The pitiless practice of locking hens inside crowded cages inevitably leads to the frail, featherless birds and high mortality that we found on this farm.
"But the failure to even check on these poor, helpless hens once a day – as the law requires – shows complete disregard for them as living, feeling animals with fundamental needs."
She said: "Consumers paying a premium for happy eggs will be horrified to learn they are indirectly supporting these cruel cages used on Noble Foods' other farms. It is time for Noble to go cage-free across all of their brands."
The eggs from the farm are not produced for Noble's high welfare happy egg brand, but for the company's successful enriched cage brand, Big & Fresh.
Another animal welfare organisation, the Humane League, recently launched a campaign to persuade Noble to abandon all cage production.
'Simply isn't right'
All the UK's major retailers and many large food service companies have committed to going cage-free by 2025, but the Humane League has now set its sights on the country's biggest packer.
"When consumers buy free range eggs, they mainly do so because they want to avoid cruel farming practices," said Pru Elliott, the Humane League's head of campaigns in a release announcing the campaign.
"However, when people buy eggs from the happy egg co, they are unwittingly supporting the caging of millions of animals. This simply isn't right," she said.
After the Animal Equality footage was released, Noble immediately announced that it was investigating Walston Poultry Farm.
A company spokesman said: "Noble Foods takes the welfare of poultry on farms supplying the company very seriously. The egg industry and its customers require companies to be stringently checked by regular independent auditing procedures including spot checks via unannounced visits.
"All sites supplying Noble Foods are fully compliant with UK Government and European regulations on welfare of poultry.
"Having seen the report produced by Animal Equality, relating to our contract producer, Walston Poultry, with whom we have a long-standing relationship, we have immediately launched an internal investigation and audit of the site highlighted.
"Separately, the farm will be visited, without notice, by the British Egg Industry Council responsible for the Lion Code of Practice, the officially approved scheme requiring egg producers to maintain the highest possible welfare standards and environmental controls.
"Our investigation into this matter is under way and Noble Foods remains committed and vigilant in demanding the highest standards from all its suppliers," the spokesman said.
FarmingUK contacted Walston Poultry Farm but it did not wish to comment.