The British Free Range Egg Producers Association (BFREPA) have launched public-facing campaign to publicise the many benefits of free range eggs with one such promotion regarding their members tree planting getting successful coverage in newspapers and media outlets around the country.
Press releases, web stories and social media updates highlighted that more than one million trees had been planted by BFREPA members in the past decade to create a natural environment for their hens.
BFREPA appointed Ben Pike of Ben Pike Communications to collect eight case studies from Scotland, Wales and England for the publicity push which targeted local, regional and national media coverage.
Cheshire producer Ben Wharfe, Sadberge farmer Phil Twizell, Uppingham-based Trevor Sellers and Doug Wanstall from Ashford in Kent were joined by Somerset free range egg prodcuers John Warne and Jason Thompson as the English case studies. Tony and Gwen Burgess from Aberystwyth and James Baxter from Stranraer represented Wales and Scotland respectively.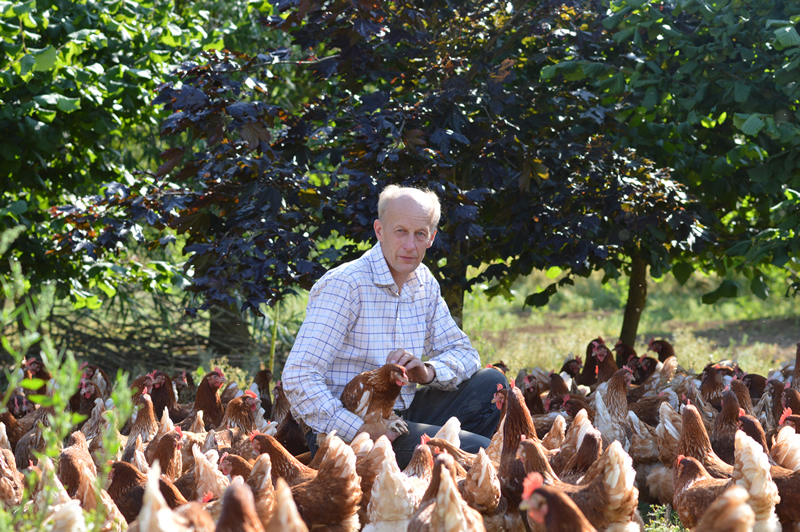 All the farmers involved in the publicity push agreed that their birds ventured further into their range and live a stress-free life, which is good for the farmer and good for their hens which, derive from jungle fowl meaning they express their natural behaviour when provided with the shelter offered by the trees.
Cheshire farmer Ben Wharfe has planted 420 trees at Sapling Home Farm, near Knutsford.
"It wasn't just a commercial decision but also ethical," Ben said. "We chose different species of hedgerow plants to provide flowers, berries and cover year round which benefits all the wildlife on the farm.
"Now the trees are now more established they offer more shelter for the hens, it has encouraged them to range for longer, further and more often."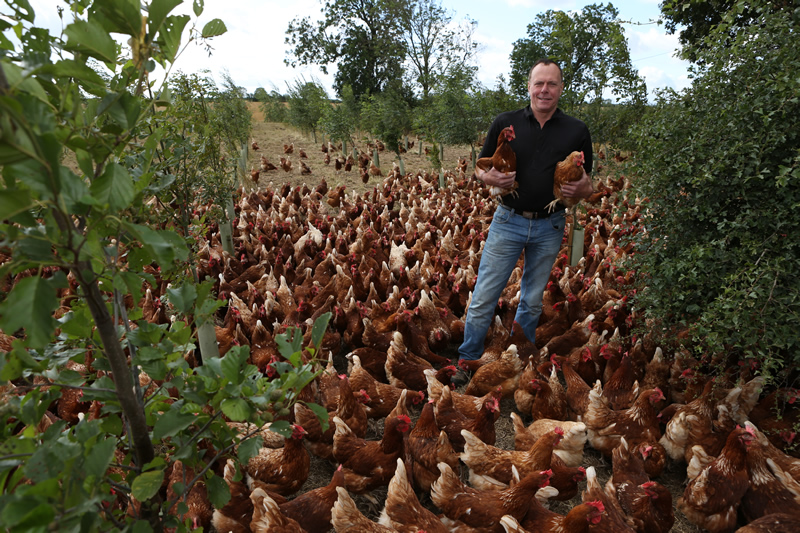 Ben's story was well covered in print and online by the Knutsford Guardian and the iCheshire website.
Trevor Sellers from Belton Poultry in Leicestershire has planted more than 3,500 trees in the past 11 years.
He said: "When I bought the farm I planted trees to enhance the situation and I was one of the first into the Sainsbury's Woodland Scheme.
"I'm a big advocate of birds being outside – they have the choice to go in and out but I prefer my birds to be out of the shed and the trees encourage that.
"I've planted lime trees, silver birches, three different oaks, some wild cherries, an orchard of apple and pear trees and also some cobnuts," he said.
Trevor's story featured on The Poultry Site, British Famer & Grower and in Horticulture Week.
Phil Twizell, who farms near Darlington, appeared on BBC Radio Tees to talk about his tree planting to a Sunday morning audience.
At West Newbiggin Farm he has planted around 4,000 trees and hawthorn hedges to provide shelter for his 16,000 birds.
He said: "It certainly works in terms of encouraging the birds to come out of the house, the trees create a relaxed environment for them. It is hard to attribute the trees to an increase in egg production, but I think anything you can do to keep the birds stress-free is great.
"We planted trees and hedges that were native to the surrounding area like ash, birch and rowan with a few sessile oak, elm, alder and cherry mixed in. The hedges are hawthorn, hazel, and goat willow which are now well established and bringing about additional environmental benefits."
North of the border, the Galloway Gazette reported that James Baxter and his family have planted around 3,000 trees to create an environment that their birds feel happy in.
James said: "We already had a lot of trees on our farm and range but these new trees are helping to create a corridor for the hens to move out of the sheds, the trees have started to encourage them to range more and as they establish this will only increase.
"We chose to plant native trees because we wanted to keep it as natural as possible and for the farm to look attractive now and in the future."
Farming on the Dorset-Somerset border, Jason Thompson has planted more than 300 trees over the past nine years. This includes an avenue of fast-growing hybrid willow which grows three metres a year at Silverthorne Farm in Milborne Wick. Orchards each side of the building offer the hens shade and get them out of the building.
Jason said: "The avenue has been absolutely amazing – it's 10 metres wide and 100 metres long and it's always inundated with chickens. It's heavily covered – they feel all nice and safe and they go out into the field to do their foraging and then come back into the tree line as they would do in the wild – that's their natural behaviour."
Jason's local paper, The Western Gazette, picked up on the story in August and ran it with a picture of his family surrounded by birds and trees.
Just 40 miles west of Jason's farm is John Warne's of Merlin Farm in Dulverton. John told the Somerset County Gazette that his 5,500 hens stay out for longer and really like going under his trees to dust-bath.
"They're definitely more contented when they're among them," he said.
"We planted 300 broadleaved trees because they are quick growing and provide additional shelter for the birds. I planted them in four lines across the field so where the chickens are now it looks quite good as it's well established."
Across the border in Wales, Tony and Gwen Burgess of Birchgrove Eggs near Aberystwyth produce over 18,000 eggs a week from the 3,000 free range hens that roam across the farm.
Gwen said: "We planted native broadleaf trees across the ten acre range and now the hens use every scrap of it, they range for longer because it makes them feel safe. As a jungle bird it is natural for them to be among trees.
"It is a symbiotic farming relationship, the trees provide shelter and the chickens fertilise the soil for the trees – they get on well together. Plus they've improved the look of the farm, the trees make the farm look lovelier than before."
The Welsh Daily Post dedicated print and online space to Gwen's story.
The Kentish Gazette newspaper titles covered Doug Wanstall's case study in three of its newspapers.
He said: "It was clear that the birds liked trees because of the activity around the ones that were already in the ranges.
"They really enjoy the wood chip, it is a haven for insects and willow is also known as a natural antiseptic."
"We are about 2-3 years away from the planted areas looking like a proper woodland. We will most definitely grow more willow and we might just plant a few more cobnut trees too."