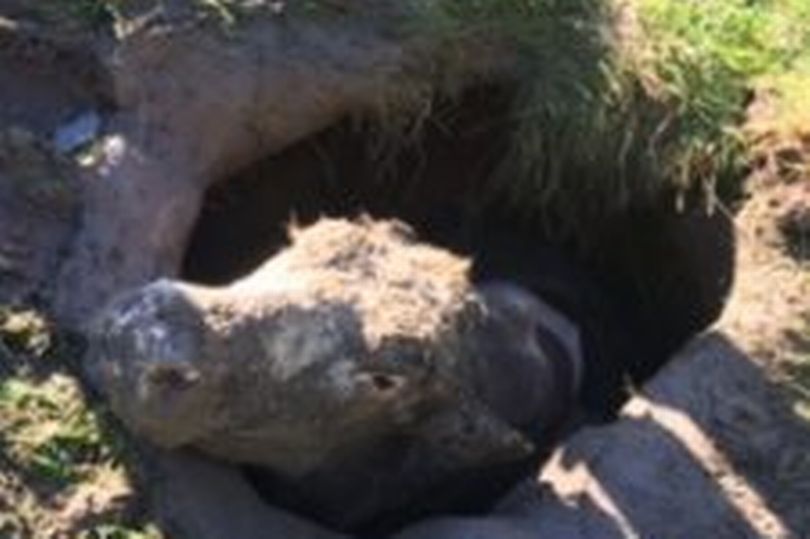 Firefighters spent three hours rescuing a cow from a sink hole on a farmer's field in West Yorkshire.
Technical rescue specialists from Cleckheaton fire station were called to Birks Close Farm in Norwood Green, Halifax at 9.20am on Thursday (5 October).
Firefighters and a farmer managed to dig out the cow but it took them several hours.
The cow was said to be distressed, but not hurt.
A fire brigade spokesman said: "Crews and the farmer managed to dig a hole around the cow.
"Once the hole was big enough to free the cow and its stuck back leg, crews used a cow lifting sling to lift it out of the hole - unharmed but a bit distressed."
A sinkhole is essentially any hole in the ground created by erosion and the drainage of water. They can be just a few feet across or large enough to swallow whole buildings.
Although they're often the result of natural processes they can also be triggered by human activity.
In 2014, a 100ft-wide sinkhole appeared overnight just yards from a farmer's house in County Durham.
Farmer John Hensby said at the time: "The land is surrounded by a sheep farm and there are two or three around at the moment. If a sheep was to fall down the hole then that would be the end of it. It would be the same for our two dogs. You wouldn't be able to get to them or even see them."