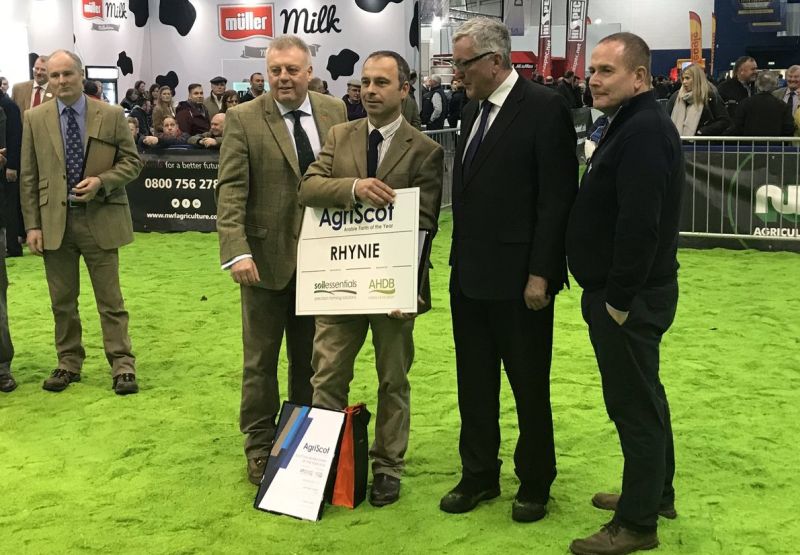 A mixed arable, beef and sheep farm based in the Highlands has been announced as Scotland's 'Arable Farm of the Year'.
Rhynie Farm in Easter Ross, run by Donald Ross, has been awarded for highlighting best practice, and demonstrating the benefits of adopting new tools and techniques to drive the industry forward.
Donald, a fifth generation farmer, was commended for his detailed understanding of his costs, his passion for collaboration and his zeal for soil health, as well as his drive to improve his business.
Donald runs a mixed arable, beef and sheep unit. He grows approximately 50 ha winter wheat for animal/fish feed and distilling, another 50 ha is devoted spring barley for malting, with 22 ha for oilseed rape and 17ha given over to spring oats for feed and milling.
There were two other finalists in the arable category: Learielaw Farm in West Lothian, owned and managed by Walter Dandie & Sons and Sweethope Farm near Kelso, family owned and managed by David Fuller-Shapcott.
Peter Chapman, whose Aberdeenshire farm was awarded the Scottish Arable Farm of the Year accolade last year, assessed the competition, alongside fellow farmer, and past AgriScot Chair, Andrew Moir.
Peter said: "We were incredibly impressed with Donald; not only is he a very capable farmer, he's also very much a cooperative, working closely with Scottish Agronomy and Highland Grain.
"He pushes himself to improve, has a good handle on his costs through benchmarking which helps him to keep his costs down without any detrimental impact on his yield or business. He's also a tremendous ambassador for the industry, both locally and nationally."
For co-judge Andrew, Donald's commitment to soil health stood out.
He said: "Donald clearly has a passion for soil and regards this as his greatest asset. One of his aims is to leave the soil in a better condition than when he took the farm on.
"He has also focused on integrating the arable with the livestock to create a sustainable rotation allied to a sensitivity for the environment and biodiversity."
The competition, supported by AHDB and sponsored by SoilEssentials, was announced at AgriScot.