Morrisons has today announced that it is to stop sourcing eggs from caged hens by 2025.
A schoolgirl who petitioned Tesco to stop the sale of caged hen eggs earlier this year, with success, has now won over Morrisons.
The new petition has gained the attention of 180,000 signatories in the space of a week.
It originally included both Morrisons and Asda to take action with caged eggs, but Asda has yet to respond.
"I have just heard the news that Morrisons have now agreed to stop selling eggs from caged hens by 2025!," explained 14-year-old Lucy Gavaghan, the petion creator.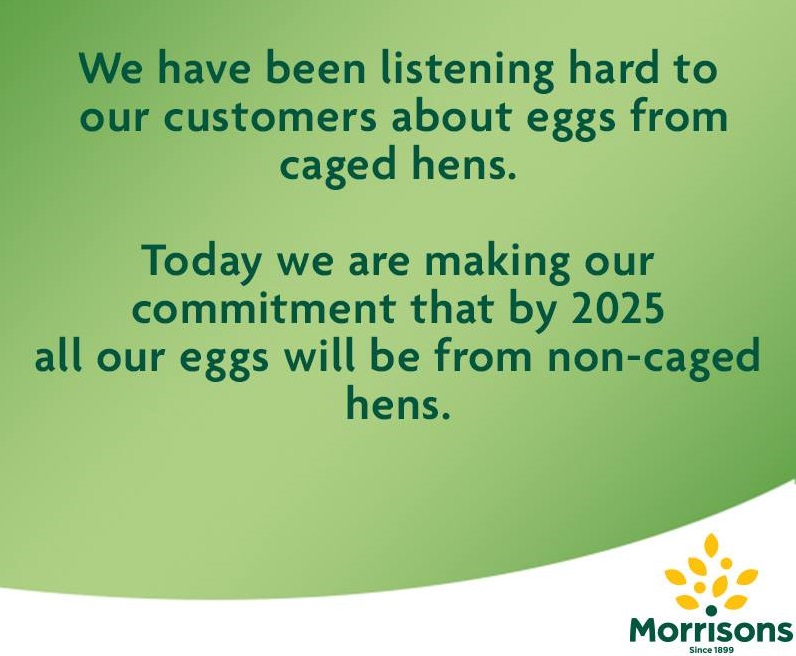 "Clearly, the way supermarkets source their eggs is evolving at a rapid pace.
"This movement has been long awaited by so many people who have been working tirelessly to bring the issue into the eyes of the supermarkets which create the demand for the caged hens eggs.
"2025, may seem a long way in the future, but it will be the year Tesco end the sales of caged hens eggs along with an ever growing list of supporting supermarkets.
"It will be the year that the demand for caged hens eggs will be lower than ever before.
'Year of caged hen farming ban'
"But most importantly, it will be the year that a total ban on caged hen farming will be closer than it has ever been.
"Now, I will concentrate this petition on Asda, the last of the big four supermarkets to take notice of what their customers want.
"Please continue to share the petition and I will work as hard as I can to apply the pressure which is proven to work, on Asda."
This week, Sodexo, the world's leading Quality of Life services company with operations in 80 countries, has joined the growing number of companies that have also committed to sourcing only cage-free eggs in their global supply chains, including Unilever, Grupo Bimbo and Nestlé.
More than 60 food companies - including McDonald's, Aldi, Tesco, Burger King and Walmart - have also announced a complete transition to cage-free eggs.