Big Dutchman distributor Newquip says there has been increased interest in the company's barn systems since announcements by most big UK retailers that they would stop selling cage eggs by 2025.
The egg industry has been waiting to see what the major supermarkets will replace their existing value range with come 2025, although Tesco, the country's biggest supermarket has committed to sourcing barn eggs.
Yorkshire-based Newquip, Big Dutchman's UK distributor, says it has received more expressions of interest in barn since the retailers' cage-free commitment, although the company said that only two customers had so far gone through with installations of significant sale.
"There has been an interest, mostly the big producers who have existing cage units, or colony units, who need to start considering what they are going to do with those colony units once the supermarkets move over to no cage shell eggs on their shelves," said Richard Buchan, Newquip technical sales adviser.
It was, perhaps, inevitable that it would be colony cage producers who would show an interest in converting to barn because they are the ones for who space will often be an issue. Many do not have the room for the range necessary for free range production.
"Some will be people who put in colony early in the run-up to the cage ban in 2012. Some of their equipment will be getting tired and it will be a natural choice for them to change to barn," said Newquip's Adam Dye.
He said that, for early adopters of enriched units, the financial impact of investing again, this time in barn, would not be as significant as it would be for someone who had installed enriched colony units more recently - possibly just before the European Union ban on battery cages came into force at the beginning of 2012.
Alternative methods
Glenrath Farms is one company that took an early decision to replace some of its colony units with barn.
As long ago as September 2014 Glenrath chairman Sir John Campbell told FarmingUK that he intended to start replacing some of his enriched colony production. He said at the time that the market was moving away from any form of cage production to alternative methods.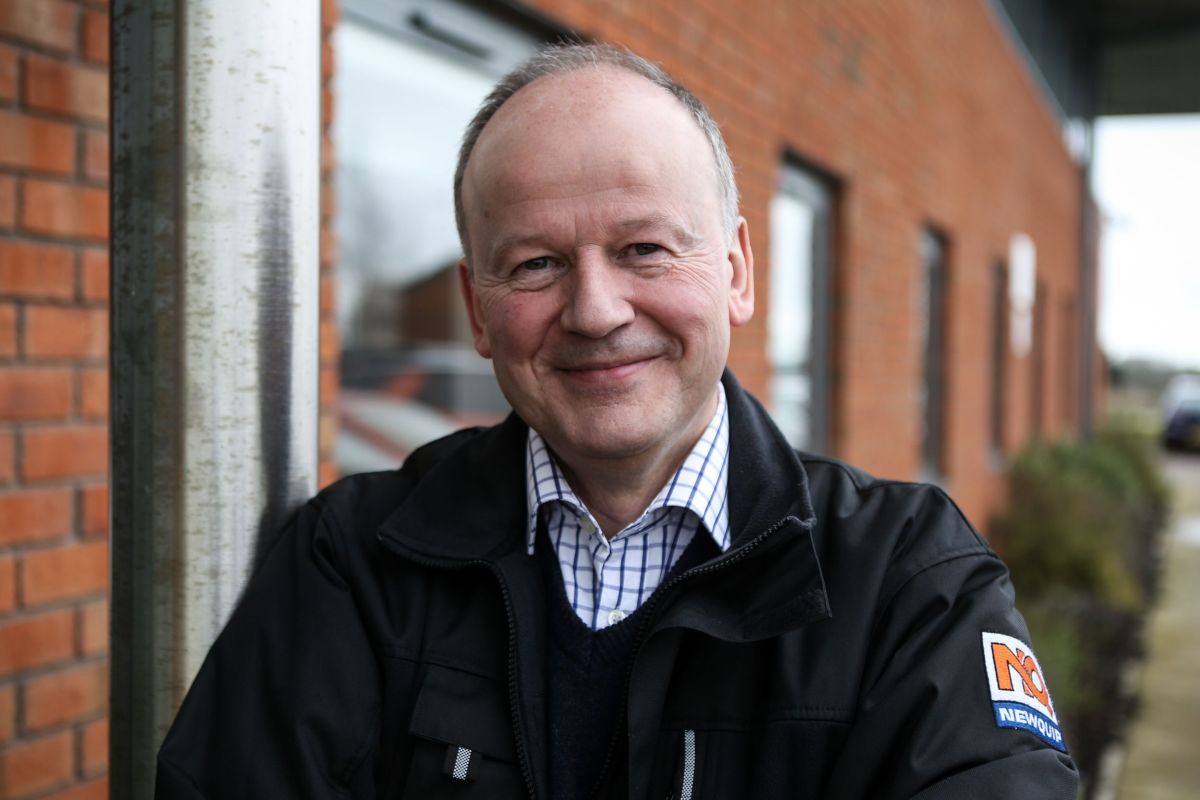 He was making the switch because he expected that barn production - currently a very small part of the UK egg sector - would grow in the future. He already has orders for his barn eggs.
Figures produced by the Department for Environment, Food and Rural Affairs (Defra) show that barn eggs accounted for just over two per cent of packing station throughput last year.
However, all major UK retailers have now committed to going cage-free by 2025 and those who want to retain a value egg could opt for barn.
Three barn units
Glenrath has had three barn units installed so far on its own farms in the Scottish Borders.
Sir John said the two-tier units had replaced older enriched colony units that had, themselves, been adapted from cage units. He said that the company had spent as much as £2 million recently on barn installation. Simply removing old colony units had cost as much as £40,000.
Two of the new Glenrath units are now supplying customers, although Sir John would not disclose where the eggs were going. He said he was awaiting more orders before populating the latest unit, but he said he was committed to investing in barn production if there was a demand for it from the country's retailers.
Glenrath's new installations are Big Dutchman units, although Sir John deals directly with Big Dutchman. Newquip, which represents Big Dutchman in the United Kingdom, points to its Natura Step system as one that is deal for both barn conversion and new build units in the UK.
"It can go into older houses - it is perfect for refurbishment, where the step can be spaced out accordingly to the building width. So that's quite a good one to work out well," said Richard Buchan.
"The biggest advantage, really, is it's similar to a free range house, except the birds don't range. So the equipment is exactly the same as you would have in a free range laying house. If you imagine a free range laying house with the pop hole doors closed, no access outside but everything else inside is exactly the same, so they have their nest areas, their scratching areas on the floor, full access to the floor at all times, a lot of perching, all the food and water that they require, so exactly as you would see in a free range house but not free range."
Caged system with doors removed
Newquip's Adam Dye said it was possible to obtain a system at the more intensive end of the scale for barn. This was, effectively, a cage system with the doors removed.
Stocking density might be 18 to 20 birds a square metre compared to the 15 birds per square metre Freedom Food standard.
"The Natura Step's selling point is that it is very much like a free range unit but without the pop holes. Everything is identical apart from the fact there is no range," said Mr Dye.
He said that new entrants into the egg sector were still opting predominantly for free range units, although the investment cost for barn was lower. Investment in a new barn unit would cost about £25 a bird, he said. A barn conversion in an existing shed would cost £10 to £15 per bird. Investment in a free range unit would cost £30 to £35.
Richard Buchan said: "Obviously you don't have the land involvement, so without the land you are certainly making a saving from that point of view, plus the producers who are looking at this have existing buildings. So they are able to utilise the infrastructure that they have - the building costs are already covered. It's really a case of removing whatever is inside the building and replacing it with Natura Step."
Returns are lower for barn eggs. The difference in producer price between free range and barn eggs amounts to about 20 pence per dozen.
However, the decision by supermarkets to go cage-free, and the realisation that at least some of the big retailers will still want a supply of value eggs, seems to have heightened interest in available barn systems.