British agritech start-up Small Robot Company has been launched and seeks to harness the power and precision of robots and Artificial Intelligence (AI) to improve the way that food is produced and minimise chemical usage.
The company will make farms more profitable, and increase yield and efficiency, through using small robots instead of tractors. This is also kinder to the soil, kinder to the environment, protects biodiversity, and enables permaculture at scale.
Designed by farmers for farmers, the robots will be offered through a Farming as a Service (FaaS) model, which uses robotics and AI to 'digitise the field' and deliver precision farming. Robust per-plant data creates a 'profit map' that shows which areas of field to use, which to leave fallow, and what to plant where and when.
Using robots has the potential to reduce chemical usage in arable farming by as much as 95%, and reduce cultivation energy and associated CO2 emissions by 90%. It can increase arable farming revenues by up to 40%, and reduce production costs by up to 60%.
"We are commercialising a deceptively simple idea: small robots not big tractors. Because unfortunately big tractors are neither efficient nor environmentally friendly. What we have done is to take this idea, work with farmers to understand how it can answer their needs, and make this into reality," says Ben Scott-Robinson, co-founder and experienced entrepreneur.
"We are building robots that will seed and care for each individual plant in your crop. They will only feed and spray the plants that need it, giving them the perfect levels nutrients and support, with no waste," says Sam Watson-Jones, co-founder and fourth generation farmer. "It's the best of all worlds. An increased yield, as well as minimal chemical usage."

"Farms are getting less profitable. Revenues and yields for combinable crops have remained steadily flat for a quarter of a century. Margins are static at 1-4% per annum. But production costs keep going up - and so do prices for big, expensive, machinery. It's time for a radical change."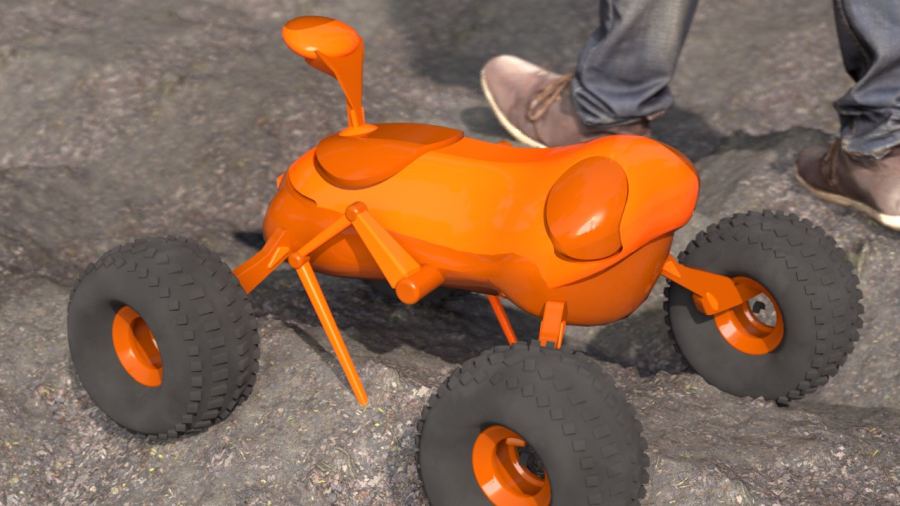 Why robots?
The technology is built on 15 years of research by Professor Simon Blackmore. The world's leading expert on precision farming at Harper Adams university, Professor Blackmore is mentoring the company.
His vision is that many of the jobs currently done by tractors in fields can be done at a lower cost, more accurately and with less waste by small robots.
Robots are smaller, lighter and more precise than the current farming systems using tractors. Using small robots instead of tractors will deliver greater yield from less inputs.
Robots can also work in smaller and more unusually-shaped fields, making the most of headlands (the corners of the fields, which are usually underused) while protecting hedgerows, biodiversity and the British landscape. Longer term, it radically improves farming methods and food potential.
"Currently, 90% of cultivation energy is used ploughing which is only necessary because of heavy machinery crushing the soil," says Professor Simon Blackmore, Head of Agricultural Robotics, Harper Adams University.
"And if you treat the whole field the same, overuse of chemicals is inevitable. We know that 95% of herbicides can be saved using a smart sprayer and small robots can help to make this technology work at scale."
Digitising the field with Artificial Intelligence
Small Robot Company's AI-driven technology allows a level of autonomy, accuracy and detail that now makes it possible for smaller farms to be profitable, and for 10x better decision making.
Eventually, each process - from knowing when to plant, to all aspects of crop care, to knowing when to harvest - will be automated.
"Technology has changed almost every industry - but farming is still stuck on analogue. We want to digitise the field. The potential for efficiency here is phenomenal. You can look at the data as it comes in from the field to make decisions which will take into account agronomy, soil science and market conditions.
"What to plant where and when to maximise yield. Simply put, this means the ability to apply permaculture techniques at scale," continues Sam.
Gleadell Agriculture, an independent major trader of grain, seed and fertiliser, is partnering with the Small Robot Company in its trials work, finding suitable trial sites and supplying seed in small bags for the trial growers.
"Robot technology is potentially the most exciting agricultural development over the next few years, and it could take precision farming to a completely new level," said Stuart Shand, Sales Director, at Gleadell Agriculture Ltd.
"Given the pressures that UK farmers are under, they need to maximise efficiencies and reduce costs. Robot technology could help deliver on both counts and we look forward to working with the Small Robot Company to help achieve those goals, " Stuart concludes.
Farming as a Service
Small Robot Company offers its robots through a Farming as a Service (FaaS) model, which is both a hardware and a software service for farmers. Farmers pay a per hectare subscription fee for a robotic hardware service which digitises the farm, and delivers crop care at per-plant precision.
The service comprises: Tom, crop and soil monitoring robot; Dick, precision spraying and laser weeding robot; Harry, precision drilling and planting robot; Wilma, the operating system and the AI-driven neural network.
The robots take care of all the feeding, seeding, and weeding. When one of these robots is needed, it turns up and does its job.
When it is finished, it is taken away. This makes it very low risk for farmers to trial and adopt. It also means that farmers no longer have to worry about buying, storing or maintenance of most crop care machinery and equipment.
Progress and achievements
Small Robot Company has been developing its hardware, software and service offering throughout 2017.
Its first prototype robot has been built and is successfully working. Field trials are currently in progress in farms in Shropshire. The company is currently building the world's most detailed living data model for its Neural Network to exploit.
The first crop it is going to focus its service on is wheat. Its first customers are signed up to use its services from October 2018.