As the EU decision on whether or not to re-authorise the herbicide glyphosate approaches, a farming union has called on farmers to get the message out on how important the herbicide is.
NFU Scotland's #GlyphosateIsVital campaign has been launched, and the union states that many farms across the UK relies heavily on glyphosate to control weeds, manage harvests, and reduce grain drying costs.
The campaign comes as news that EU farm commissioner Phil Hogan said he would like to re-authorise glyphosate for 'at least the next 10 years'.
In 2016, glyphosate was re-authorised for 18 months rather than the 15 years the UK farming unions and wider agricultural industry had called for.
The unions stated at the time that there was no well-reasoned scientific argument to hold back a full re-authorisation of glyphosate. However, the decision-making process regarding the use of glyphosate had become highly politicised.
Previously the European Food Safety Authority (EFSA) and World Health Organisation (WHO) had both said it was unlikely to cause cancer.
Whilst this conclusion was not shared by the International Agency for Research on Cancer (IARC), it has recently been upheld by a major report from the European Chemical Agency (ECHA).
Re-authorisation in December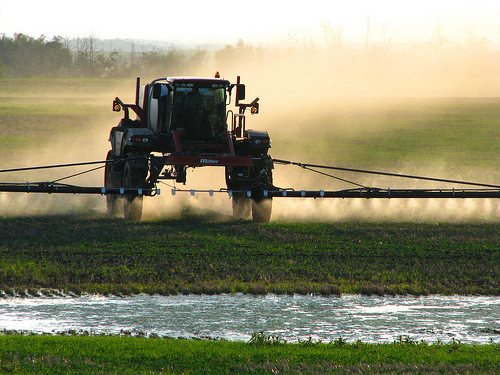 NFU Scotland has said that glyphosate has now been given a clean bill of health.
The union said that farmers across the UK must get involved in the effort to ensure that it is re-authorised for a full 15-year period when it is considered again by EU member states and institutions in December this year.
NFU Scotland President, Andrew McCornick commented: "Glyphosate has received a clean bill of health from the European Food Safety Authority, European Chemicals Agency, World Health Organisation, and the Food and Agriculture Organisation of the United Nations.
"This scientific consensus means that if regulation of plant protection products in the EU is to have any credibility at all, glyphosate must now be re-authorised for a further 15 years – including for pre-harvest use.
"Whilst the Union has written to all Scottish MEPs to encourage them to support the re-authorisation of glyphosate, it would be invaluable if these MEPs also heard directly from farmers who use glyphosate about what it means for them.
"It is important that these messages are being spoken about on social media. NFU Scotland will be making its case on social media, using the hashtag #GlyphosateIsVital, and I encourage others to do the same.
"Let your MEPs and the European Commission know how important glyphosate is for you, and don't assume someone else will be do doing it so you need not bother. As a farming community we need to speak up for glyphosate, so please do your bit."
'Over-used herbicide'
Amid the calls for the re-authorisaion of glyphosate, environmental groups remain unconvinced at the farming union's plea.
Friends of the Earth farming campaigner Clare Oxborrow said: "Glyphosate has been given a stay of execution in Europe, but it remains the world's most over-used herbicide.
"Farmers have been told that this chemical is safe – yet there is mounting evidence of the harmful impacts on our health and environment.
"Despite the Brexit vote, the Government must now see that glyphosate's days are numbered and produce a phase-out plan for this and other damaging chemicals.
"Farmers urgently need independent advice and support on other ways of tackling persistent weeds that do not harm our water, soils and wild species.
"Longer term, the Government's Brexit plans for farming must prioritise a food and farming strategy that builds a diverse, resilient system - supporting flourishing wildlife, sustainable healthy diets and thriving farmers' livelihoods."