A farm which has reverted back to traditional 1940's farming methods has boosted wildlife numbers by more than 300 percent.
111 acres of farmland on the Vile, near Worms Head in Rhossili, South Wales, cared for by the National Trust, has seen a transformation into a farm haven for rare animals, birds and wildflowers.
The project followed 'strip field' farming, which involved flower crops being planted alongside more traditional arable crops and wildflower meadows.
And, two years after the project started, the stretch of coastline now boasts rare birds such as the grasshopper warbler, common linnet and hen harriers.
Butterflies such as the small blue, grayling and wall brown butterflies are also in abundance.
It is now hoped this approach to farming could be used by larger, more intensive farms.
The project follows confirmation by the government that British farmers will receive money to make improvements to the environment under a new system of subsidies post-Brexit.
Under it, farmers will be rewarded for planting wildlife habitats, woods, wildflower meadows and other environmental benefits after Britain leaves the European Union in March 2019.
'Patchwork of fields'
The project in South Wales involved farmers, along with dozens of volunteers, spending the last 12 months recreating the patchwork of fields on the Vile.
They created 2,000 metres of new banks and new hedges which had previously been removed after the Second World War.
Instead of just six fields, there are now 17 which have been purposely planted with specially selected flowering crops to include 400,000 sunflowers, poppies, lavender and lupins sitting along with crops of millet, wheat, oats, buckwheat, spelt, linseed and barley.
These crop fields are now a haven for scarce wildflowers, such as cornflower and corn marigold.
An additional 7.5 hectares (19 acres) have been left as wildflower hay meadows with grasses and flora including oxeye daisy, yarrow and bird's-foot trefoil.
The team has also created 1 km of new pathways across The Vile to encourage visitors to see the new crops and wildlife.
'Self-controlling crops'
The Vile is one of many green farming projects currently underway across the country after National Trust announced its ambition to create 25,000 hectares of priority habitat back in 2015.
Alan Kearsley-Evans, Countryside Manager for the National Trust said: "We have simply reverted to farming sustainably, like we did back in 1945, and with astounding results.
"It doesn't cost us any more – in fact, in time it will save us money as we won't need to rely on any other inputs – our method of crop rotation and harvesting actually makes the crops self-controlling.
"Every crop has been planted for a reason with wildlife the outright winner with each field benefitting a vast variety of invertebrates and birds throughout the year.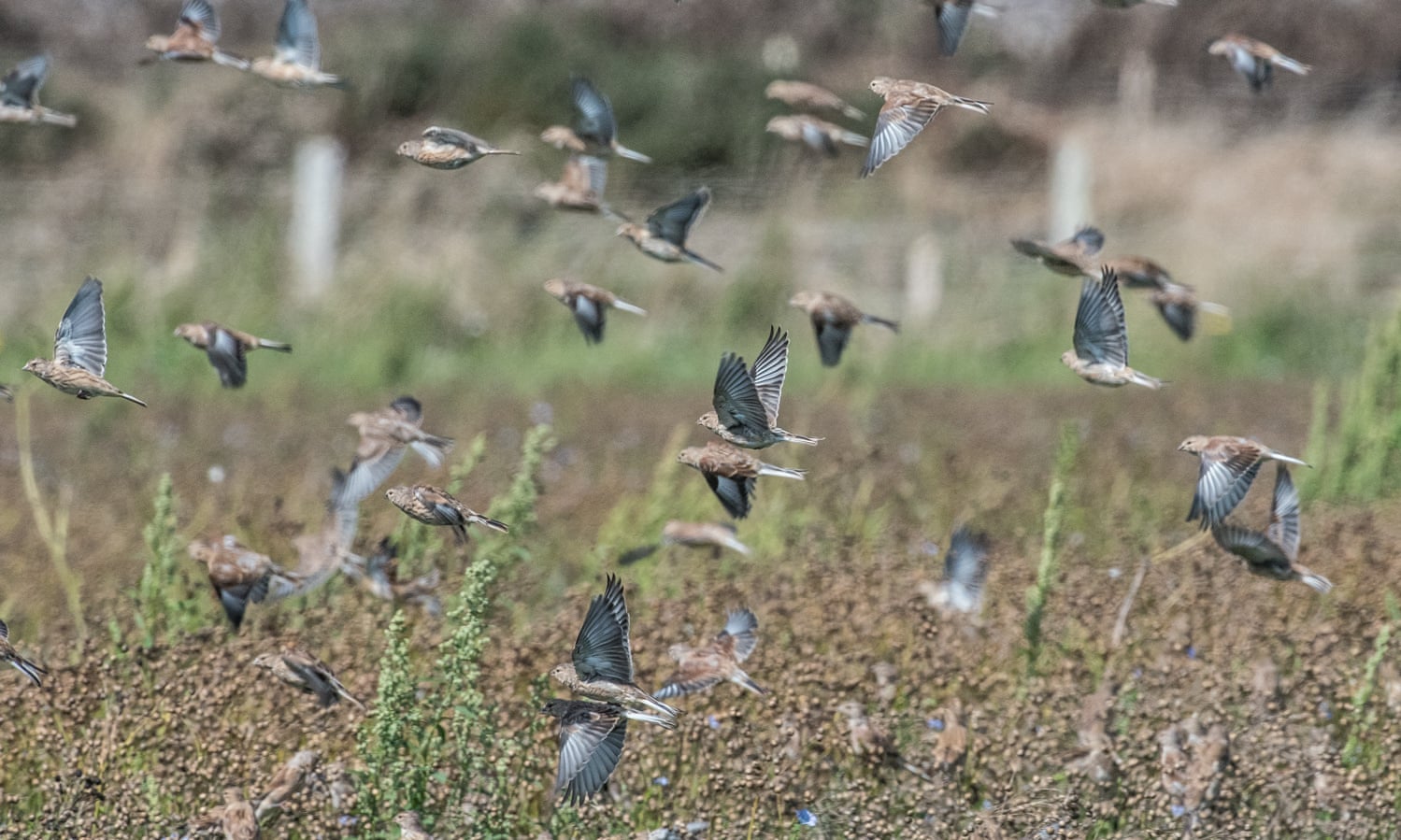 Mr Kearsley-Evans added: "We know that our farm is very small, but the principle of what we're doing and the results could be applied to large intensive farms. We aim to prove in a few years, just how viable this method is and to showcase the many benefits it delivers."
'Deflect the wind'
An advantage of the strip field system is to help deflect the wind that can whip across the coastline, which helps protect the crops and provides shelter to wildlife to forage in the sheltered microclimate.
This wind deflection also prevents any moisture from being wicked away, instead holding the moisture in the fields which helps the soil and presents good growing conditions for the different crops.
To help encourage wildlife, the team actively leave behind some of the crop. Seeds dry out and attract birds, for example, linnets are attracted to the linseed and the remaining sunflower seeds will feed overwintering birds on the coastline.
Next year the team is planning to rotate the crops and to also allocate a further two or three of the strip fields to lavender and to introduce bee hives to create honey.