Seventeen of the UK's leading wildlife, conservation and environment groups are calling for the current EU restrictions on neonicotinoid insecticides to be retained – and extended to all crops - to 'protect Britain's bees'.
In an open letter to the UK government, the organisations say "it is clear that there is now more than enough evidence to retain the ban and extend it to all crops, and that this is essential to reverse the decline of bees and other pollinators."The EU restrictions, which ban the use of three neonicotinoids on flowering crops, is due to be reviewed next year. The ban was introduced in 2013 after European Food Safety Authority (EFSA) concluded that the chemicals posed a
'high acute risk'
to honey bees.In the letter, the organisations - which include Friends of the Earth, RSPB, Greenpeace, The Wildlife Trusts, Buglife, Butterfly Conservation and Bat Conservation Trust - say: "Since 2013 many more independent laboratory and field studies have found neonics impairing the ability of different bee species to feed, navigate and reproduce resulting in declining populations."The government says it will not hesitate to act on evidence of harm. The third anniversary of the neonics restrictions is Environment Secretary Andrea Leadsom's chance to catch up with scientific evidence and public opinion by keeping and extending the ban as part of properly protecting Britain's bees and pollinating insects."
Farmers access to right inputs 'crucial'
In a debate on crop protection at CropTec 2016 this week, National Farmers Union chief crops adviser Guy Gagen said farmers need to be ready to talk to the public about crop protection products, and to emphasise the work farmers to do for the environment and to promote biodiversity on their farm.The NFU has been meeting with both domestic and European politicians, Defra government officials and stakeholders to deliver the message that it is 'crucial' that farmers have access to the right inputs so their farm businesses can be 'competitive, profitable and progressive'.Mr Gagen stressed the importance of increasing public awareness around the use of crop protection products, such as pesticides, underlining their importance to farm businesses.He said: "We still have to deal with regulatory pressures coming through the EU, these are not going away and without key products, the situation for farmers could become very serious, very quickly."There are simple, but effective, measures available to promote biodiversity and protect water such as keeping slug pellets and herbicides out of the water and participation in stewardship schemes such as the Campaign for the Farmed Environment."Agriculture experts from the University of Hertfordshire have said key crop protection products, such as pesticides,
play an important role
in ensuring food is safe and healthy for the world's population. Global food production could fall by as much as 35-40 per cent without them, the scientists warn.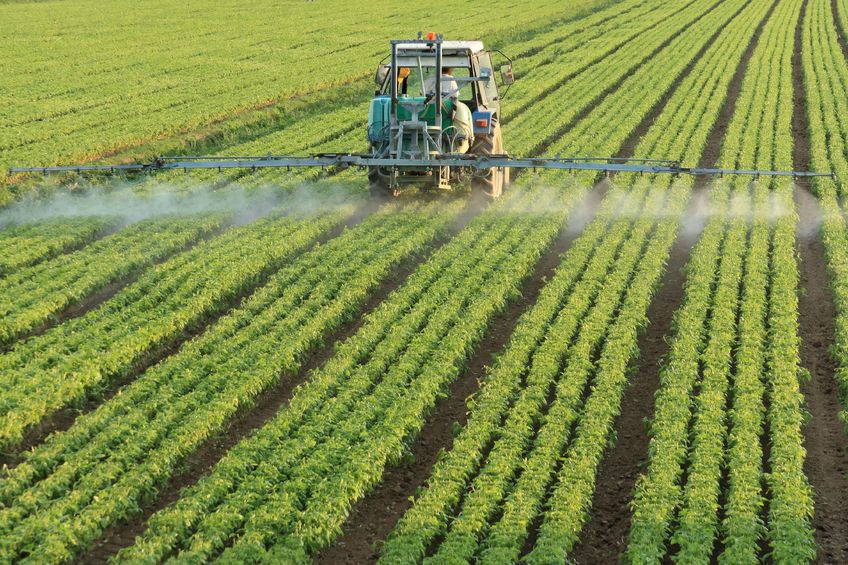 'Dozens of new studies'
Three of the UK's leading bee experts have said that the scientific case against the use of the three pesticides has grown over the past three years, and that the restrictions should continue and be extended to other crops. Dave Goulson, Professor of Biology at Sussex University, said that three years ago, EFSA's analysis of the scientific evidence concluded that neonicotinoids 'pose an unacceptable risk to bees'."Since then dozens of new studies from around the world have been published, including a major Swedish field trial in which neonicotinoids were shown to impact profoundly on bumblebee colonies and solitary bees. "Work from Italy has showed that even tiny doses of neonicotinoids impair the immune system of honeybees, rendering them susceptible to infections. Perhaps more concerning, it has become clear that neonicotinoids are persistent and pervasive in the environment, so that soils, wildflowers, ponds and rivers commonly contain significant levels. He said: "This widespread pollution of the environment with these potent neurotoxins has now been linked not just to bee declines but also to declines in butterflies, aquatic insects, and insect-eating birds. With farmland wildlife populations in free fall, it is surely time to extend the moratorium on neonicotinoids to cover other uses."
Open letter in full
December 1st marks the third anniversary of the introduction of Europe-wide restrictions on three neonicotinoid pesticides - often known as 'neonics' - after they were found by scientists to pose a "high acute risk" to honeybees.It is clear that there is now more than enough evidence to retain the ban and extend it to all crops, and that this is essential to reverse the decline of bees and other pollinators.Since 2013 many more independent laboratory and field studies have found neonics impairing the ability of different bee species to feed, navigate and reproduce resulting in declining populations.There is now solid evidence of harm from neonics to wild bumble and solitary bees which are even more sensitive to these pesticides than honeybees. Evidence has also grown of neonics harming the wider environment with studies indicating a link to butterfly population decline, identifying risks to bird species and finding neonics accumulating to dangerous levels in wildflowers surrounding crops.2017 will be a crucial year for decisions on bees as scientists will publish the official review of the evidence of harm to bees from the three restricted neonicotinoids. The government says it will not hesitate to act on evidence of harm. The third anniversary of the neonics restrictions is Environment Secretary Andrea Leadsom's chance to catch up with scientific evidence and public opinion by keeping and extending the ban as part of properly protecting Britain's bees and pollinating insects.Yours faithfully,Craig Bennett, Chief Executive, Friends of the EarthDr Jeremy Biggs, Director, Freshwater Habitats TrustPauline Buchanan Black, Director General, The Tree CouncilKath Dalmeny, Chief Executive, SustainMartin Harper, Conservation Director, RSPBHeidi Herrmann, Co-Founder, Natural Beekeeping TrustDr Maggie Keegan, Head of Policy, Scottish Wildlife TrustMark Lloyd, Chief Executive, Angling Trust & Fish Legal Peter Melchett, Policy Director, Soil AssociationJohn Sauven, Executive Director, Greenpeace UKMatt Shardlow, Chief Executive, BuglifeKit Stoner, Chief Executive, Bat Conservation TrustSteve Trent, Executive Director, Environmental Justice FoundationSteve Trotter, Director, The Wildlife TrustsDr Keith Tyrell, Director, Pesticides Action NetworkDr Martin Warren, Chief Executive, Butterfly ConservationCatherine Weller, Head of Biodiversity Programme, ClientEarth