The UK government has overturned its previous convictions on neonicotinoids and now say an outright ban is needed due to their supposed harm to pollinators.
A total ban on the pesticide in fields across Europe will be now be backed by the UK, Defra Secretary Michael Gove has revealed in The Guardian.
The decision reverses the government's previous position on the world's most widely used insecticide.
Speaking about neonicotinoids following a speech in the summer where he outlined his vision for a Green Brexit, Gove said new research had raised "profound concerns" and that he was contemplating the need for further restrictions on their use.
This includes new evidence showing neonicotinoids may have killed off 75% of all flying insects in Germany, a discovery Gove said had shocked him.
"The weight of evidence now shows the risks neonicotinoids pose to our environment, particularly to the bees and other pollinators which play such a key part in our £100bn food industry, is greater than previously understood," wrote Gove in The Guardian.
"I believe this justifies further restrictions on their use. We cannot afford to put our pollinator populations at risk.
"As is always the case, a deteriorating environment is ultimately bad economic news as well."
'Stronger evidence'
He said pollinators help increase the yield and quality of UK crops by £400m-£680m every year.
He used an example of British gala apple growers, who now have to spend £5.7m a year to replace the work of lost natural pollinators.
Gove explained that evidence surrounding neonicotinoids harmful effects on bees and other pollinators has grown "stronger" since 2013.
In 2013, the European Commission proposed a ban on the use of three types of neonicotinoids on flowering crops.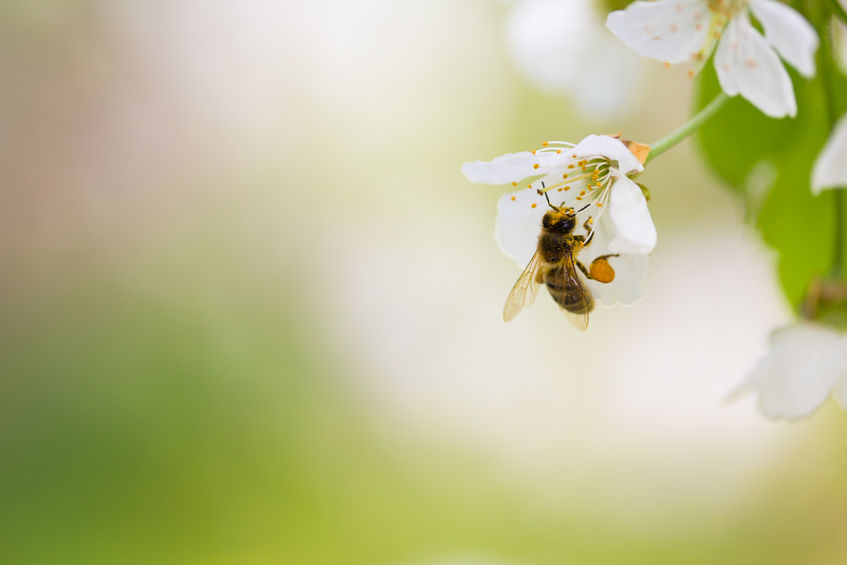 At that time, the UK's assessment was that there was insufficient evidence of a link between neonicotinoids and pollinator decline, but other member states took a different view and a ban was implemented across the EU.
Gove said the EU has been unable to get full support for a widespread neonicotinoid ban, but he hopes the change in the UK's stance will support it.
"In taking this 'unfrozen moment' in British politics to put bees and science at the centre of our priorities for sustainable agriculture, Michael Gove may also unfreeze the EU and secure an EU-wide ban that will benefit insects across the continent," Gove said.
'Critical juncture'
The National Farmers' Union has said the future of both neonicotinoids and glyphosate are currently at a "critical juncture". It has called on the Government to support their availability to farmers.
The NFU has explained that farmers across the country have already suffered heavy losses through oilseed rape crop damage following restrictions to the availability of neonicotinoids.
A recent survey of 400 arable farmers who all grow winter oilseed rape (OSR) report that 8.3 per cent of the crop this year has failed.
And another survey paints a worrying picture for the agricultural industry, which states that 80 per cent of farmers interviewed believed that a neonic ban would have an impact on their day-to-day business.
NFU Vice-Chairman Guy Smith said: "If we lose key plant protection productds – glyphosate, neonicotinoid seed treatments – we will lose our competitiveness via a vis non-EU countries."
Dr Chris Hartfield, NFU acting chief science and regulatory affairs adviser, said farmers are "acutely aware" that bees play a crucial role in food production
"Farmers rely on bees to pollinate crops and have planted around 10,000 football pitches of flower habitat across the country to support a healthy bee population and give them a good home." Dr Hartfield said.
"We deeply regret the decision the Government has taken on this issue as we don't believe the evidence justifies this abrupt change in policy. We will continue to speak to the Government about how the impact of the decision can best be mitigated so that farmers can maintain sustainable and productive cropping systems."
'Bizarre decision'
Multinational chemical giant Bayer reacted strongly to the announcement, calling it a "bizarre" decision and one that "flies in the face of sound science".
It said the decision is a "kick in the teeth" for British agriculture.
Dr Julian Little, a spokesperson for Bayer in the UK, said: "The Government's own UK Biodiversity Indicators published only this summer show that butterfly, bee and hover fly population numbers have stabilised since 2011 and this was confirmed only earlier this week in response to a Parliamentary question.
"The suggestion that the extension of this ban to non-flowering crops, which pollinating insects do not
visit, will somehow improve the health of bees is farcical.
"We do know from talking to farmers that such a ban would seriously impact the UK's ability to grow high quality wheat, barley, sugar beet and some vegetable crops, just as UK farmers are trying to gear up to life after European subsidies.
Dr Little continued: "Farmers will have to resort to older chemical sprays to control damaging insect pests rather than the targeted seed treatments currently employed, and will have to use much larger quantities of slug pellets, just at the time when we are trying to reduce their use."
'Overwhelming evidence'
Welcoming Gove's decision to back tougher restriction, environmental charity Friends of the Earth's said Gove should be congratulated for "listening to experts", saying the scientific evidence for a complete ban is "overwhelming".
Chief executive Craig Bennett said: "Tougher restrictions on neonicotinoids are essential for our precious bees and the wider environment.
"To their credit farmers across the UK are already finding innovative ways to successfully grow crops without neonicotinoids, even ahead of the ban being extended.
"But lessons also need to be learned – we now need to move away from chemical intensive farming and instead boost support for less damaging ways of tackling persistent weeds and pests.
"The UK must follow through on today's announcement by backing current European Commission proposals to get these pesticides completely out of our fields."